Rear of new Nissan Terrano revealed in official sketch
Nissan has released a sketch of the rear of the Terrano, its much-anticipated upcoming SUV based on the Renault Duster. Nissan had earlier released a sketch of the front.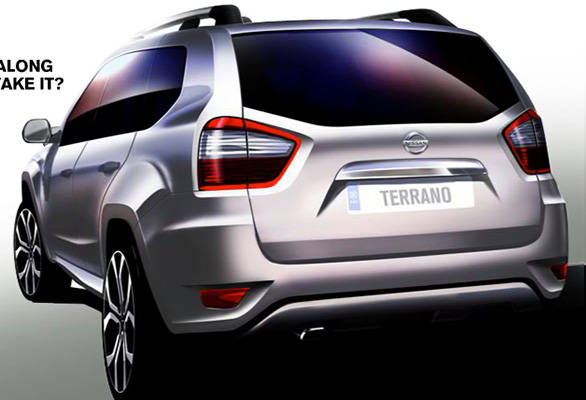 The Terrano's rear is significantly different than the Duster
The rear of the Terrano features a split taillight layout. The reflectors are placed on the lower bumper. The rear is broad and robust and looks significantly different than the Duster.
The Terrano is expected to launch in September with engine options of 104PS petrol and 85 and 110PS diesel, the same as in the Duster.
The Terrano is expected to come at a higher price range than the Duster. The reason is two-fold – one, the Terrano will come with a host of features to compete in the SUV segment, which will up the price a bit. Two, if the pricing of the Micra-Pulse and Sunny-Scala is any indication, then this badge re-engineering will also come at a slightly premium price.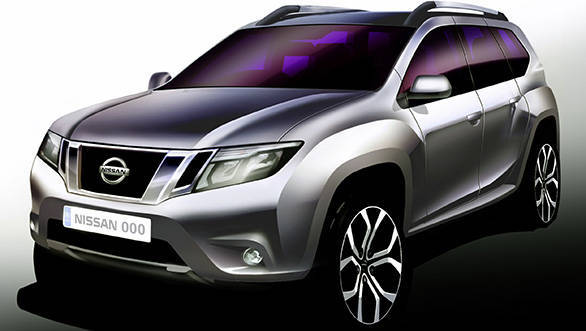 Nissan sketch
After the facelifted Micra, highly competitively priced Micra Active, and the soon-to-be-launched face-lifted Evalia and Sunny, the Terrano will be another important car for Nissan in the Indian market.
"I am delighted to reveal both the name and the very first image of what will be a very important model for Nissan. You can see from the sketch that the Terrano has a bold and distinctive design, which I am confident will appeal to our growing customer base in India, as will its driving performance and a range of other features that will be revealed at a later date," the President and CEO of Nissan Motor India Pvt. Ltd, Kenichiro Yomura had said when the first teaser sketch of the Terrano was launched.
Price (Ex-Delhi)
Starts Rs 9.99 Lakhs
Price (Ex-Delhi)
Starts Rs 8.49 Lakhs