Realistic Volkswagen I.D. Crozz concept at the 2017 Frankfurt Motor Show
It is already known that Volkswagen is working on the new generation electric automobiles that are believed to debut in production form by 2020. Further, the range will be compatible with full autonomous tech by 2025. The German car manufacturer has now released a concept image of the electric I.D. Crozz that will be shown in its close to production ready form at the 20176 Frankfurt Motor Show.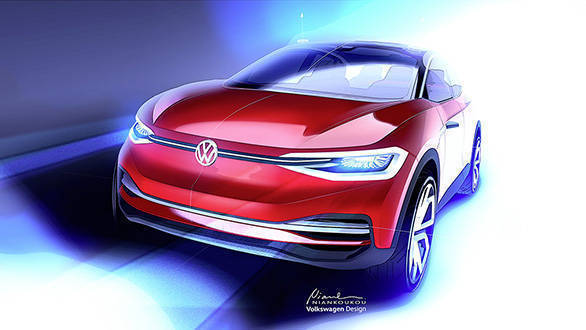 2018 Volkswagen I.D. Crozz might enter production in 2020
The company states that the concept points more towards a production model. This can be seen with the front and rear profile that feature the typical traits of VW design. While the company has released only a teaser video along with the image of the concept, it does look production ready. This can be seen with the sleek LED headlights which have a more realistic illumination than the one shown in the previous I.D. concepts. The grille that also holds the VW logo features an illumination, something that perhaps only will be seen in the concept model.
he wide hood, bulging fenders and the grille design have all been retained from the previously shown concept. Volkswagen states that the compact electric drive and the integration of the lithium-ion battery in the vehicle floor, has made the cabin spacious for four individual seats. The concept is based on the brand's MEB platform that also pins the other two all-electric offerings, the I.D. and the I.D. Buzz. The electric motor driving the Volkswagen I.D. Cross puts out 305PS and has a top speed of 180kmph, states the company
All the electric tech and features that will be introduced in the I.D. cars will not make it a more premium option. Instead, they will be priced similar to the conventional cars, claims the brand. Stay tuned to OVERDRIVE as we cover the Volkswagen electric I.D. Crozz concept at the 2017 Frankfurt Motor Show.