Range Rover LWB Hybrid to launch in China by May this year
Land Rover unveiled its Long Wheelbase Hybrid Range Rover at the Beijing Motor Show 2014. The SUV will be the first diesel hybrid vehicle to go on sale in China along with the Range Rover Sport Hybrid. Bookings for this model will start from May and the first deliveries are expected by the end of this year.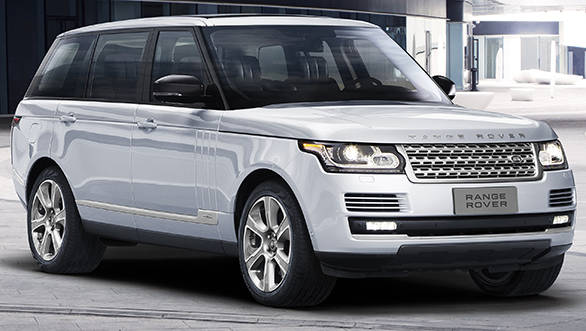 The hybrid is powered by a 3.0litre SDV6 engine and a 35KW electric motor married to an eight speed ZF automatic transmission. The combined output of the power train is 340PS and 700Nm of torque for a truly go anywhere capability. Land Rover claims a fuel efficiency figure of 15.62kmpl and an emission figure of 169g/km. Three drive-modes can be chosen from, to maximize performance and efficiency.
The electric motor can produce 170Nm of torque which can be utilized to provide a boost when required. On only electric mode, the Hybrid has a range of 1.6km and a max speed of 48kmph. Regenerative braking is another feature which is present and can charge the battery when the brake is applied or when the vehicle slows down.
Land Rover says that the electric motor, battery pack and inverter in total weigh less than 120kg. The company also claims that the hybrid system has in no way interfered with the space or driving experience; the SUV in fact sees an increase in the rear passenger legroom by 186mm and the class leading wading depth of 900mm is retained in the Hybrid version.
There is no word on the pricing but we expect that detail to be revealed closer to the launch date. Read the press release below for more in-depth information.
WORLD DEBUT FOR NEW RANGE ROVER HYBRID LONG WHEELBASE IN CHINA
Land Rover unveils the new Range Rover Hybrid Long Wheelbase in Beijing Range Rover LWB will be the first diesel hybrid on sale in China 26 per cent lower CO2 emissions (169g/km) and 44.1mpg (combined), with uncompromised luxury, performance and all-terrain capabilities Range Rover Hybrid LWB offers an additional 186mm rear seat legroom Whitley, UK, 23 April 2014 – Land Rover has further progressed the development of its acclaimed Range Rover with the global debut of the Range Rover Hybrid Long Wheelbase at the Beijing motor show. The derivative brings together two of the most recent innovations in the Range Rover line-up in a vehicle that offers an unprecedented combination of premium luxury, interior space, exceptional fuel and emissions performance and no compromise in Land Rover's renowned breadth of capability. Together with the Range Rover Sport Hybrid, it will be the first diesel hybrid model from any manufacturer to be offered in China. China is recognised by Land Rover as a potentially strong market for its new premium hybrids, whilst the long wheelbase design is identified as best suiting Chinese customers' preferences for luxury and spaciousness. Global order books will open in May and first deliveries to customers in China are expected from the end of the year. This new derivative strengthens the status of the Range Rover as one of the world's most successful premium vehicle ranges, witnessed in more than 100 awards amassed by the new Range Rover and Range Rover Sport in the past 18 months. The production vehicles benefit from valuable insights Land Rover gained from its Silk Trail expedition in 2013. A fleet of Range Rover Hybrids proved their durability and all-terrain capability on a gruelling 16,000km route from the Land Rover factory in Solihull, across central Asia to the Mumbai headquarters of Tata, Land Rover's parent company. After the journey, the vehicles were stripped down and scrutinised by Land Rover engineers to improve understanding of how the designs and technologies can be fine-tuned. The Range Rover Hybrid powertrain combines Land Rover's 3.0-litre SDV6 diesel engine with a 35kW electric motor, integrated with an eight-speed ZF automatic transmission. The system allows the driver to select from three different drive modes to maximise performance or efficiency, and is capable of delivering 26 per cent lower CO2 emissions (169g/km) and 6.4 l/100 km (44.1mpg). Installing the hybrid diesel-electric powertrain in the Range Rover Long Wheelbase has not compromised space, or the driving experience. The long wheelbase offers the benefits of an additional 186mm of legroom for rear seat passengers and, with the option of the executive seating package, an impressive increase in the rear seat angle of recline to 17 degrees. The hybrid system uses the same proven Terrain Response® system and all-wheel drive technology deployed in the petrol and diesel-powered models. Wading depth capability is undiminished at a class-leading 900mm. The complete system, including a lithium ion battery pack, inverter and electric motor, weighs less than 120kg. The electric motor produces 170Nm torque and operates to boost acceleration when required, and to drive the vehicle in EV (electric vehicle) Mode. The motor also acts as a generator, harvesting kinetic energy through regenerative braking, charging the battery when the vehicle is slowing. In EV mode the Range Rover Hybrid can travel at speeds of up to 30mph (48km/h) for a range of up to one mile (1.6km) before the diesel engine seamlessly restarts. Together, output of the diesel engine and electric motor is 340PS at 4,000rpm and a class-leading 700Nm torque between 1,500-3,000rpm, delivering performance on a par with the SDV8 engine. The version to be marketed in China is technically identical to that sold elsewhere, except for a change to the exhaust system to take into account the different local emissions standards. ENDS