Range Rover long wheelbase unveiled at 2013 LA Auto show, coming to India in early 2014
The Range Rover Autobiography long wheelbase
Land Rover just extended the reach of appeal of its luxury vehicles with the addition of the Range Rover long wheel base SUV. With this 'Ultimate SUV' Land Rover hopes to offer unrivaled levels of comfort and luxury in a market that until now was reserved for long wheelbase luxury saloons.
With the 200mm longer wheelbase, Land Rover has managed to add an additional 140mm of leg room in the second row. And while the second row comes with either a bench or individual executive seats it's the latter you'd want to opt for. Then you'll be treated to 17 degrees of recline, a whole 8 degrees more than before. Despite the wheelbase stretch, that's been engineered just in front of the rear axle, the Range Rover manages to retain its massive panoramic sunroof.
Wheelbase has increased by 200mm
If you really want to spoil your self silly then there is the Autobiography Black trim level, exclusively for the long wheelbase Range Rover, that offers an even more luxurious level of trim and options. You get a choice of either 21 or 22 inch seven spoke wheels and some subtle exterior changes. But on the inside you will be treated to details like 10.2 inch screens, leather covered electric folding tables and a chiller compartment to keep the bubbly on ice just in case.
Luxury interiors from the Autobiography Black series
"With the addition of the Range Rover long wheelbase to our portfolio of luxury SUVs, customers can now choose a vehicle that offers superior levels of interior space and comfort to compete in a market dominated by saloon cars up until this point" said Phil Popham, Group Marketing Director, Jaguar Land Rover. The Range Rover Autobiography long wheel base will hit markets all over the world (India included) in the first quarter of 2014.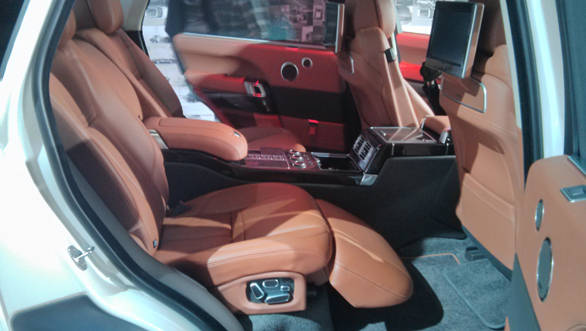 140mm more rear legroom and fully adjustable seats
Chilled box keeps the champagne cold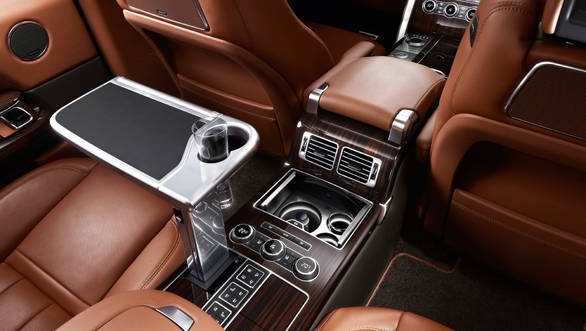 Luxury interiors from the Autobiography Black series
The Range Rover long wheel base comes to India early in 2014
Also see: Range Rover Long Wheelbase | Feature