Rajya Sabha passes Motor Vehicles Amendment Bill 2019, hefty fines for traffic violations
Last week, the Lok Sabha cleared Motor Vehicles Amendment Bill 2019 and the Rajya Sabha has now passed it too. The new bill mentions of various measures to improve road safety and also hefty fines for traffic violations. In addition, the 2019 Bill also aims at reducing corruption in different transport departments by making the whole process more transparent. The Motor Vehicle Bill was cleared in the Rajya Sabha with 108 votes supporting it and 13 opposing it. With the introduction of three new amendments, the bill has to go back to Lok Sabha now.
The 2019 Motor Vehicles Amendment Bill recommends a minimum penalty for a general violation of Rs 500 that has been increased from Rs 100. Also, if you are found driving without a licence, you will be fined Rs 5,000 which has been increased from Rs 500. Further, driving in spite of disqualification will attract a fine of Rs 10,000 which was earlier Rs 500. The proposed law also mentions of a Rs 10,000 fine for drunken driving instead of the Rs 2,000 imposed earlier.
Minister of Road Transport and Highways of India, Nitin Gadkari presented the Bill at the Rajya Sabha where he pointed out that millions lose their lives in road accidents in the country. And it is the government's responsibility to curb it. Giving the example of Tamil Nadu, Gadkari states that the state has shown significant progress in terms of reducing road accidents and the same model has to be adopted in the whole country. Giving an estimate, Gadkari mentioned that 1.5 lakh people are killed in road accidents every year. Also, 30 per cent of the driving licences in the country are bogus. The state of affairs is so unfortunate that a single person can acquire as many as four driving licences.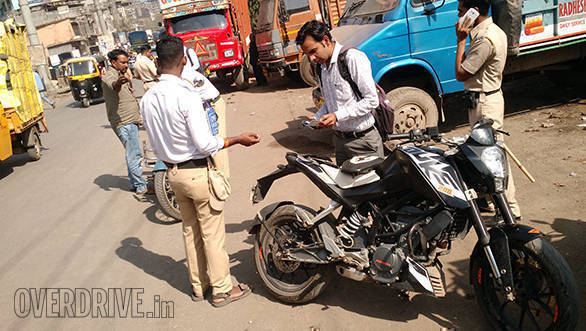 The 2019 Bill also has provisions for automated fitness testing. It will be developing a system to offer cashless treatment for victims affected in a road accident, immediately an hour after the accident or mishap. This is the time period wherein the victim seeks critical medial support. A compensation of Rs 2 lakh or more will be provided to hit-and-run victims, up from Rs 25,000. In case a juvenile is involved in an incident, their parents/guardians will be held accountable unless proven innocent. A Motor Vehicle Accident Fund will provide cover to victims of accidents. Breaking speed limits and not wearing seatbelts can get you a Rs 1,000 fine, up from Rs 400 and Rs 100. Get caught using a phone or rash driving and you'll have to shell out Rs 5,000, up from Rs 1,000.
Manufacturers are also more liable now. Cars with sub-standard components or engines will have to be recalled, failing which a Rs 500 crore fine will be charged. Rounding of these changes is new insurance coverages. All road users now get compulsory insurance for certain accidents, but a 6-month time limit has been placed on claims. The Centre will also be developing a new long-term as well as medium term framework wherein an integrated multimodal transport system will be formed and will offer seamless connectivity across urban and rural areas.
Related Stories