Rajini Krishnan wins on China SBK debut
Rajini Krishnan competed in his first ever event at the 2016 China Superbike Championship for the China Kawasaki Racing team. The Indian rider was chosen as a wildcard entry for two rounds of the championship, where he was to pilot a Kawasaki ZX-10R in the races.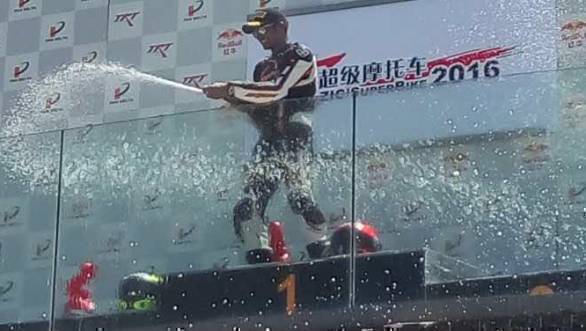 K Rajini celebrates his first win in the Superstock category in Race 2 of Round 3 of the China Superbike Championship at Zhuhai
At his first ever outing at the Zhuhai International Circuit in China, Rajini was an entrant in the Superstock (B) category of the 2016 Pan Delta Super Racing Festival. The weekend got off to a somewhat rocky start for the defending Malaysian Superbike Champion, because he only managed to complete three laps during the qualifying session, having to sit out the rest of it after the lean angle sensor fell off his motorcycle. Despite this disadvantage, Rajini qualified a remarkable third.
During the first race Rajini was up into second position when things went awry. His motorcycle began to overheat, which meant that he couldn't attain full revs, and had to settle for fourth.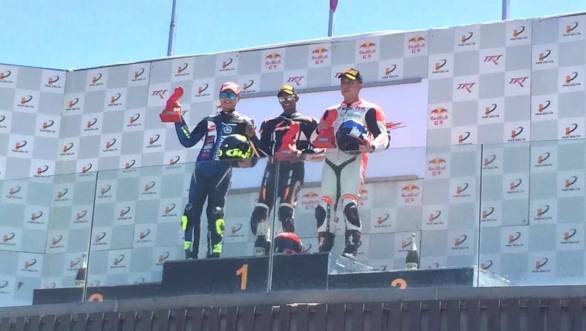 Rajini on the top step of the Superstock podium in China
However, things really looked up during the second race. Rajini managed to finish third overall, behind the two Class A bikes ahead of him. This meant that he was first overall in the Superstock (Class B) category, giving him his first podium and win in his very first outing at the China Superbike Championship.
The Indian rider will not, however, be competing in the second race of the China Superbike Championship, owing to the fact that it clashes with the Malaysian Superbike Championship. We'll let you know how he does there, and will also keep you posted on his next outing in the China SBK.