Rainforest Challenge India 2018: V5 Offroaders veteran Jagat Nanjappa now leads the championship
The race for the top spot at the 2018 Rainforest Challenge India got interesting on Day 4, July 25, of the competition. Sanbir Singh Dhaliwal (co-driver Gurpartap Singh Sandhu) slipped to third after leading the competition so far. A few DNFs meant they lost the momentum they carried in from yesterday.
Veteran Jagat Nanjappa, who is representing Coorg's V5 Offroaders, along with co-driver Chetan Chengappa are now leading the scorecard. Last year's winner, Gurmeet Virdi (co-driver Kirpal Singh Tung) of Gerrari Offroaders Chandigarh finally made it to the second spot after a slow start this year. There is still lots to compete because none of the top contenders have built up a sizable lead. Nanjappa is at the top spot with 1261 but Dhaliwal at third position is only 174 points behind, a difference that can be covered in course of a day.
Day 4 was also one of the longest days of RFC India 2018 with SS 10 to 17 being held. SS 10 to 13 were held during the day with the rest being night stages.
SS10 and SS11 were in close proximity to each other and saw drivers put their winches to good use with vertical walls and pits dotting both courses. SS12 was challenging, with competitors' winches being tested the most here. The compact layout within a pit added more difficulty. At SS13, competitors had to drive through a stream with inclines at both ends.
The night stages, SS 14 to 17, tested the drivers' skills a lot more. The limited visibility ensured the drivers had to be extra vigilant, to make sure they didn't incur any penalties or damage their cars.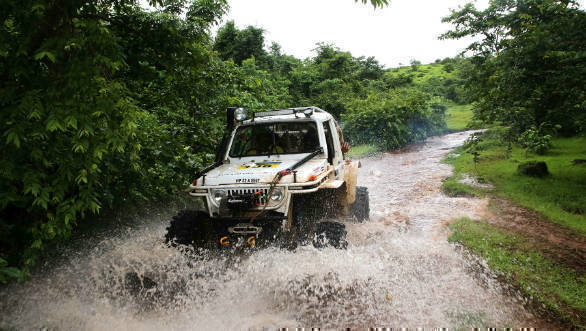 When asked how the competition panned out for him on the day, leader Jagat Nanjappa said they rolled-down in the first stage that attempted today and ended up with a DNF. In the second stage, they faced technical issues with the 4WD setting of their vehicle. But then they pushed themselves a little extra to make up for the lost points. Thankfully, things took a positive turn from then onward.
Stay tuned to OVERDRIVE for continuous updates from RFC 2018. The event now moves to more challenging terrain in Maina, Goa.