Rahil Noorani wins 2013 Volkswagen Polo R Cup
Rahil Noorani of Mumbai has taken the 2013 Volkswagen Polo R Cup title after a podium finish in Race 3. Pune's Gaurav Mehta won Race 2 to win his first ever race in a competitive series. South African Jeffrey Kruger returned to the top in Race 3. Race 2 though was red-flagged after driver Samarth Jaiswal crashed, he walked away unhurt though.
Rahil Noorani receiving the Champion's trophy from Mr. Mahesh Kodumudi
Noorani has been offered a seat for the JK Tyre FB 02 in 2014 and will be a guest driver at the 2014 Scirocco R-Cup. Kruger was named the Star of Polo R Cup and has been offered a guest drive at the 2014 Golf R Cup in Europe. Yatin Magu, who won in the junior category, has been offered a fully sponsored seat for next season`s Polo R Cup.
Race 2 started with Angad Singh Matharoo on pole alongside Delhi boy Lee Keshav Gupta. Third placed driver Gaurav Mehta took lead as they headed into the first corner. Lee slotted into second place at the end of lap 1. Jeffrey made his move on Lee on lap 2 and moved in to second place and was looking to challenge Gaurav. However the lap was red-flagged on lap 4 when Samarth Jaiswal's race Polo made contact on the rear left and flipped multiple times at the penultimate corner. Fortunately the driver walked away unhurt. The race was not restarted and Gaurav was adjudged the winner. Jeffrey finished in second place ahead of Lee who took his second podium of the season.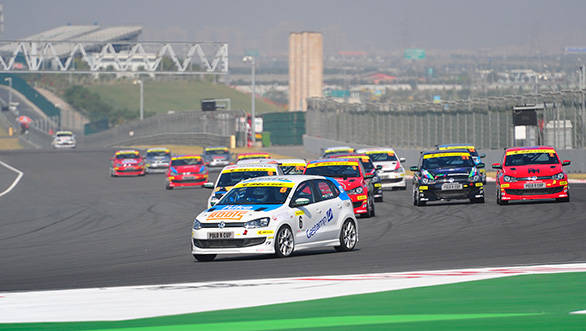 Race Polos in action in the final round
Race 3 saw Jeffrey on pole position with Karthik Tharani Singh in second place. Jeffrey continued to keep the lead after turn 1 followed by Robyn Kruger and Rahil Noorani. Rahil managed to pass Robyn on lap 3. Karthik Tharani Singh who was at fourth place, then moved into third position. Jeffrey crossed the finish line with Rahil and Karthik taking second and third respectively.
"Today happens to be my birthday and this is the best gift I could have given to myself. It was a very emotional moment for me. This is my third attempt and previous two times I missed out by couple of points so this is very special and I can say I am third time lucky. The engineers, mechanics and entire Volkswagen team are responsible for this so a big "thank you? to all of them," said Noorani.
Price (Ex-Delhi)
Starts Rs 6.17 Lakhs