Production-ready 2021 Ford Bronco leaks ahead of debut
Ford has been working on the new all-new Bronco for a long time. Once one of the most popular truck from its stable, the Bronco, as we can see in the pictures, is now production ready. Set to make its official debut soon, the Ford SUV should be offered in two forms, a short-wheelbase 2-door and a long-wheelbase 4-door, just like the recently launched Land Rover Defender.
As evident from the pictures, the Bronco is inspired a lot by its lineage – a square body, round headlamps, Bronco spelled on the grille and almost zero overhangs over either of the axles. Even the crease on the sides looks straight from the 70's Bronco. The new SUV with its prominent black flared arches and large wheels jutting out of the body, makes no bones about its want to perform off-road but we will have to wait and watch to see the kind of equipment Ford offers for it to be able to walk the talk.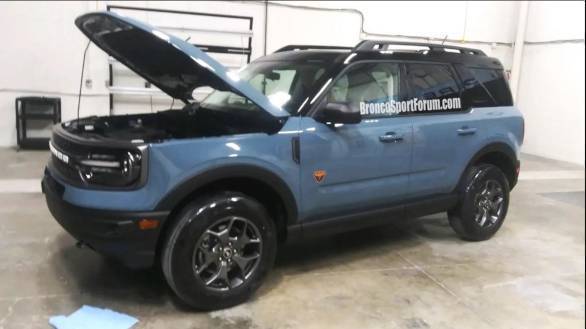 There isn't any information available on the insides, but from what we know so far, it should be fairly Spartan to match the retro theme but have the luxuries and features that adorn modern cars as well. The 4-door is based on the same platform as the Ford Endeavour in India while the 2-door is based on the smaller Ford Escape platform, which also said to be being considered for the Indian market according to their new strategy in the subcontinent.
Then, it would be extremely interesting to see if Ford takes up the challenge and builds a Jeep Compass-rival with Bronco styling for the local market as one of its nine-product portfolio. But that, is really a very long shot and for now, we will have to wait till ford formally reveals the all-new Bronco to fond out more about its interior, the powertrains and the equipment.
Price (Ex-Delhi)
Starts Rs 32.75 Lakhs
Price (Ex-Delhi)
Starts Rs 17.79 Lakhs
Price (Ex-Delhi)
Starts Rs 73.98 Lakhs