The Maserati Corona GTX 2+2
The new custom-built Maserati Corona GTX 2+2 by Retro Coachbuilders USA is a highly contagious design that is going viral among car enthusiasts and killing conventional supercar designs!
Designed by Christopher Alexander Rodrigues (C.A.R.), a 18-year-old talented young American self- thought automotive historian and car designer, The Maserati Corona (Crown in Italian) GTX (X for Xtreme) is based on the Maserati GT convertible platform, which is completely stripped out and rebodied into something completely out-of-this -world!
Retro Coachbuilders, is in a mission to revive and bring back the lost art of coach-building cars to those who can afford the very best and want to own something much more exclusive than a production exotic or ultra-luxury car, such as Bugatti, Ferrari, Lamborghini, Aston Martin, Rolls Royce, etc.
Coachbuilt cars are one-of-a-kind cars that are custom designed, engineered and built to the client's exact specifications and requirements – Something so unique and special, that not even the big prestigious automakers can offer at any cost.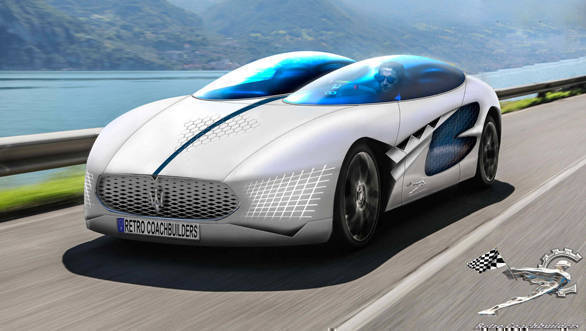 Coachbuilt car clients choose their favorite marque, engine, interior, materials and specs; and everything is designed and engineered either from scratch, or built over well-proven production cars, like the Maserati Corona GTX 2+2.
Retro Coachbuilders unique Global business model is certainly the way-of-the-future in automotive exclusivity! It brings together a Team some of the most talented names in automotive design and engineering from around the world and combine it with Next-Gen Coachwork Technology.
Only the most advanced CAD techniques and manufacturing processes are used, including additive manufacturing (3D printing), making it possible to replicate or build from scratch with great precision and finish virtually any part or car design, including complete engines and transmissions from antique cars that are no longer available. Sort of a "Back to the Future" type of thing!
Retro Coachbuilders' creative masterpieces are completely hand-built by professional craftsmen in carefully selected and highly specialized shops around the world. The result are true "rolling art" automobiles that combine modern technology with old-world craftsmanship that suits all tastes and covers the whole spectrum of cars: - From exact replicas of ultra rare and collectible multi-million Dollar Concours automobiles to futuristic exotic supercars and even 1500HP EV-hypercars.
The beautiful Maserati Corona GTX 2+2 seems to be a much clever and useful Design than any of the supercars on the market today. It's free from the clutter of useless multiple ridiculous wings and air intakes that plague almost every modern sport cars and it is much more practical for a daily use, as you do not need to be a contortionist to get in or out of it.
It delivers fresh and clean lines in a brilliant and innovative four-seat 2+2 design that ingeniously masters the exhilarating power and sound of the 454HP Ferrari-developed V8 engine and Maserati legendary Performance heritage, into an unique luxury fighter-jet glass cockpit driving experience that is highly contagious and is quickly infecting the automotive world in a magical recipe that puts most supercars and hypercars to shame at a fraction of the cost.
With an order book limited to just 100 coachbuilt cars, the new ultra-sleek Maserati Corona GTX 2+2 starts at a surprisingly and affordable $395K USD. Nevertheless, since the sky is really the limit when it comes to coach-built cars, depending on the interior and exterior specs, the level of customization can easily double or even triple the base price.
For Coachbuilt car 001 slot, the base price is higher at $895K. The 001 Maserati Corona GTX 2+2 is specially dedicated to fight the Global Corona Virus and comes with a Gold #001 dash plaque dedication in this regard. Retro Coachbuilders will donate the half of the company's profit of car 001 to fight the spread of Global Corona Virus and the whole project is aimed to call attention to the disease. The Maserati Corona GTX 2+2 is already an instant collectible supercar and a safe investment that will multiply in value by itself.
Unlike other ultra expensive senseless supercars cars that cost a fortune to maintain, the Retro Coachbuilder's Maserati Corona GTX 2+2 is based on the Maserati GT and retain all its mechanical parts, so it is easily serviced and maintained by any Maserati Dealer worldwide at very reasonable costs for a super exclusive supercar.
DISCLAIMER: This information is published as per the press release sent to us. It has not been verified or ratified by OVERDRIVE.