Porsche Taycan is the production version of Mission E electric vehicle, will be on sale by 2020
Porsche has made an official announcement regarding its first electric vehicle that is being developed under the name Mission E. The German car maker's first all-electric car will be called Taycan that translates to "spirited young horse" and is linked with the company's emblem since 1952. The name has its linguistic roots in the east, states Porsche.
"Our new electric sports car is strong and dependable; it's a vehicle that can consistently cover long distances and that epitomizes freedom," mentions Oliver Blume, Chairman of the Executive Board of Porsche AG . Further, the Eurasian name also signifies the launch of the first electric sports car with the soul of a Porsche. The announcement of the Porsche Taycan was done as a part of the 70 years of Porsche Sports Cars ceremony.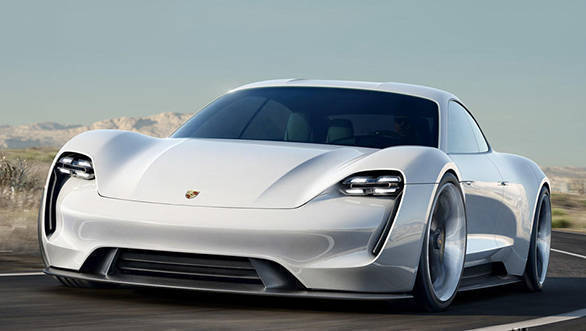 In addition to announcing the name Taycan, Porsche also let out specific details of its first electric sportscar. The Porsche Taycan will make use of two permanently activated synchronous motors, positioned on both the axles that will generated 600PS of power. Porsche claims that the Taycan will have a range of close to 500km as measured in accordance with the New European Driving Cycle (NEDC). Further, in terms of performance, the Porsche Taycan can reach 100kmph in less than 3.5s and 200kmph in less than 12 seconds.
Porsche plans to invest more than six billion Euros in electromobility by 2022, doubling the investment that the company had originally planned. Of the additional three billion Euros, some 500 million Euros will be used for the development of Taycan variants and derivatives, around one billion Euros for electrification and hybridization of the existing product range, several hundred million for the expansion of production sites, and around 700 million Euros for new technologies, charging infrastructure, and smart mobility, states the company. Additionally, the existing engine plant is being expanded to manufacture electric motors, and a new body shop will also be developed. Investments are also planned for the Weissach Development Center.
Also see: India Exclusive | Porsche Taycan 4S | First Drive Review

Also see,
Bentley EV might be based on the Porsche Mission E
Geneva Motor Show 2018: 2019 Porsche Taycan Cross Turismo revealed