Porsche pays homage to Le Mans history with track-only 935
Remember Moby Dick? No, not the "Call me Ishmael," Herman Melville Moby Dick. Instead that whale-tailed glory that was the Porsche 935/78 that took to the track for the 24 Hours of Le Mans in 1978, complete with Martini livery. Well, Porsche's decided that retro liveries are the way to go, and have just unveiled the modern-day Porsche 935 at the Rennsport Reunion at Laguna Seca.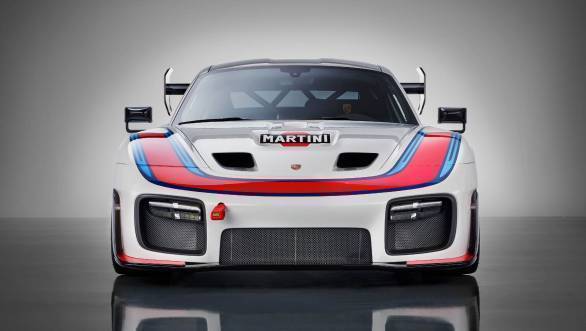 It's what they've described as a 70th birthday present from them, to fans. Only 77 lucky people, however, will get to buy one such Porsche 935. And given that it costs a whopping €701,948 (that's approximately Rs 7.08 crore), it comes with quite a price tag, and it's unlikely that most of us have that kind of change lying around in our piggy banks.
This version of the Porsche 935 is a track-only machine, but it's not really all racecar. It is, in fact, the 911 GT2 RS, with the same 700PS 3.8-litre twin-turbo flat-six engine, mated to a seven-speed PDK gearbox. The fact that it makes 700PS means the original Moby Dick out-horsed (or should we say out-whaled it) by 150PS. Incidentally, the original 935 was a racing version of the factory racing version of the 911 Turbo.
But the 935 certainly looks the part. It has a carbon-reinforced plastic bodykit that mimics the 935/78's iconic shape. And gives it that classic whale-tail look. The wheel-arch vents on the front fairings are meant to increase down force. And the fact that there's that massive rear wing on it, aids aerodynamic balance, and let's face it - looks pretty darned good. Add to this the LED lights on the rear, and rear wing endplates straight from the 919 Hybrid LMP1 race car, and the Porsche 935 really is something else. They've even acknowledged the 911 RSR that took class victory at Le Mans this year by lobbing on the side mirrors from that very car, and the exposed titanium tailpipes are like those from the Porsche 908 from 1968.
Inside, too, there are several little bits that make one nostalgic about erstwhile Porsche racecars. There's the knob on the gearshift lever with a laminated wood design that is reminiscent of racecars like the 917, the 909 Bergspyder and the Carrera GT Super Sports. The carbon steering wheel and colour display are from the 2019 911 GT3 R. And the car comes with a safety cage, racing bucket seats and a six-point safety harness.
Like the road-legal 911 GT2 RS, the 935 is equipped with PSM (Porsche Stability Management) including traction control as well as an anti-lock braking system (ABS), all of which can be adjusted separately or switched off completely (we hear maniacal laughter), if the need arises.
Price (Ex-Delhi)
Starts Rs 1.38 Crore