Porsche Panamera 4 E-Hybrid unveiled
Porsche will officially unveil the Panamera 4 E-Hybrid at the 2016 Paris Motor Show but has already revealed all the juicy details on its latest hybrid. The Panamera 4 E uses a 2.9-litre turbocharged V6 that produces 330PS as well as a 136PS electric motor. All-wheel drive is standard as is a PDK double clutch transmission. The performance number sound more like they came off a sports car, with a 4.4s 0-100kmph time and a top speed of 277kmph!
Reminding that this is still a Porsche that is aimed at the enthusiast, the Sport Chrono Package that offers control over chassis, engine and transmission set-up comes as standard.
In addition to the Normal drive modes on the steering wheel there are a few new driver modes. Hybrid mode offers an optimal combination of petrol and electric propulsion, E-Hold uses engine power only, to save the battery and E-Power does exactly the opposite, offering electric power only.
The Porsche Panamera 4 E-Hybrid is equally focused on sustainability and efficiency. The car can run on pure electric power for a range of 50km and it can achieve nearly 140kmph on pure electric power. Power comes from a 14.1kWh li-ion battery that uses liquid cooling for optimal thermal management. Charging from empty takes just three hours when using an optional high-speed charger but the high capacity battery will need a full twelve hours if plugged into a standard wall socket.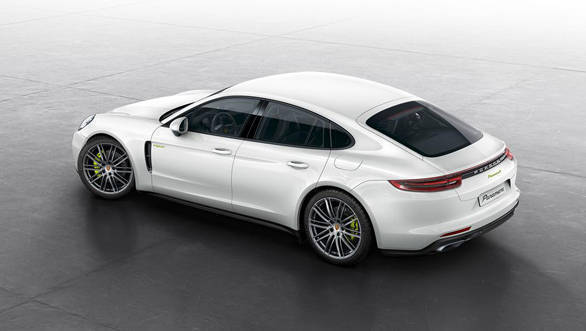 Design wise, the E-Hybrid looks very similar to the recently revealed 2017 Panamera, a car which has benefited from a thorough restyle. The 2017 Panamera also comes with a choice of three engines, a twin turbocharged 4.0-litre diesel , a 2.9-litre twin turbo V6 and a 4.0-litre twin turbo . The Panamera 4 E-Hybrid should go on sale internationally within a few months and it's safe to expect that Porsche to launch the car in India as well. After all, Porsche has already launched a hybrid in India before this.
Price (Ex-Delhi)
Starts Rs 1.45 Crore