Porsche introduces modern infotainment systems for its classics
Very few carmakers have as strong a back catalogue of greats as Porsche. This also means that there is a legion of Porsche enthusiasts and collectors out there who share a deep connection with their cars and the brands. To allow these owners to have the connectivity and entertainment they expect from their other cars in their class Porsche, the brand has launched the Porsche Classic Communication Management(PCCM). This is a further development of the previous radio navigation system for classic Porsche sports cars.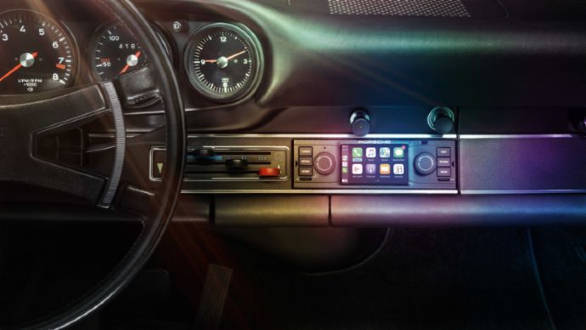 The PCCM is available in two versions, a 1-DIN or 2-DIN unit that directly replaces the original built-in units. Both units come with features like a touchscreen, DAB+ radio, Apple Carplay and navigation. The 1-DIN system fits into cars like 911 models of the 1960s and the last 911 with air cooling from the start of the 1990s (993 model series). It can also be used in earlier front and mid-engined Porsches. This system is operated via two rotary knobs, six integrated buttons and a touch-sensitive 3.5-inch display. There is also turn-by-turn navigation and Points of Interest search like most modern infotainment systems. The navigation is SD-card based, which can be bought separately Media playback is also possible via an SD card, USB, AUX and Bluetooth.
The 2-DIN version, PCCM Plus, is compatible with the 996-gen version of the 911 and the 986-gen Boxster from the 1990s. For these cars, the PCCM Plus comes with a 7-inch touchscreen. Aside from all the features already offered in the 1-DIN PCCM, the Plus can also be had with Android Auto. Also, like the 1-DIN version, the Plus is finished in a design, and with materials, that complements the look of the rest of the cabin.
Porsche Classic Communication Management system is available for EUR 1,439.89 or RS 1.19 lakh for the PCCM or EUR 1,606.51 or Rs 1.32 lakh for PCCM Plus at Porsche dealerships or online on the Porsche Classic store. This also includes map data.