Porsche 911 Targa 4 and 4 S launched in India
Porsche India has launched the latest generation of its iconic 911 model, the Targa, for the Indian enthusiast. There will be two models on offer, the Targa 4 and the Targa 4S.
The new Targa is designed by using the iconic cues from the original 1965 model and features the quintessential Targa bar that forms the B-pillar as well as the beautifully crafted rear windscreen. One of the most distinctive marks that the new Targa comes with, is its convertible soft-top which will fold away behind the rear seats in 19 seconds at the mere push of a button. Porsche say that the whole process is a spectacle in itself.
At the launch, Anil Reddy, director, Porsche India said, "The 911 is a sportscar which has won more races than any other and, in this latest evolution, I believe it has never looked more spectacular. In the 911 Targa, we see the ultimate in driving dynamics come together with stunning design and the very latest in ground-breaking roof technology. The car's arrival here in India signifies a new chapter in the legendary model's evolution and I am incredibly proud and excited to welcome it."
The cars will be powered by Porsche's flat six engines and come with the seven-speed dual clutch transmission PDK as standard. However, the engine displacement and power output will differ for both models. The 911 Targa 4 will feature a 3.4-litre engine that pumps out 350PS of power. The addition of the optional Sports Chrono Package will see the Targa 4 cross the 100kmph mark in 4.8 seconds. The 911 Targa 4 S gets a 3.8-litre flat six that produces 400PS of power and 0 to 100 time of 4.4 seconds if equipped with the Sports Chrono Package. Porsche claim a top speed of 296kmph for the 4 S. In addition, customers can also opt for a Carrera S powerkit that bumps up power by 30PS.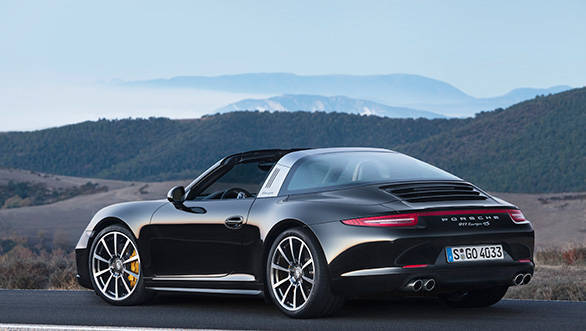 The new 911 Targa feature Porsche's Traction Management all-wheel drive system which benefits from a rear axle that has been widened by 22mm as well as tyres that are now 10mm wider than the previous model. Porsche say that the new cars deliver good fuel economy due to the incorporation of technologies such as electrical system recuperation, auto stop/start and map controlled thermal management of the engine coolant.
 The New 911 Targa 4 and Targa 4 S are available at all Porsche centres in India.
Porsche India announces arrival of the iconic 911 Targa
Press Release 03/02/2015 New 911 Targa expands current generation of the iconic 911 Porsche India announces arrival of the iconic 911 Targa Mumbai. The latest generation of the elegant 911 Targa has arrived in India, with the legendary model boasting the classic Targa concept with highly advanced roof technology. The introduction of the modern classic in the country marks the continued progression of the Porsche 911 family, as the new Targa 4 and 4S models join the brand's iconic product line-up. The new 911 Targa sees the timeless design of the original model from 1965 and the contemporary sportiness of the seventh 911 generation fused together in perfect synergy. The return to the original concept, with its characteristic fixed Targa bar, breathes new life into the legend with its state-of-the-art roof technology. Anil Reddi, Director, Porsche India, says: "The 911 is a sports car which has won more races than any other and, in this latest evolution, I believe it has never looked more spectacular. In the 911 Targa, we see the ultimate in driving dynamics come together with stunning design and the very latest in ground-breaking roof technology. The car's arrival here in India signifies a new chapter in the legendary model's evolution and I am incredibly proud and excited to welcome it." Just like the original model, the new 911 Targa features the characteristic wide bar in place of the B-pillars, a movable roof section above the front seats and a wraparound rear window with no C-pillar. But unlike the classic models, the roof segment on the new models can be opened and closed at the push of a button in just 19 seconds, as the fully automatic roof system stows the convertible top behind the rear seats, providing a real spectacle. The rear-weighted design of the Porsche Traction Management all-wheel drive fitted as standard is a typical Porsche feature and can be identified by the arches of the rear axle which have each been widened by an additional 22 mm, with rear tyres that are each 10 mm wider. The drivetrain concept reflects the core traits of the new 911 Targa 4 models: sportiness, safety and comfort. The power from the flat-six engines is transmitted by an automatic seven-speed dual-clutch transmission (PDK), which is fitted as standard. As with its predecessors, the new Targa generation comes in two versions available exclusively with all-wheel drive. The 911 Targa 4 is powered by a 3.4-litre, 350 hp flat engine. When equipped with the optional Sport Chrono package, this model accelerates from zero to 100 km/h in just 4.8 seconds and boasts a top speed of 282 km/h. The top model is the 911 Targa 4S, which delivers 400 hp from a displacement of 3.8 litres. This model reaches a top speed of 296 km/h and, when equipped with the optional Sport Chrono package, accelerates in just 4.4 seconds. The 911 Targa 4S can also be specified with the Carrera S Powerkit that boosts output by 30 hp. Equipped with direct fuel injection, both engines are sporty high revving units and excel with exemplary fuel economy. To increase efficiency, they feature electrical system recuperation, map-controlled thermal management of the engine coolant and an auto stop/start function. The new 911 Targa 4 and Targa 4S are available at all Porsche Centres in India. The basic ex-showroom prices are as follows: 911 Targa 4 (Delhi) INR 15,900,000 911 Targa 4 (Maharashtra) INR 15,610,000 911 Targa 4S (Delhi) INR 17,850,000 911 Targa 4S (Maharashtra) INR 17,525,000
Porsche India announces arrival of the iconic 911 Targa
Press Release 03/02/2015 New 911 Targa expands current generation of the iconic 911 Porsche India announces arrival of the iconic 911 Targa Mumbai. The latest generation of the elegant 911 Targa has arrived in India, with the legendary model boasting the classic Targa concept with highly advanced roof technology. The introduction of the modern classic in the country marks the continued progression of the Porsche 911 family, as the new Targa 4 and 4S models join the brand's iconic product line-up. The new 911 Targa sees the timeless design of the original model from 1965 and the contemporary sportiness of the seventh 911 generation fused together in perfect synergy. The return to the original concept, with its characteristic fixed Targa bar, breathes new life into the legend with its state-of-the-art roof technology. Anil Reddi, Director, Porsche India, says: "The 911 is a sports car which has won more races than any other and, in this latest evolution, I believe it has never looked more spectacular. In the 911 Targa, we see the ultimate in driving dynamics come together with stunning design and the very latest in ground-breaking roof technology. The car's arrival here in India signifies a new chapter in the legendary model's evolution and I am incredibly proud and excited to welcome it." Just like the original model, the new 911 Targa features the characteristic wide bar in place of the B-pillars, a movable roof section above the front seats and a wraparound rear window with no C-pillar. But unlike the classic models, the roof segment on the new models can be opened and closed at the push of a button in just 19 seconds, as the fully automatic roof system stows the convertible top behind the rear seats, providing a real spectacle. The rear-weighted design of the Porsche Traction Management all-wheel drive fitted as standard is a typical Porsche feature and can be identified by the arches of the rear axle which have each been widened by an additional 22 mm, with rear tyres that are each 10 mm wider. The drivetrain concept reflects the core traits of the new 911 Targa 4 models: sportiness, safety and comfort. The power from the flat-six engines is transmitted by an automatic seven-speed dual-clutch transmission (PDK), which is fitted as standard. As with its predecessors, the new Targa generation comes in two versions available exclusively with all-wheel drive. The 911 Targa 4 is powered by a 3.4-litre, 350 hp flat engine. When equipped with the optional Sport Chrono package, this model accelerates from zero to 100 km/h in just 4.8 seconds and boasts a top speed of 282 km/h. The top model is the 911 Targa 4S, which delivers 400 hp from a displacement of 3.8 litres. This model reaches a top speed of 296 km/h and, when equipped with the optional Sport Chrono package, accelerates in just 4.4 seconds. The 911 Targa 4S can also be specified with the Carrera S Powerkit that boosts output by 30 hp. Equipped with direct fuel injection, both engines are sporty high revving units and excel with exemplary fuel economy. To increase efficiency, they feature electrical system recuperation, map-controlled thermal management of the engine coolant and an auto stop/start function. The new 911 Targa 4 and Targa 4S are available at all Porsche Centres in India. The basic ex-showroom prices are as follows: 911 Targa 4 (Delhi) INR 15,900,000 911 Targa 4 (Maharashtra) INR 15,610,000 911 Targa 4S (Delhi) INR 17,850,000 911 Targa 4S (Maharashtra) INR 17,525,000
Price (Ex-Delhi)
Starts Rs 1.59 Crore
Price (Ex-Delhi)
Starts Rs 1.38 Crore