Porsche 718 Cayman GT4 Clubsport breaks cover, still has a flat-six
Porsche has unveiled its new race car based on the Porsche 718 Cayman. The Porsche 718 Cayman GT4 Clubsport comes in two versions, Trackday and Competition. The biggest highlight though is the motor and the use of sustainable materials.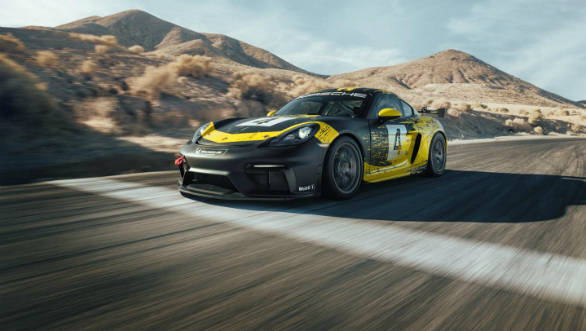 The 718 Cayman GT4 Clubsport gets the same 3.8 litre flat six motor as the last car. This makes 425PS, an increase of 40 PS over the last car, and 425 Nm. This engine powers the rear wheels via a six-speed Porsche dual-clutch automatic. Other upgrades made to this to make it competition ready are a mechanical rear axle differential lock and lightweight spring-strut front suspension is taken from the 911 GT3 Cup racer. It gets a new braking system with larger steel discs. Also factory-fitted are a welded-in safety cage, a racing bucket seat as well as a six-point harness.
The new Clubsport weighs 1,320 kg, helped by it being the first ever production race car to feature body parts made of natural-fibre composite material. The doors are made of an organic fibre mix sourced from agricultural by-products which has similar properties to carbon fibre in terms of weight and stiffness.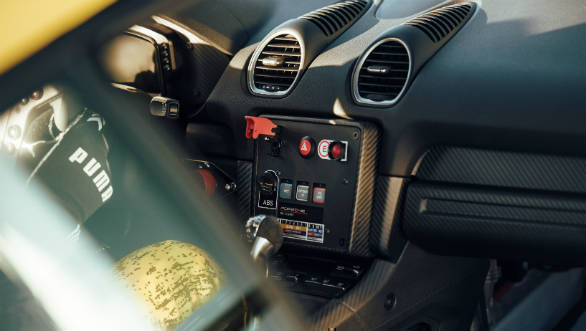 The 'Trackday' version is aimed at amateur drivers. This vehicle gets a fixed shock absorber setup. The ABS, ESC and traction control assistance systems are present but can be switched off. Other systems factory fitted are the air-conditioning system, a rescue hatch in the roof, handheld fire-extinguisher and an 80-litre FT3 safety fuel cell. The 'Competition' models dials thing up for professional driver who are engaged in international competition. The shocks are three-stage adjustable and a brake balance system is available. There is also an integrated air-jack aiding in quicker pit stops and a quick-release racing steering wheel adopted from the 911 GT3 R. Also different over the Trackday version is an automatic fire extinguisher and a larger 115 litre fuel tank.
The last Cayman GT4 Clubsport was preview to the Cayman GT4, one of the best handling road-going cars in recent memory. This version can also been seen as a primer for the next Cayman GT4. Given this car's mechanical package, it seems like the GT4 will give us another one of those Porsche special enthusiasts just can't get enough of.
Price (Ex-Delhi)
Starts Rs 1.05 Crore
Price (Ex-Delhi)
Starts Rs 86 Lakhs
Price (Ex-Delhi)
Starts Rs 1.38 Crore
Related Stories