Poor sales of the Figo and Aspire challenge Ford's multi-product India strategy
After the stellar initial success of its compact SUV EcoSport, Ford India was certain it did not want to be remembered as a one-hit wonder. But with the dismal performance of its new products, its multi-product strategy has been thrown off gear. Moreover, with sales of its mainstay EcoSport under pressure from fresher competition, a lack of new products in the pipeline and exports from its Gujarat plant facing headwinds, Ford India is struggling to drive growth during these turbulent times.
Under its multi-product strategy, Ford launched the next-generation compact hatchback Figo and compact sedan Ford Aspire in 2015.
While sales of the Figo declined 60 per cent in the six-month period between Oct 2015 and March 2016, sales of the Aspire declined 74 per cent between its launch in August last year and March 2016.
Acknowledging that this weak trend continues into the new fiscal, a Ford spokesperson said in an email to CNBC-TV18, "The Indian automotive industry has been experiencing a weak consumer demand. Despite sustained levels of discounting, the B-segment, where the majority of automotive sales reside, has been flat in the first quarter."
Given the poor response to these models, sources say Ford has cut half its monthly production targets for the Figo and Aspire at its plant in Sanand, Gujarat. Combined internal production targets for the two models were revised from an average 20,000 units a month to an average 10,800 units a month, sources said. Even after halving production targets, the average production per month hovers at only 6,500 units, according to monthly production data accessed by CNBC-TV18.
The Sanand plant, which was inaugurated last year after being built at a cost of USD 1 billion, continues to operate a single shift.  In March, the company also resorted to shutting production for a week, sources add.
Sources say the Figo and the Aspire suffered as the products were launched in crowded, competitive entry segments that are under pressure. While the Figo competes with Hyundai Grand i10, Tata Bolt and Maruti Suzuki Swift, the Aspire was launched to take on Maruti's popular sedan Swift Dzire, the Hyundai Xcent and Honda's Amaze.
The other reason for the lack of success, sources say, is that Ford could not sustain the strong marketing push by Maruti Suzuki, Hyundai and Renault as they prepared to launch their new products at the same time. While Maruti was gearing up for the Baleno, Hyundai was launching the Creta and Renault was launching the Kwid.
What's worse is that Ford is facing headwinds on several other fronts too. The company's exports from the Gujarat plant are under pressure. The Gujarat plant was expected to begin exports to Europe in early 2016, but that has been delayed for unknown reasons. The Gujarat plant presently exports to the Middle East, South Africa and Mexico.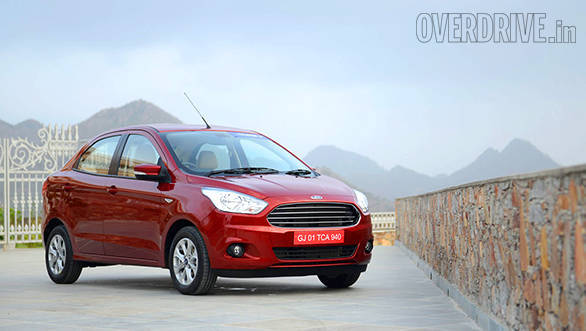 "We would not like to comment on speculations around our future products and export expansion strategy. However, we remain committed to showcasing India's manufacturing prowess and are making in India, for India and the world. Today, India is our global hub for manufacturing small cars and low-displacement engines, and we are well on course to expand to 50 countries as part of the future roadmap." the Ford India spokesperson said.
New products – which drive sales growth for automakers – are not on Ford's anvil. The Mustang notwithstanding, Ford's mass-product pipeline for the year is empty, with the new EcoSport hitting the market only by 2017.
Right now, Ford is under pressure to keep the sales momentum of the current EcoSport going after slashing its prices by up to Rs 1.12 lakh in March to compete with the Vitara Brezza. The EcoSport accounts for nearly half of Ford India's sales.
Ford India however continues to maintain that it is "steadily progressing" on its "product-led transformation journey"
"Given the freshest portfolio across all automakers comprising award-winning New Figo, Figo Aspire, All-New Ford Endeavour and Ford EcoSport, our domestic sales have continued to outstrip industry growth. In the quarter January-March 2016, while the industry grew about 6 per cent, Ford's domestic sales were up about 12.5 per cent compared to same period last year." it said in the email.
Price (Ex-Delhi)
Starts Rs 5.99 Lakhs
Price (Ex-Delhi)
Starts Rs 5.39 Lakhs
Price (Ex-Delhi)
Starts Rs 7.99 Lakhs
Price (Ex-Delhi)
Starts Rs 29.99 Lakhs
Price (Ex-Delhi)
Starts Rs 4.98 Lakhs
Price (Ex-Delhi)
Starts Rs 5.73 Lakhs
Price (Ex-Delhi)
Starts Rs 5.73 Lakhs