Podium finish for Armaan Ebrahim at Sentul
Armaan Ebrahim and Dilantha Malagamuwa had a mixed weekend at the Blancpain Lamborghini Super Trofeo Series Round at Sentul International Circuit in Indonesia. The pair headed into the fourth round of the championship second in the standings, and were brimful of confidence that they'd be able to challenge for the lead in the series at Sentul. But things did not go as planned.
Armaan Ebrahim on his way to a podium finish at Sentul, Indonesia
In the opening laps of the first practice session, Dilantha had a bad crash which meant that Armaan missed both the practice sessions and most of the qualifying session too. The extensive damage to the car took a while to be repaired and the two of them had to be content with a tenth place qualifying position.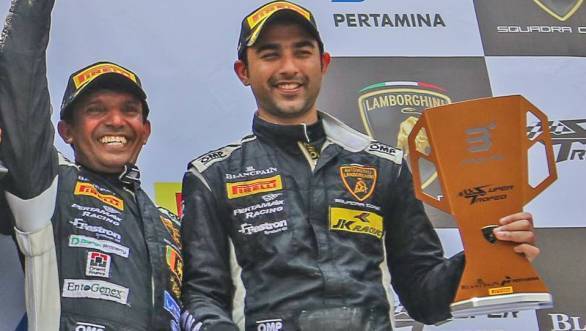 Dilantha Malagamuwa and Armaan Ebrahim on the podium at Sentul
Starting tenth, Armaan put in a fine performance during the opening few laps of the first race, making it all the way up to second on track. Then he handed the car to Dilantha who held position for most of the race, only dropping one place towards the closing stages. This meant that the pair managed a third place finish, earning them valuable points in the championship.
Armaan started the second race fifth on the grid, once again making a terrific start and moving to second on track. Dilantha took over then and the pair looked set for a strong finish in their Dilango Racing Huracan. Then things came undone. The car's right rear tyre blew forcing Dilantha to drop down the order all the way to eleventh place.
Armaan had this to say of his race weekend: "Coming away with a third place was definitely a consolation after a disastrous start to the race weekend." He continued to say "Race 2 was extremely disappointing as we had done all the hard work and were comfortably placed in second position before Dilantha took over. With just two laps to go for the chequered flag, the rear tyre deflated and Dilantha lost track position to finish 11th."
Nevertheless the duo is gunning for the championship lead at the round in Shanghai in October. We'll keep you posted on how they fare there.