Peugeot to showcase new cars and technology at Geneva Motor Show 2014
French car maker Peugeot will be unveiling two cars and two new engine technologies in petrol and diesel. The cars which will be unveiled are 108 hatchback and 308 station wagon. We will now discuss all of them in detail:-
New Peugeot 108
The new 108 is set to be a strong contender in the A-segment which constitutes 10 per cent of the European car market. It succeeds the 107 hatch and will be available in 3- and 5-door models and a TOP! cabriolet version with retractable fabric roof. The 108 is 3.47 metres long and with models starting from weight as low as 840kg, is intended to be a light and compact city car.
Interiors have an up market feel to them with features such as seven inch touch screen, reversing camera, keyless entry and starting system, automatic climate control, automatic lighting and heated electric mirrors. A new mirror screen technology is also available which allows the driver to display and use their smart phone's homepage, enabling ease of use. There will be four engine options including a 1.0 litre VTi producing 68PS and 1.2 litre Puretech VTi generating 83PS, both of which are three pots.
The exterior gets a choice of eight body colours and three roof shades for the cabriolet.
New Peugeot 308 Station wagon
This is a station wagon based on the EMP2 platform. Being an estate it has large boot space and under floor storage with modular seating arrangements.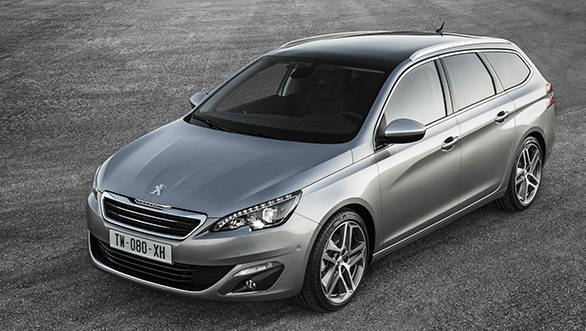 The interior is based on Peugeot's i-cockpit which comprises a compact steering wheel, high level instrument panel, tall position of the centre console and a big 9.7 inch touch screen. This same interior design theme can also be seen in the 308 hatch.
Company claims that the dimension of this wagon are the best in its class and weight has been toned down by 140kg over the previous model.
Peugeot PureTech petrol engine
These new engines are 1.2 litre, 110 and 130PS PureTech e-THP, three- cylinder turbo charged units. They get high pressure direct injection and next generation high efficiency turbo. Almost 95 per cent of torque is available from a range as low as 1500-3500 rpm. Peugeot claims that these engines have the best low speed torque to maximum power in the market. Fuel consumption and CO2 emission are reduced by 21 per cent as compared to conventional engines.
 Peugeot BlueHDi diesel emission technology
Peugeot will unveil its new diesel emission technology which in the future will find its way in to 308, 308SW and 508 models. This works by combining Selective Catalytic Reduction (SCR) with a particulate filter containing additive, this reduces Nitrogen oxide emissions from e-HDi engines by a whopping 90 per cent. The company claims that fuel consumption and CO2 emissions are optimized while still being able to eliminate 99.9% of particulates.
Peugeot will be showcasing 28 production vehicles and concept cars at the Geneva show which will include the 2008 Hybrid Air concept and 308 R concept cars.