Petter Solberg wins first ever World Rallycross Championship race
The maiden FIA World Rallycross (RX) Championship was held at Montalegre circuit in Portugal, and it proved to be a cracker of an event. For the uninitiated, Rallycross is a popular motorsport event that is a mix of every form of racing.  So far it was being organised in separate American and European legs and this is the first time it is being held on a unified global scale. You can read more about the sport in our preview report. Norwegian driver Petter 'Hollywood' Solberg put up a domineering performance on Sunday to go into history books as the winner of the first ever World RX race.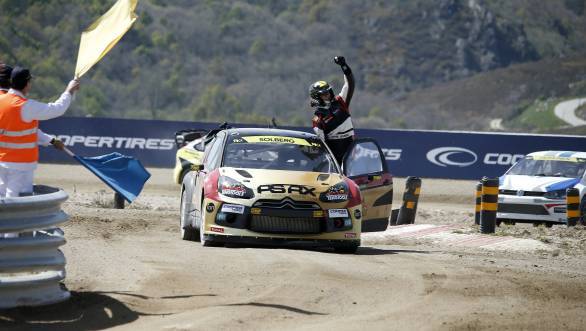 An ecstatic Petter Solberg took the winners trophy at Portugal
The victory was especially sweet for Solberg since he had a torrid time during the heats (qualifying) on Saturday. Team Peugeot-Hansen's Timur Timerzyanov was the favourite by the end of Saturday, finishing the fastest among the final 12. Sunday, however, told a completely different story, as it was all PSRX' Solberg in the final rounds.
In the first semi-final, Timerzyanov failed to capitalise on the impressive show during the heats and finished fourth, behind Marklund Motorsport's Anton Marklund. Ford OlsbergsMSE duo of Andreas Bakkerud and Reinis Nitiss finished one-two.
The second semi-final saw the 2003 World Rally Champion Solberg finish the fastest, a good 2.9 seconds ahead of the runner up Toomas Heikkinen of Marklund Motorsport. Belgian Koen Pauwels took third place and booked the final spot in the final. The second semi-final also saw the event's only female competitor Ramona Karlsson crash out. Her Eklund Motorsport car crashed into Jos Jansen at the first turn.
The first race of the World Rallycross Championship season took place at Montalegre
The season opener also saw dismal starts from big names. Former F1 champion Jacques Villeneuve and four time X Games champion Liam Doran lost their way in the heats itself, failing to register any points. Doran, however, will be hoping for a better performance with the next round on his home turf in the UK. The World RX of Great Britain is scheduled for May 24 . Keep watching this space for updates.