Pagani Automobili teases the track-focussed Huayra BC
Pagani Automobili, has teased a hard-core version of the Huayra on their Facebook page. Called the Huayra BC, this car will be a track-focussed version of the Huayra supercar.
On the outside, what grabs your attention first is that large rear wing. Although it might not be the most aesthetically pleasing thing to put on a beautifully carved Huayra, the way it is mounted on the car is quite interesting. The wing is mounted directly onto the body work at the sides unlike a conventional wing that would bolt to the boot-lid (or engine cover in the case of a mid-engined car). Also different from the stock Huayra are the new split-spoke wheels and the rear diffuser.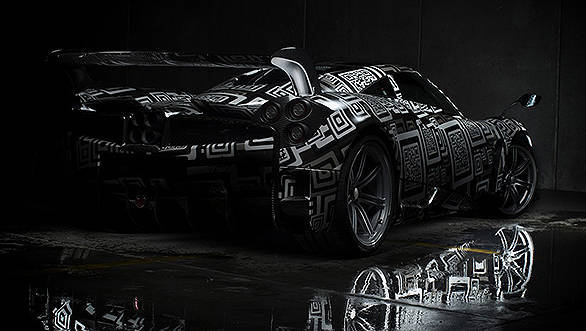 The more interesting changes will lie underneath, although, we don't have any specifics. The standard Huayra is powered by a 6.0-litre twin-turbo V12 courtesy Mercedes-AMG that makes 720PS of power and 1100Nm of torque. This engine is mated to a 7-speed, single-clutch sequential gearbox that drives the rear wheels. The Huayra BC will run the same engine, but will probably be retuned for better performance. The suspension too will be tweaked for better track performance, while the interior will be stripped of all luxury for the sake of weight-saving.
While the Huayra is already sold, Horatio Pagani has been busy developing the Huayra Roadster that might make it to the 2016 Geneva Motor Show. The track-focussed Huayra BC, however, will probably debut later this year.