OVERDRIVE July 2014 issue out on stands now
Nothing unites India with its neighbours quite like the onset of the monsoon. This month, Team OD and readers in-tow drove east to greet, meet and sup with them and even experienced the first showers on the most exciting roads on this side of the world. The rains caught up with us on the Andaman islands too, where the Nissan Sunny, moved about in not-so-sunny weather.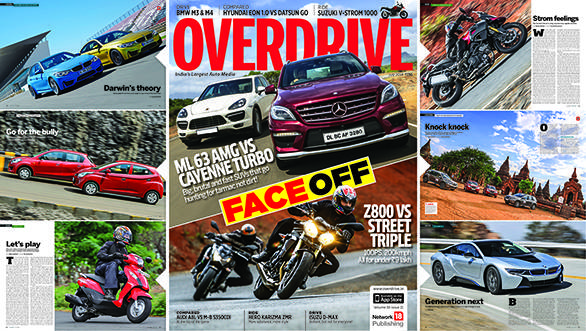 Also, it doesn't ever stop raining luxury cars and swanky rides here at OVERDRIVE – BMW is vying for the title of the fast yet frugal, with the completely awesome i8, that felt nothing short of a batmobile, as it turned heads on the streets of L.A with its powerful yet silent electric powertrain. But their new M3 and M4 still rumble and roar deliciously down the Autodrome Internacional do Algarve, Portimao. We see if the A8's laser headlamps help keep it in the limelight, when pitted against its other German rival, the new.  And there are other cars huffing and puffing for the first spot, yet again, where it's Cross, ML 63 AMG vs the Cayenne and the Hyundai. The Isuzu, though, stands tall and somewhat lone in its segment as one of the few pick-up trucks to make it to India.
And no, the rains don't force us to run for cover but invite us to come out and ride in the open. We ride the Suzuki V-Strom and the Hero and even the apostrophe riddled Suzuki Let's. Meanwhile, the Street, may not be the Veronicas of the motoring world, but make for completely fun and gettable Betties. We help you take your pick.
And as the rains mark the commencement of the domestic racing season in India, we go and find out what role does fear play in the mind of the racecar driver - Does it impede the drive to win or does it fuel the instinct to preserve, under whatever circumstance the open road throws at you? A question that does made us ponder, even as we cleared rocks and boulders from our way through roads that the monsoon rendered slippery and dangerous.
This month's issue of OVERDRIVE celebrates the showers and invites you to come join us on our next stop, but with just the right mix of caution, gut and gumption.
Price (Ex-Delhi)
Starts Rs 1.56 Crore
Price (Ex-Delhi)
Starts Rs 3.29 Lakhs
Price (Ex-Delhi)
Starts Rs 16.98 Lakhs
Price (Ex-Delhi)
Starts Rs 7.05 Lakhs
Price (Ex-Delhi)
Starts Rs 1.19 Crore
Price (Ex-Delhi)
Starts Rs 8,84,804