Your ISI-marked helmet could easily be bullshit
Motorcycle helmets are essential equipment. There is no doubt on this front. The Indian Government has proposed on August 2, 2018, that a new Helmet Quality Control Order will arrive to ensure that all helmets made or sold in India meet the Indian helmet standard, with penal implications for those found non-compliant. This is a good thing. However, in the serious motorcycle community, there is considerable consternation because the law suggests that helmets superior to the Indian standard but not tested here might become illegal. Further, there is a reference - and only in a PTI-sourced news article - to a 300g lighter helmet (than current norm) which will actively trade in penetration resistance for lighter weight. Before jumping to a conclusion, OVERDRIVE filed a RTI application on August 9, 2018, asking three questions - how often does the BIS test motorcycle helmets? Is this test by the Bureau of Indian Standards mandatory? And finally, how long does the certificate last? Here is what we've learnt.
HJC RPHA 11 Lorenzo
Your helmet
Your motorcycle helmet is not a complicated device. It has a shell made of a hard material that destroys itself on impact, absorbing energy and protecting your head. Inside this is an expanded polystyrene liner (EPS) - effectively thermocol - that is used to slow the rate at which your head decelerates when it meets an impact. Like the shell, the EPS also destroys itself, absorbing energy in the process that your skull and brain would otherwise have to. And finally, you have a retention mechanism of some sort to keep it on your head, comfort liners so that your skin sits next to something comfortable and the visor, which protects your eyes from flying debris etc. As with all things, there are many ways to make this device. The chaps selling them for Rs 30 on the roadside might make the shell from mud. And the chaps selling Rs 80,000 helmets will have multi-layer shells, multi-layer EPS liners, fancy comfort liners and top-grade visors to offer a premium experience. Some of these helmets meet the helmet standard, some don't and others exceed them in the process of meeting some other, more exacting standard.
The Indian standard today
The Indian standard today is a good standard. It's based on the ECE 22.05, the current European standard. That alone gives me great confidence for two reasons. First, the ECE 22.05 is regarded as amongst the best standards in the world not just because of its content but because every single ECE 22.05 helmet has to be tested by a series of certified/authorised labs to prove (sometimes repeatedly) that they meet and exceed the standard. Second, it means that despite not having any committee members who are motorcyclists themselves, the people took the right call to adopt a standard that's accepted worldwide as a good one. What worries me are two things, though.
There's no clause for testing in the standard! Yes. This is true. I filed a RTI application on August 9, 2018 asking three questions - How many helmets did the BIS test on average? Was this test mandatory? And how long does the ISI-certification last? The answer is shocking. I received responses from regional BIS offices in Bhopal, MP, Guwahati, Assam, Durgapur, West Bengal and Nagpur and Maharashtra. All of which say that these offices have either no licence to work the IS 4151 standard certification, or have not done even a single certification since these offices opened.
The only BIS office, then, that does actually test helmets is the one at Pawanoo, Himachal Pradesh - we believe Steelbird, who claim to be India's biggest helmet maker - has a helmet plant at Baddi, HP. The BIS office at Parwanoo, tested a total of five helmets in the calendar year preceding our RTI query. Just five. Less than half a helmet a month. But don't be surprised. They also clarified that the Indian motorcycle helmet standard does not come under the mandatory testing regime, which means that the BIS is not actually required to test any motorcycles helmets to grant an ISI certificate to them. But, the BIS certification licence is valid for a year and can be renewed further.
So who is testing these ISI-certified helmets?
The American DOT standard is very similar to the ISI standard in the way that it is implemented. The DOT doesn't test any helmets either - it isn't mandatory. The process is that helmet manufacturers like Bell or Simpson, self-certify their products as compliant. Inasmuch, Vega, Steelbird and the other members of the ISI Helmet Manufacturers Association, are required to do the same, in the present day.
In effect, the BIS or the Indian Government doesn't certify your ISI helmet - it doesn't need to. Each of these manufacturers are entrusted with the responsibility of having their own labs/facilities that regularly conduct tests on their products - an internal process - and confirm that the helmets they sell, meet or exceed the Indian standard.
In the USA, strong liability laws, fast-moving courts and large penal fines means that the honour system, as its called, works. Most DOT-labelled helmets will, if tested, meet the DOT standard. I am not bringing SNELL into this because despite all the respect the SNELL rating gets, it is a private test and not the same in nature or intent as a government promulgated standard.
In India, I don't have enough information to decipher if you should or should not, in the current scenario, trust the ISI-marked helmet. It almost certainly is better than the roadside trash you get. But it feels a little disingenuous to have the chaps certifying their helmets as safe, calling everybody else's helmets unsafe, without an impartial artbitrator to remove the obvious bias when such claims are made.
For the record, I'm still wearing my ECE-exceeding Arais and will continue to buy and use the best protection my head can get when I'm on a motorcycle. I believe I have the best head any Shumi has ever had and that deserves the best helmet my wallet will buy it.
The proposed helmet quality order
First, the good things. Nitin Gadkari, the Minister for Road Transport and Highways, is saying clearly that he intends to make the IS 4151, the helmet standard, part of the mandatory testing regime. This means all helmet manufacturers who require certification will continue to use their internal facilities to develop compliant products, but have to take their helmets to the Government for final ISI certification. One can argue, that this opens the doors for non-compliant helmets to receive certification via unethical practices and low-level corruption but let's be optimistic for now.
But Shri Gadkari and the members of this committee et al are also talking about messing with the certification requirements, cutting penetration testing in the interest of making lighter helmets. This strikes me as extremely odd. The idea that a sharp object could more easily penetrate the helmet's shell on a certified helmet seems foolish. Shri Gadkari says the committee found no evidence of this being important or statistically significant. And clearly, the ISI Helmet Manufacturers Association believes that it can be helmets that lighter and hence more comfortable.
It might mean that if you should fall down the road and slide into a stack of rebars that your friendly neighbourhood municipality or builder has dumped on the road, the bars will find your brains a little bit easier to sink into. Why worry though? The statistical chance this will happen is minimal. Maybe we should walk outside in thunderstorms more often too, the statistical chance of getting hit by lightning has impossible odds. Why worry about the fact that the results of both - rebars in the brain and lightning strike - are usually fatal, eh? Also note, that this is the sole published reference we have, to the proposed maximum weight limit.
What makes no sense
Dear Shri Gadkari and Shri Abhay Damle, I am suggesting a very simple thing.
First, if the ECE 22.05 is the standard we've adopted, and they have mandatory testing built in, our rejecting helmets that meet that standard makes no sense. Their testing standard and ethical practices are well-known and that's why the ECE certification is both hard to get and important to get.
Second, before you put up a law that makes making non-ISI-certified helmets illegal in manufacturing or sale, should you not make ISI-certification testing by the BIS mandatory? Your law says that the manufacturer must meet the standard or face jail. But today, the manufacturer is the one saying that they meet the standard or not. If all it needs is a lab facility that is annually inspected by the BIS as able to certify compliance, then which non-ISI helmet maker will hesitate to install the required machinery and show it to the BIS? How is this improving the quality of the helmets, we are required to trust, once the ISI-seal is on them?
I see that you suggest that both the steps can be taken simultaneously. But can it really? One out of six BIS branch offices tested five helmets in all, between August 2017 and August 2018. Just five. In the meantime, Indian citizens purchased roughly 20 million two-wheelers last year (April 2017 to March 2018). Even if we assume half already have helmets, that's potentially 10 million helmets that need to be, as per the new order, mandatorily BIS-tested as IS 4151 compliant.
Steelbird's website lists 28 different helmets (not counting colour variants), Studds 34 and Vega 14 (not counting their novelty helmets). These are the three big Indian helmet brands and naturally, there are more. I assume that each of these will have to be re-tested by the BIS to earn the new mandatory-testing certification, that too annually, right? Is the BIS ready for what seems to be 15 years of work at the current pace? I would suspect that you will either have to give the BIS time to ramp up and be ready for what appears to be a flood of helmets coming in for testing. Or we have to accept that like many things in India, this is one more law for the books and it will die a limp death crushed between the BIS' ability to test enough helmets and the lax enforcement on the street. The issue I am raising, sirs, is that I do not see a path that leads the BIS and the helmet makers to a place where the latter get certification from the former easily and naturally as a normal part of the process. I do reiterate, sirs, that mandatory testing for personal protective equipment is past due and the shockingly lax enforcement of the helmet law in India today is something that we must take more seriously.
That said, I do not make light of your efforts. I simply urge you to consider that there are three audiences affected by this law. There is the mass of ISI mark-wearing riders already - their lives don't change by your law. There is the mass of people who either do not wear helmets or are wearing sub-standard helmets. I am sure your law makes their chances of surviving a crash significantly better. One can question the enforcement aspect of your new law and how efficient and effective it will be, but let's pray for the best on that front.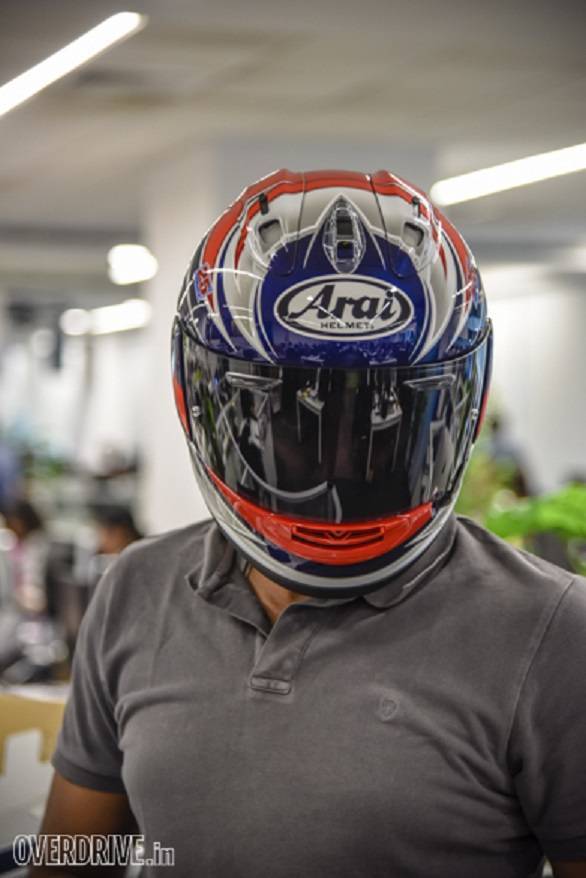 But sir, I belong to the third group. We are a small bunch of citizens who are already wearing helmets that meet the very standard you have adopted as yours. May I please request you to allow us to continue to wear - legally - the helmets that we already believe, meet and exceed your new Indian helmet quality control order? You already accept full vehicle certifications with certain provisos and conditions for sale in India without them needing to meet Indian standards - these vehicles are expensive and they sell in small numbers. That is the exact nature of the expensive, imported, ECE-certified helmet too.
What you should do
See the letter below. This is the letter that a number of industry leaders and the pillars of the Indian rider community have sent to the Government. This is in response to the Government's request for feedback on their proposed Helmet Quality Control Order posted on August 2, 2018. It gives you 60 days to respond with feedback. What we suggest is that you copy-paste this letter into your email, right now, and send it to js-tpt@gov.in. This is important because the law proposes clauses that will make the best helmets in the world illegal for us to use. We are not asking the Government to withdraw the law - this order is the right thing to do. This letter asks for an exemption for helmets that are better than the Indian standard to be permitted for use by private citizens like you and me. If you do send out this email, it will help if you use your influence and reach - that's your mouth, your phone and your social media - to spread the word.
To,
Shri Abhay Damle
Joint Secretary (Transport),
Ministry of Road Transport and Highways,
Transport Bhawan,
Parliament Street,
New Delhi - 110001
Sir,
I write to you in regard to a recent notification, reported widely in the media (F. No. RT-11012/07/2012-MVL) bringing Protective Helmets for two-wheelers rider under compulsory certification under Bureau of Indian Standards Act, 2016. I welcome this initiative. It will compel manufacturers to adhere to quality standards for helmets, and riders to buy/demand higher standards for their own safety. However, in the process, I anticipate some problems and have concerns:
A vast majority of 'premium' imported helmets ranging in cost from Rs 5,000 to Rs 1,25,000 conform to international standards such as DOT, ECE, JIS, SNELL, SHARP etc. Our own IS 4151 is based on ECE 22.05, with some additions. These imported helmets do not conform to ISI 4151, and would, therefore, be ineligible for sale once this notification is in force, despite being made to the highest standard that far supersedes these certifications and used in the most demanding situations world-over. These standards have been developed over years of research and real-world experience in the spheres of motorsport as well as on the street. Such helmets are either imported privately or sold by importers. Our own national motorsport authority -- the FMSCI -- requires the use of SNELL or ECE-rated helmets for use on the racetrack for two wheelers racing and FIA approved helmets for four wheeler racing.
Requiring ISI certification for helmets already compliant with international standards will effectively reduce the choice of safe, high-quality helmets in the market. To this end, I would request you to make relevant exemptions for established international helmet safety standards (DOT, ECE, JIS, SNELL, SHARP etc), so that we in India may continue to choose helmets providing maximum safety. Such exemptions are already in place for fully-imported vehicles, which can be registered by furnishing homologation certificates from other countries. Certainly, this can be seen as a precedent.
Reports quoting the PTI indicate that there is a proposal to reduce the maximum weight of an IS 4151-compliant helmet from 1.5kg to 1.2kg, achieved by making relevant changes to the testing methodology. As in many types of manufacturing, achieving light weight is a demanding, expensive process. Worldwide, a standards-compliant helmet that weighs 1.2kg or less is typically made with exotic materials such as carbon fibre. These helmets are reserved for race use and are extremely expensive, putting them out of reach of the average rider. Also, if a manufacturer does need to comply with these weight restrictions during the manufacturing process, they in turn, would definitely have to compromise on safety provided by the helmet itself.
Most top-rated, proven international helmets conforming to SNELL, ECE, JIS etc will be above 1,300g. Putting an upper-limit of 1,200g for IS 4151 compliance seems infeasible. Certainly, modifying long-established and respected standards simply for a lighter helmet does not seem to be beneficial. I would request that due notice of established international standards, as well as compliant helmets and their weights be taken, before this weight limit is enforced. I believe that the current standard has it right - that lighter helmets are preferred but 1,500g is a good weight.
On-ground enforcement of this notification is also unclear. Thousands of safety-conscious riders in India have chosen to pay premium prices to ensure their helmets meet international standards of safety. Will these riders now be forced to buy ISI-marked helmets? Once again, reasonable exceptions for international standard helmets will achieve the greater goal of eliminating spurious helmets, as well as promoting safety among the two-wheeled population.
I appreciate your initiative in ensuring quality standards for helmets in India. We have been victims of spurious materials and poor enforcement for too long. Arguments against the wearing of helmets such as lack of visibility or greater injury due to low speeds/heavy weight are deflections and easily proved false.
What we gather from the information available, is that this regulatory change will change the business dynamics of the helmet marketplace, by requiring homologation of imported helmets. This is a tiny percentage of the market, and the requirement will likely make selling internationally-acclaimed helmets unfeasible or impossible. The greatest hit will be the customer -- who will now have less choice. As it stands today, one can buy an ISI-branded helmet for as little as Rs 300 from a local manufacturer. If this proposal passes, those helmets will be legal, while the best helmets in the world costing hundreds of times more, will be illegal. It is not unreasonable to ask who exactly is being benefited here.
I request you to take cognisance of these points in your final decision.
Sincerely,
If it helps, you can also access this letter as a Google Docs document from this link.
Also see:
Open letter: Does the ban on sale of non-ISI helmet make sense?
All the bullshit some of the time