We want small packages, big thrills
I believe the Ford EcoBoost has a lot of potential, not as a crummy ecologically-sensitive and fuel saving engine but as a proper performance workhorse. Take the EcoSport for instance: the first Ford we have seen with the EcoBoost engine. The best version of it, and I say this to all of you, is the one which comes with the petrol EcoBoost mill. It's bloody quick, very linear and there's loads of torque anywhere you position your gas pedal. And it's a fantastically compact engine, so Ford, do you see where I am going with this? Put the bloody thing in the Figo already and give us a proper performance version of that brilliant little hatchback.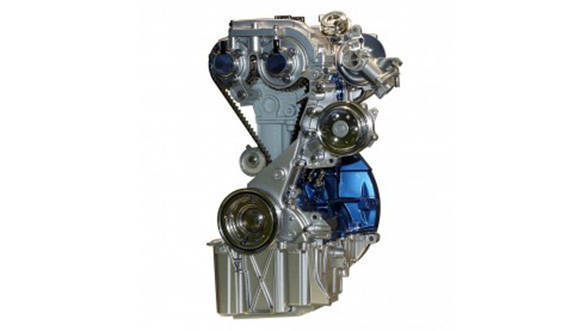 Ford EcoBoost 1.0L Turbopetrol Engine
The Figo has more or less faded from people's minds and the time is right to give it a bit of a mid-life booster. Inject some muscle into the fenders, get out a nice set of alloys with low profile tyres, lather it with a hot set of colours and some fancy bits and bobs in the inside, probably even throw in a nice set of sports seats and voila, one instant cult mobile coming up.
The problem is, I don't think Ford have gone that far in their thought process yet. Not that they aren't capable of thinking along those lines, after all they did do the pseudo Rally Sport Ikon several centuries ago. Today's economics dictates that a car has to:
A) be diesel-powered
B) be spacious enough to fit 300 Greeks in their skirts
C) be cheaper on the EMI than the controversial Rs 12 for a full meal
D) be diesel-powered
E) somehow be more valuable than my neighbor's car which is incidentally the same model as mine.
And so, Ford continues to do the mileage marathons. Enough already! We get that everyone's cars can drive us to the moon on a single tank of gas. But the last time NASA put anything on the moon, it also generated vast payloads of horsepower and was able to break through the earth's atmosphere.
Sure, there are cars that would bring a smile to your face just looking at them. But that's all mere mortals can do: look at them. The ones who can afford to own these aren't smiling because the stocks are tanking this morning or the wife is sleeping with the gym instructor. Tell me honestly, does your Skoda make you feel like a winner?
Now I do think VW deserves a pat on its back. In fact don't stop there, give them a high five too and definitely stand up as you do this.
Respect; the Polo GT TSi is sensational, it's fast, it's fun and its brakes don't work quite as well as you want them to, which is my only grouse with this car. But it's a thrill-a-minute drive and despite the low numbers, is already something of a motoring icon. Social comments about this car are never negative, and it has unanimously made every reviewer turgid with desire. Now why can't we have more cars like that, why can't manufacturers accept the fact that some of us do like our cars to be fast, fun and affordable?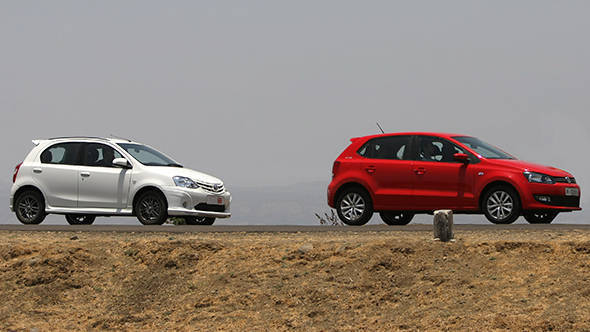 The Toyota Etios Liva TRD Sportivo and the VW Polo GT
I find it hilarious that every manufacturer will vocally bandy its SUV as a lifestyle choice. An SUV says that you are adventurous, courageous, brave, an explorer of the unknown. That you are successful, smart and know how to make the right choices in life. All that for a vehicle that at best is good enough to cross a speed breaker or plow through a field of, potholes! Yet, these manufacturers will never ever approach a small car as a lifestyle choice.
Mayank Pareek, COO Marketing & Sales and Mr. Kenichi Ayukawa, MD & CEO, Maruti Suzuki India Limited unveil the stylish Stingray
In this age of consumerism and public fora, I feel manufacturers are extremely fearful of making a wrong move. Otherwise, Maruti would have given us the Swift Sport instead of the ridiculously named WagonR Stingray. And Toyota should have done a proper TRD version of the Etios Liva.
So why not shift focus to the small fun car? Turbocharged petrol engines are the future. All engines are going to be downsized, it's inevitable. So why not have some fun while we are at it? Sometimes, it should not be about the numbers. Sometimes, it should be about igniting passion.
The Indian climate is hot, unfortunately the motors we drive are at best, tepid.