Video Recording Traffic Offences
Recently I came across a very interesting feature story in Mumbai Mirror, a leading newspaper about two motorcyclists who ride around with video cameras on their helmets, recording their rides. Both these motorcyclists apparently started making these video recordings to protect themselves legally in case of an accident. One of them was actually almost thrashed by a mob when the rearview mirror of his motorcycle accidentally brushed against the arm of a pedestrian. Some road users accused him of rash riding and would have beaten him up, were it not for some sensible passerby's who stopped them. This has resulted in the motorcyclist getting a video camera and making recordings every time he rides, just in case he is in an accident and needs to show proof that he was not at fault!
Image by - touron2wheels
The easy availability of helmet cameras and affordable price is obviously a factor in recording their rides. What is fascinating though, is that what started as a practice to protect themselves, has also resulted in them filming the blatant traffic violations committed by others. Now both these motorcyclists upload these videos on social media and sometimes tag the police, in the hope that they will penalize the offenders. Whether this is happening or not, is something I cannot comment on, but it certainly is a great idea.
In many western countries, they have proper policies for motorists to submit dashboard camera (dashcam) recorded video and photographic evidence of road traffic offences witnessed by members of the public. For example in the UK, they use this as just another tool to reduce road accidents and make the roads safer. There a road user can submit any type of footage, whether it is filmed on a Dash Cam, mobile phone or any other device – as long as it relates to any traffic violation or breaking of a law. I am told in the UK, they also have a dedicated website where one can upload such footage and it helps the police process the video evidence more efficiently.
We in India have become quite tech-savvy and almost everyone now carries a phone with a camera. Dash cams and GoPro cameras are easily available too. Social media platforms are also full of videos uploaded by our citizens. Given all this, there surely must be a way for us to also make dash cams and phone cameras a useful tool to improve road safety and reduce traffic violations. Every time one gets into a car and goes anywhere in Mumbai or even on our highways, you see numerous people stupidly breaking the law and putting themselves and other road users in grave danger. If some of us start to film and record these road offences and have a common platform where we can upload our footage which then becomes solid evidence for the police and authorities to act on, I think it can contribute in a big way in reducing the number of traffic violations and the resultant road accidents.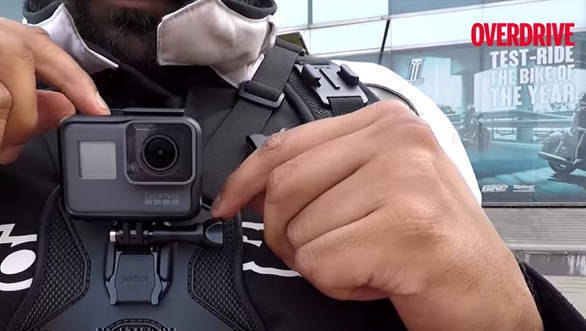 It really is time we encourage the common man to capture traffic rule violators on camera and give them a dedicated platform to post their videos. The police should have a system to scrutinize these videos and punish the offenders properly. Maybe the person who posts the video can be acknowledged and thanked and this appreciation from the authorities may inspire even more citizens to come forward and act as eyes and ears of the law. They should be free to upload these videos on other platforms too and people should also be allowed to comment on the traffic offences they see. This embarrassment along with the punishment prescribed by the law could be an additional deterrent for potential road traffic offenders.
But until the time something like this happens, I wonder if we at OVERDRIVE and all of you loyal followers can join hands and do something to start off this movement. Please do send in your ideas.