Vespa VX: Premium price, not so premium product
From day one, the prices of the Vespa scooter have been hard to digest. I was at the launch in 2012 and nearly fell off my chair when I heard the price – Rs 66,661 ex-Maharashtra. In Mumbai, the scooter came to Rs 71,000 or thereabouts on road.
2013 Vespa VX
At this point, I hadn't ridden the scooter or seen it up close; a colleague had gone to ride it at the media preview. You can imagine my shock when I got a close look of the scooter and could see nothing that commanded that kind of a price. I hoped then, that it was a rocking ride.
When I asked the officials at the launch, I was told that I had the wrong frame of reference. That I wasn't expected to compare this to your average scooter since this was a lifestyle product and a premium scooter.
Then I got to ride the scooter, and we have one on a long-term test now, and here is what I think of the product minus the marketing and all that in a nutshell.
A lifestyle product?
The Vespa is a nice little scooter. Its styling stands out because it derives from its past rather than try to be unisex or sporty like every other scooter on the market. But there's a whole bunch of scooters that offer better aggregates as well as better fit and build. The engine is quite friendly and alert and it is the happiest scooter engine I know when it comes to sitting on full throttle for long periods.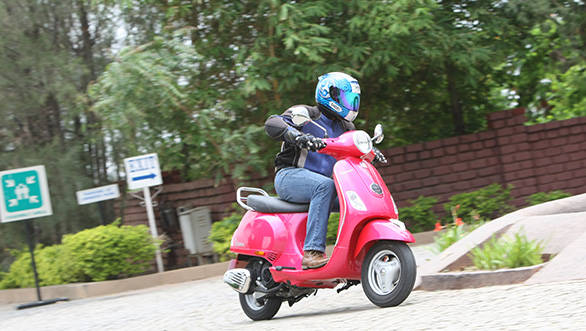 2013 Vespa VX
Ride quality is nice but not exceptional and then we did test it at a go-kart track where it showed off its cornering chops as well. Its weakest link is braking. The front drum is a bit weak, a feeling heightened by the anti-dive properties of its traditional single-sided trailing-link suspension while the rear drum is too on-off.
Is the Vespa really a lifestyle product? If wearing the tee shirt and having a funky showroom is all that is needed, certainly. But let us be honest, we aren't a country besotted with our scooters to begin with, unlike say, Italy. There is always a minuscule group of hardcore enthusiasts who collect the scale models, restore their old beauties and so forth. These are the only Indians truly immersed in the lifestyle.
There is a slightly larger group of people who have ridden the Vespa in Bajaj or LML form and have an emotional connect at some level with the brand and this too I get.
But the rest of the scooter crew just wants to get from point A to point B with X amount of stuff. And every time someone has tried a lifestyle scooter, it hasn't worked. But we will come back to that. In contrast for example, Harley-Davidson make lifestyle products beyond their accessory line-up. Fans love them and haters can't stand them, but ride one and you immediately grasp that this is an experience that few other motorcycles can give you.
So is the Vespa a premium product?
The intangibles are in place for this without a doubt. The Vespa has a charming back story, a well-developed history, presence and charisma in the movies, and all that. And whether this is a good thing or not, the products have never strayed very far from the original at least in design and appeal. You'll never mistake anything for a Vespa or mistake a Vespa for anything else.
But then there is the matter of the tangibles. A premium product has to be aspirational. It has to be premium by design and specification, not by marketing or advertising. For instance, when you sit inside an Audi or a Mercedes-Benz car, there isn't any doubt in your head that you're sitting in an expensive upmarket automobile. The marketing bolsters this image. On the other hand, if you sit inside an exquisitely restored Fiat 1100, you think well-made or well-kept but not premium.
This to me is a big part of the problem. First there are the aggregates. The chunky tread tyre was said to hark back to the olden days. But we Indians are savvy. We made, an altogether more cynical connection - that these were the same tyres that the cheaper scooters in the country were wearing. Uh oh. And when you see the scooter up close, this sensation dogs your footsteps.
The switchgear isn't premium, neither is the key, the fuel filler cap looks like belongs on a jerry can once it gets slightly soiled... It doesn't add up. It all works just fine, but it doesn't strike you as upmarket. To compare, the Activa also has non-premium bits that are functionally as effective as the Vespa but you don't mind because the price isn't premium either.
India's isn't Europe
When I pointed these things out, I was told that these were the same units that are actually sold in, for example, Europe.
India isn't Europe. Almost every non-Indian manufacturer to set up operations here has learnt this, mostly the hard way. We have some of the least articulate customers in the world perhaps, but also some of the most accurate when it comes to perceiving the value of a product versus the money being asked for.
Nail the value proposition and you get a Splendor or a Harley-Davidson SuperLow. Botch it, you get a... the list is embarrassingly long. Besides there has to be a difference in approach between a market that does 1,000 unit sales a month versus one where even a product that sells over 10,000 units each month is considered a failure.
The new Vespa is priced at Rs 71,380 ex-Delhi
It doesn't matter, as far as I am concerned, what a particular vehicle does in any other part of the world. India is special. We just don't buy the base models of premium things. We invariably do not buy what looks like great value if you just add the word "cheapest" to the proposition. Status is a factor and it is a perception thing. Poor switches and bits may not seem like much, but they add up. India is special and successful products require alterations to fit us.
And I'm sure Vespa gets this because otherwise the LX125's engine wouldn't have been updated for India in the first place. My confusion is if you could do something as expensive and hard as update the engine, would it have hurt to look at the whole thing once and made more changes to ensure the value perception matched the price?
The aspirational content is a big part of a premium product and the problem, I believe, is that this Vespa doesn't have enough. There is nothing upmarket in spec or feel about, for example, the levers, meters, switches, seat and grab rails – the bits you touch and see. There isn't anything wrong with them but they just don't stand out like the price does. In terms of technical specification also, the 125cc engine isn't exceptional either. Maybe the tuning needed to have been for more performance rather than economy. Because anyone buying a commuting scooter for Rs 71,000 isn't very money-minded by design.
For diehard fans only
I would also add that this isn't the most convenient scooter in the Indian riding cycle either. The footboard has a spine that's very historically accurate but devastatingly inconvenient when it comes to carrying the groceries back home. And because it is raised, the hook in the seat is too low. The seat flips open with one hand only if you use the key as a "handle" and that feels wrong. Once you sit, the keyhole for ignition can be hard to locate. And pillions have to have really long legs to reach their footrests. There is a bunch of ergonomic issues like this which tend to hide for example, one of the most comfortable handlebar-seat-footboard triangles.
Basically, unless you're a dyed-in-the-wool Vespa fan, there isn't anything exceptional enough to justify the price.
Pricing is it's biggest flaw
Let us look at the Kinetic Blaze for the space of one paragraph. I rode the Italian version and I loved it. It was fast, it understood cornering, it was comfortable and spacious. It was a premium scooter. And it stood alone in the way it looked and how large it was. There was no escaping the impression. But by the time Kinetic finished with it and launched it, it robbed the scooter of many of these things while the production models were of a lower quality. The scooter sold well in Mumbai initially - which should tell you that there could have been a market for it - but once the quality perception shifted downwards, sales stopped. As soon as the perception of it being a premium scooter evaporated, so did the sales.
In the case of the Vespa, the company reiterates that it doesn't want to be a volume player at all and niche products is going to be its gameplan for the market and there's nothing wrong with that.
But in a utility-oriented market like scooters, a premium segment has to be created. And you cannot do that with a small scooter like the Vespa, and that is the rub. The Vespa GTS300 would have. At almost any price.
Had Vespa given the LX, say, a powerful 150cc engine that was noticeably quicker than the rest of the scooter crowd, the expensive price might have worked. But not with a scooter this close to the rest in feel and spec and such a distant price.
Vespa have tried to fix this with price corrections and there has been an uptick in sales that has followed. Unlike the Blaze, there is nothing fundamentally wrong with the Vespa except for its optimistic price.
Now Vespa has launched the VX with a front disc, tubeless tyres and bits. And when we rode it, it felt good like the first Vespa did. The engine is nice, the brakes now work and all. But look at the price! Rs 71,380 ex-Delhi is nearly Rs 75-76,000 on-road. Back to square one.
Piaggio told us that they wouldn't mind if the VX dominated sales and led to the extinction of the base model. Which is why in my earlier article on the VX I had written that I was expecting the company to price the VX extremely close to the base Vespa. No such luck.
Like I've said, almost every manufacturer that has set up Indian operations has had to learn the Indian approach to buying two-wheelers. Time for the next lesson, then.