TVS and Norton? All that you should know.
Another Indian automobile manufacturer breaks new ground. TVS Motor Company, one of India's largest 2-wheeler manufacturer recently completed the acquisition of one of Britain's oldest marquee motorcycle makers, the Norton Motorcycle Company. On first hand, it was amusing to see the amount of jingoism surrounding this purchase. Another Indian manufacturer buys an international automobile brand, Indian manufacturer buys out British manufacturer. 73 years after India claimed Independence, this is a more capitalistic transaction than India trying to get back at the Brits. Keep the jingoism aside, this is pure business. But is it good business? The question that has been bugging my mind for some time now is, does TVS really need to buy an international brand, and that too Norton? Why am I not so confident about this whole deal.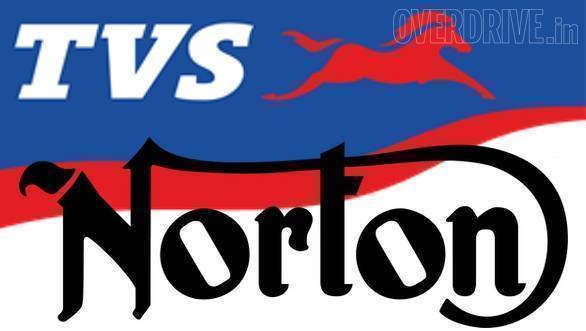 TVS, a juggernaut
First off let's examine the TVS Motor Company. T V Sundaram Iyengar started a business over a 100 years ago. In 1972 it ventured into the automotive components business and just 4 years later it kicked off a 2-wheeler business, making mopeds. From there if you recall, the company entered a JV with Suzuki to manufacture motorcycles, learned some major lessons along the way, and eventually decided to go the distance on its own, divorcing itself from that marriage. That was probably one of the best things that the Hosur based manufacturer ever did. Venu Srinivasan who was spearheading the company brought in global R&D and quality controllers from Japan. The products they started coming out with soon saw a remarkable shift in both technology, quality, reliability and performance. Somewhere down south, there is also something in the air that makes them go fast, seek avenues to exercise all that speed! TVS went racing. Big. Dirt track and eventually circuit. And their motorcycles reflected that injection of adrenaline. It continues to this day. Sharp people who engineered motorcycles with passion resided in TVS for decades. Under Venu Srinivasan, TVS climbed ever higher, the company expanded its market overseas, with a presence in over 60 countries and opened overseas production facilities as well. The racing ambitions continued and just a few years ago, TVS began fielding a team at Dakar. Major results will come in, its just a matter of time. TVS have over time, shown they are a force to reckon with, and so far they did it all by themselves.
NORTON, a rich legacy
Norton, on the other hand, is a 120 year old company and has been making motorcycles for that long. So they have a rich heritage of bike building. They have a few illustrious motorcycles to their name as well, not to mention a stellar name in racing, especially at the Isle of Man TT and the motorcycle world championships, the precursor to what is now known as the MotoGP. Through those years Norton held several world speed records, was a name to be reckoned with at the island, with significant victories at the Grand Prix as well. Post the world Wars competition from the Italians and then the Japanese started taking its toll. Norton wasn't really able to take off but they still had some glorious days through the 50s and the 60s. This was the era when the Norton Manx came to life. It was one of the most epic racing motorcycles that Norton ever built and it dominated racing for nearly two decades. However all the sporting action meant money was being pumped into racing activities with lesser and lesser coming in from sales of consumer motorcycles. Eventually Norton had to pack up.
Several attempts were made at reviving the company but nothing really worked in the long term. Associations with Villiers and Triumph did not amount to much. And for over two decades Norton lay low. Then came the F1s, a new breed of racing motorcycle with a Wankel engine, yes, a rotary engine that took Steve Hislop to victory at the '92 Isle Of Man Senior TT, beating Carl Fogarty. That period did not last long and by the mid-90s Norton was back in the dumps. American Norton enthusiast Kenny Dreer owned the company from the late 90s through to 2008. Not much headway was made though the development of the 961 Commando began in this period.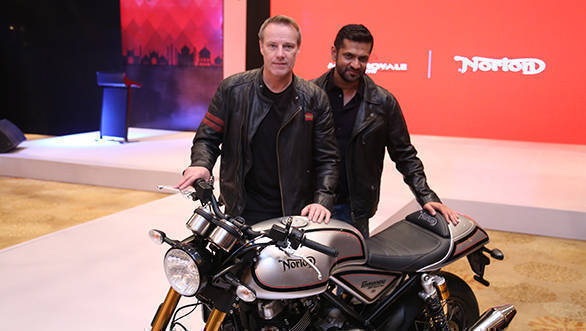 Stuart Garner, Norton Motorcycle with Ajinkya Firodia, MotoRoyale
The Stuart Garner years, down the rabbit hole
In 2008 Norton was sold off to Stuart Garner and the company saw some expansion, but more importantly, it expanded its model range. The new V4 came to life, a gorgeous motorcycle that had many fans though production numbers were extremely limited. It was as a British motorcycle journalist called it "the Aston Martin of bikes", but that could also mean it was good for the James Bond types, more theatrical than the real world. Nonetheless, the V4 SS sold out, and then orders got backlogged for the next version the V4 RR. This got added to a reasonably large range of motorcycles like the Atlas which had a 650cc engine a downsized version of the 1200cc powering the V4. Then there is the Dominator, the Commando and the Superlight (a carbon fibred version of the V4 with the Atlas motor.)
Norton looked like it could have been going somewhere but that is where the problems began. Under the stewardship of Stuart, Norton was plagued with controversy after controversy. Forgeries, misappropriation of funds, backlogged orders, key figures acrimoniously leaving the company (Pierre Terblanche even called his short stint at Norton disastrous) and then there was the pension funds scam. This pushed Norton to the brink and the company had to file for bankruptcy and go under administration. Leave aside the fact that Stuart Garner is being investigated for the pension funds scam.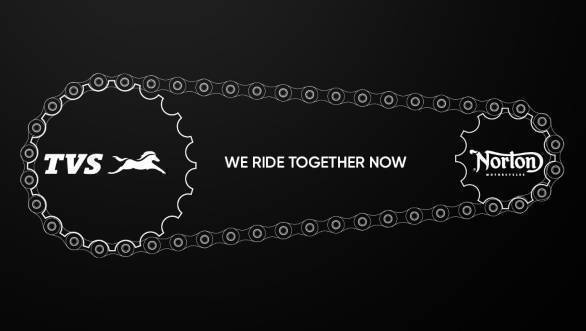 The South Indian hero steps in
All that aside, TVS have still gone ahead with the purchase of Norton for a sum of GBP 16 million, which according to TVS is an asset purchase, including the IP and brand rights, however with some exclusions. This is a godsend for the roughly 70 odd employees at Norton and its few dealers around the world. The business will go on, the money will be made, salaries will be paid and maybe in some years, investors would get their money back, or will they?
"Since this company (Norton) had a slightly rough time in the past 2 years, we have not taken on any past liabilities or responsibilities". So the question of investors getting their money back, isn't part of the equation.
Questions we sent to TVS about the whole deal same came back promptly with a PR tweak to it. "It is a brand which has a huge opportunity for us to scale up and create value. We will focus on the developed markets and the recreation segment. This classic and unique British design will be the core we will look to build out in the future as well"
This business of scaling up is what confounds me. On one hand TVS states that 'Norton is focused on bespoke manufacturing and its products are really unique because of the halo of the brand, its huge appeal and the connect people have with it.' That is true, Norton hand makes motorcycles with the utmost care, precision and high quality worksmanship at their Donington facility. This process ensures they take roughly 1.5 weeks to manufacture a single motorcycle. Which means annual production would be less than 200 motorcycles a year? Hence a slew of back orders, that got further aggravated by issues in the supply chain. TVS claims that they can ensure their supply chain expertise and network can reduce costs and increase profitability, but more importantly it would ensure deliveries dont stagnate or get delayed like in the past. However that still does not allow Norton to scale up, unless TVS installs a proper manufacturing setup that moves the brand away from its bespoke, handbuilt manufacturing credo. It does not seem to be the case.
Second is the whole 'classic and unique British design that will be the core'. This would mean the Dominator and the Commando would take precedence. Both however are litre class motorcycles with a 961cc motor and old school café racer styling. Again a limited market for these motorcycles. Also these motorcycles are Euro 4 compliant, engineering them to meet contemporary Euro 5 regulations would require large investments, both in terms of money and time. Even the V4 SS and RR have yet to get international emission certifications. In addition at the 650cc end of Norton, the Atlas and Superlight motorcycles powered by the new parallel twin 650cc engines still need some development work on them.
The Chinese and other angles
Now the fly in the ointment. The license to manufacture the new 650 and 961 parallel twin were both sold to Chinese firms Zhongshen and Jinlang. So TVS alone may not be able to manufacture those engines. There could be some hiccups in the agreements, and we will have more details on it in the coming weeks. There is also the contract manufacturing agreement that Norton had with Indian firm MotoRoyale. That deal was to go on floors last year after Norton had approved all the tooling and jigs. However once the company went under administration, the agreement with Motoroyale has gone nowhere. There is the question of investments that MotoRoyale has put into place, which they may not recover. However TVS will at some point have to address the fact that certain tooling for the Atlas project exists and with it the capability to manufacture those motorcycles here, opening up a large window to South East Asia, Asia, Australia and even Middle East and African markets in short time. TVS however also responded that manufacturing Norton motorcycles would stay in UK at the moment.
The future years
As it stands I don't see a strong case for TVS buying out Norton. They don't need it. Norton in its present state does not have much relevance in the current market scenario. The premium motorcycle market is shrinking and manufacturers are looking at alternatives, spell that as EV. If we had to take the case of KTM or even JLR both of which have significant Indian interests, both those companies had a clear road map for the future. Expansion plans involved either downsizing products for newer markets or bringing in newer powertrains in the form of EVs. What they needed was a helping hand to streamline supply chains, and provision funds, provided by Bajaj and Tata Motors respectively. From the few British journalists I spoke to, Norton does not seem to have that sort of a roadmap chalked out. So the current Norton products would have a shelf life of a few years, perhaps a decade. By which time they would have to go down the EV way. And that would entail further investments. Maybe the Norton name would enable easier acceptability to those people who recognize the brand. So an EV if it is in their future, it might be more palatable under the Norton brand name rather than TVS. In the mean time there are several complications, and I fear the Norton brand would simply slip under the radar in some time, and it would not amount to anything much. But I also assume that TVS does have a game plan, there is some method to this, some rational and a business opportunity that isn't visible immediately. I for one am definitely looking forward to this being a big feather in TVS's cap!
Soon after this story went live, TVS arranged for a conference with several persons from the motoring press. At the end of the conference, it is still unclear what TVS intends to do with the brand. However, these are early days and there is still a lot of diligence to be undertaken before Norton can resume operations and chalk out a path to the future. What is clear is that Norton will first look at, with immediate priority, fulfilling existing orders. Which means getting production up and running so that those who have orders can receive their bikes.. This would still mean a year before these orders can be honoured as production will move out of Donnington Park to new facilities elsewhere.