Thank you new year!
There's no getting away from me. None. Everyday in Delhi, I'd go to Ashwani 'Chotu' Rana's garage near the Motibagh Gurudwara in South Delhi. Every day. It didn't matter if Fera and Ferocia, the two RD350s required any work or not. But in the heyday of the pool-snooker club, I was single-handedly the biggest reason why Chotu could never play as much pool as he wanted to.
But he's very important to me. He 'allowed' to me to buy an RD after he became convinced that I wouldn't instantly kill myself on a powerful motorcycle. He found Ferocia for me all by himself and it remains amongst the sweetest of RDs I have ever had the pleasure of knowing. But more importantly, Chotu set the tone for the mechanic's place and position in my life.
The word Mechanic is troublesome in India. Because unlike Doctor or Chairman or MBA, it doesn't conjure up a socially aspirational image. And that's because we are brought up to be absolute bastards about the dignity of labour in India.
Associating importance with prosperity and affluence is an unfortunate prevalence in India. It cripples your ability to see people for what they are.
And it makes most people less than proud of what they do. In all of these years, I've met one autorickshaw driver and one Uber/Meru driver who was ever proud of what they do.
This is something my parents ensured I understood as a fundamental basic tenet. That we were meant to be proud of what(ever) we do. And by extension, to do it as well as possible.
But the four people in this story don't fit that Indian unproud mechanic stereotype - thank god. But that's the digression, not the centre of this story.
Chotu and my couple of years with him, made it very clear that a mechanic was as vital to my well-being as motorcycles. I grew so fond of him that one of the big concerns as I left my stable base and job in Delhi was where to find a Chotu in Mumbai. If I had never tried this, Ashwani Rana's being in Delhi would most certainly have been a major factor.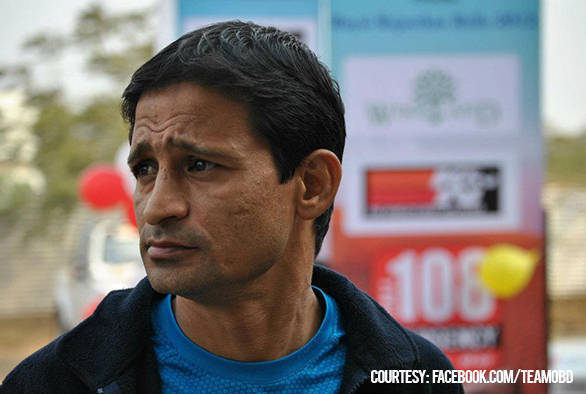 Ashwani Rana or Chotu as well seemed to call him sold me Fera, my very first Yamaha RD 350 and then Ferocia, the second one as well
From Chotu I learnt that all problems can be solved. Some take longer than others. And that there is a special flavour to the free tea at the mechanics that no other place has. A taste of brotherhood, maybe.
In Mumbai I met Zubin Ponnappa. He brought a bright yellow Honda CBR600RR to a shoot along with two TZR250Rs. He handed the CBR to me without a moment of hesitation and said, "Please be careful, this is my livelihood."
Zubin Ponappa has been working on big motorcycles since time immemorial and remains the TLC-man for Ferocitas my KTM 390 and Feroci, the gorgeous Ducati Multistrada he's posing with here
And I looked into his eyes and said as honestly as I could, "Thank you. It's mine too."
We've been good friends ever since. He's worked on the RDs, on the CB750, on the Triple, on the KTMs and on the Ducati. And almost every test bike that needed a quick check or two. His calm demeanour and thoughtful method is frustrating for a jumpy-type like me. But ultimately, Zubin has a solution for everything. He's taught me that problems that don't have immediate solutions simply need a calmer state and more research to solve.
Then in my previous magazine I met Joshua Crasto. He's more family than anything else to me today. He used to road test bikes and cars with me. But more importantly, he was (is) Mr No Filter and he kept us all honest. And he still does. He says what comes into his head and it makes for a refreshingly honest perspective on the world.
Joshua Crasto is family to me. We've worked together, ridden together and so much more! His JCMoto and Garage 52 are usually the first stops for crash protection for all my bikes
In time, Joshua started JCMoto and then Garage 52. These two brands and Josh has made things, fixed things and more for all my motorcycles too. In fact, JCMoto's crash bobbins are usually my first acquisition after I get a new bike. Many times, they're one-offs made just for me. And he's never let me pay for these. "For you, Shubho, they'll always be free."
Joshua is infectious though. I've always maintained that I don't want to learn to work on my bikes. I want to ride not fix. But every time I see Joshua's ease in front of an open engine or old bike that arrives in five crates for a restore, it makes me jealous.
And finally, through Joshua I met Anand Dharmaraj, or Annai as I like to call this gentle giant. Anand runs Indimotard and its garage arm, the Greasehouse. Annai sees my Yamaha YZF-R6 more than I do because it lives in his garage. He's the fettler, the tuner, the caretaker and the suspension setup guy. And I just show and ride. Whether it is patience with people or sheer riding skills, the amount Annai has taught me is not possible to quantify. He's also the lead instructor at the school he and OD run together. He's been my teacher. He doesn't know it, but he still is.
Anand runs Indimotard which runs Greasehouse, the coolest garage in Bangalore - and home of Feraci, my Yamaha R6. He also runs extremely popular motorcycle tours in India and outside. And he's the chief instructor and main mentor at the TWO Track School he runs with OVERDRIVE supports
These thoughts popped into my head as I was writing a short speech for an event organised by Total, the lubricant brand, to felicitate and recognise Delhi's top car garages and mechanics. It made me feel very emotional and ungrateful.
So for my first column of 2018, I decided to start by saying thank you to all the mechanics who've kept my wheels, both actual and figurative, rolling. I owe you more than I can repay and I'm grateful for it. Thank you especially Chotu, Zu, Joshie and Annai. My annoying bikes names, endless questions and endless moto-passions wouldn't be what they are without you.
And dear readers, I wish you a happy new year. I suggest that you start it on the best note ever by calling those who make sure your wheels are round and rolling free know how happy you are to know them. And how thankful you are for them.
Just never, ever, offer to pay for all the free tea though. I promise you, you cannot afford it.