State of the heart
The Indian motorcycle enthusiast has never had so many options. That's me. And you. Based on the questions I am getting on OVERDRIVE as well as my Facebook and Instagram private messages, I see that it is confusing as heck. So I thought I'd take this column to try and help. There's a simple thought that cuts through the flak and gets you right to a decision. I think it's a good way to say goodbye to 2018 and think fresh for 2019. But first, some history.
It's 1998 or 1999. I've just pulled off a coup that landed me a job at NIIT GIS Limited that brings with it twice my earlier salary. Think it's time for the Kawasaki KB125 to have a partner. The choice between the Enfield 350 and Yamaha RD350 was confusing. They were both not regarded as reliable - thanks Yamaha RX100. And yet, these were the upgrades. There was nothing else to upgrade to.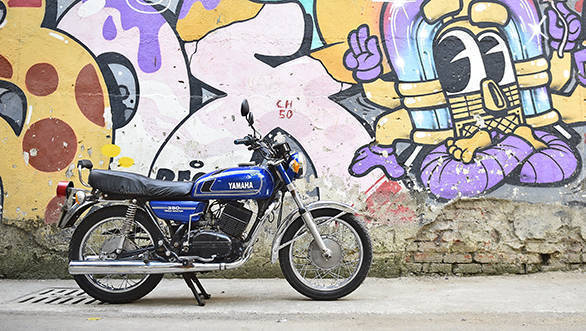 I rode into Chotu's (Ashwani Rana) garage with a decidedly odd looking Kawasaki - stripped back to bare minimum, shiny as new but with tassels on the bars and ultra-tall Enfield mirrors for the best rear-visibility of all. He looked up from the timing gauge he was using to set points for an RD, and cast a long look at my KB and said very slowly, "You want an RD". But despite that tone, Chotu is a nice guy. He asks me to follow him on his RD - I barely kept up. And then, he asked me to go take his RD for a spin. I still have goosebumps when I think about that day.
But the ride cleared up my decision. I wanted that Yamaha. It was my flavour of ice cream and I wanted loads of it. Right now.
Chotu would help me acquire both Fera - the RD350 to which all my bikes owe their names. And Ferocia, the sweetest RD ever made, lamentably without papers that would stand up to scrutiny. So powerful was my experience with Fera, that I still dream that one day I would be inspired to rename one of my bikes Fera II. Sigh.
So point one? Go ride one instead of twisting and turning in your bed. Stop with the decision-surfing online and go ride. The spec sheets and the road tests cannot tell you what your body and mind will say to you when you're riding. The question you want the answer to is, "Is this what I dream of?" If multiple bikes say yes to that question, you're a lucky, lucky, lucky rider.
But the question that really gets my goat is, "Hey Shumi, the Interceptor 650 and the KTM 390 Duke are the same price. I'm thinking of the 650..." Why are you thinking 650? "You know, it's just better value."
The Royal 650 has won the highly coveted Indian Motorcycle of the Year award for 2019
Sends me into low Earth orbit, that question. Value is for car buyers. For motorcyclists, it's an element of purchase hygiene, not the altar on which decisions are made. You and I, both can name 10 bikes that are incredible value and 10 more that are idiotic on the money:value front. But value doesn't corner. Value doesn't come out in the pictures. Value doesn't ride a goddamned motorcycle, see?
The value-for-money factor ends the moment you roll out of the showroom. At that moment, the biggest thing of value is that the motorcycle is now yours. That you chose this one. And that, precisely, is when your real story begins.
You can bore your friends with how much money you saved. But wouldn't you rather tell tall tales about great rides? Should your story not have the most gorgeous twists and turns? Should it not be about the memories that power you into riding more? The incredible connection between rider and motorcycle, and the experiences on board it, both, come from how you feel about the bike, not its price.
Aren't you, then, confusing being swayed by a bike and being swayed by a sweet price tag?
Not that this is a bush I haven't beaten about before, but it bears repeating.
Don't buy a bike because you think it's cheap. Lots of motorcycle for the money is a seductive idea. But you can't ride value-for-money on the trip of a lifetime. For that you'll need a motorcycle you love.
Buy the bike that makes your heart sing and your eyes twinkle. The one that gives you goosebumps and shaky hands. The one that fills your dreams with colour and drama. The one that blows your mind. Because this is the real value of a motorcycle. And it isn't ever a function of its price. The money you spend to buy this bike will be, I promise, the best money you've ever parted with.
My job is to ride, road test and highlight what a motorcycle does best and what it can do better. But it should inspire you to go take a spin on a bike. That's all. It shouldn't steer you to your cheque book. It should lead you into the saddle.
Because here's something you should remember - as I do - when you're tempted to buy a bike.
If you're going to ride your heart out, let your heart decide what the right bike is. If you're embarking on the ride of your life, let love decide what you're riding, not your wallet.
Price (Ex-Delhi)
Starts Rs 2,52,928
Price (Ex-Delhi)
Starts Rs 2,56,372