Remembering Sundaram Karivardhan
The number 65 is revered in Indian motorsport. See, back in the day when cars of all shapes, sizes and power outputs would take to a track called Sholavaram, this number was of special significance. After all, in the grandstands groaning under the weight of a crowd 50,000-strong, the people would all root for the cars that bore the number 65. Because these machines belonged to the Super Speed team, which in turn belonged to the late Sundaram Karivardhan, one of the driving forces of Indian motorsport back in the day. Had he been alive today, Kari would have only just turned 65 on the 20th of June 2019.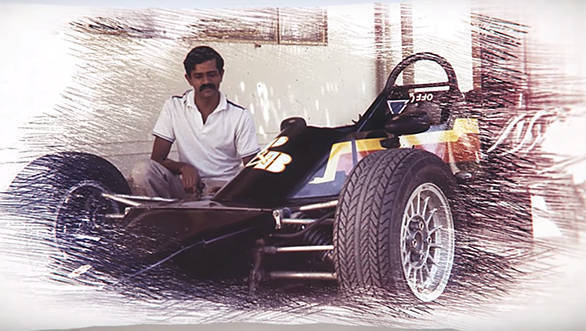 Sundaram Karivardhan was a pioneer in Indian motorsport
"I remember this one time that we were sitting around after a race, just talking, and I asked him what it was like to drive an F3 car. He looked at me and said, 'Why don't you take it for a spin?' I was shocked, because it was such an expensive car and I was inexperienced, but he still let me drive it. I certainly was thrilled. He even got me to drive it at an event that was held in Cochin!"
CK Jinan first narrated this story to me a little over 10 years ago. The former racer and rally driver, was a friend of Kari's and had benefitted from his years of racing expertise. And, like several other drivers, he'd also benefitted from Kari's generosity and magnanimous nature.
Over the course of that conversation, Jinan was full of praise for his friend, saying, "If there was something wrong that was in his power to fix, he'd fix it. Whether it was lending equipment, mechanics or just advice – he was always there."
There are two stories that truly stand out in my memory from that same conversation years ago. The first is of how Jinan had once been rather unhappy during a race weekend, given that he wasn't going as fast as he could have been going, because he didn't have the right tyres. Without batting an eyelid, Kari had the slicks on his car pulled off at once, and fitted onto Jinan's machine. That the slicks cost a lot of money, didn't seem to matter to him at all. The only thing that mattered, in true spirit of sportsmanship, was that a racer in need got the right equipment to allow him to race well and battle hard. The consequences of who'd triumph and who'd fail, seemed incidental. The second incident is somewhat similar. At another race, Kari chose to drive a Standard 2000 that had an Escort engine underneath the hood, giving his own race-prepped Dolphin to Jinan. He knew that he'd effectively given away the better car, thus losing the race himself. But it didn't matter to him. What did matter was that the spirited racing carry on.
These are just instances of Kari helping out one specific individual. There are countless more stories from so many racers who received his help over the years. Stories of people for whom he subsidised the sport. And tales of his engineering prowess, and his desire to drive Indian motorsport forward.
So it was that on the 20th of June this year, as the driver who piloted car number 65, would have turned 65, his friend GD Rajkumar paid him a fitting tribute - opening a special display in the GeeDee Car Museum in Coimbatore. The exhibit features all the race cars that Kari ever built and drove. Treasures like the go-kart that he'd built for his nephew Narain Karthikeyan, the McDowell's 1000 two-seater, and the Formula Maruti Single Seaters that he'd designed and built. This, plus thousands of photos of Kari racing back in the day. Rajkumar also put together a film from various pieces of footage that he'd recorded over the years, which was also screened on the 20th. All of it - the museum, the cars, the photos, the footage - serve as a reminder of our country's motor racing heritage, and serve as a wonderful look back at the past.
And as glorious as the past is to look back upon and marvel at, the future, with all the possibilities that it brings, is even more exciting.
Just a day after Kari's 65th birth anniversary, there was a big announcement in Indian motorsport. JK Tyre was all set to come back to rallying, and in a big way. Three-time Asia Pacific Rally Champion, Gaurav Gill, was to return to Team Yellow and spearhead their rally sport programme. Not only would he continue his WRC2 ambitions, he would also help pick, and hone the skills of the next generation of young rally drivers. Drivers who are meant to form the JK Racing rally squad that will compete on national championship level in 2020. You can read more about JK Tyre Motorsport and Gill and their plans to go rallying elsewhere in this issue. But there's a specific reason, beyond just the timing of it all, that I wanted to talk about this announcement in this column that is primarily about one of Indian motorsport's finest. A little reason called progress.
Had Kari's life not ended so tragically in a plane crash almost 24 years ago now, things in Indian motorsport might have been very different. Who knows what possibilities might have opened up. But, in the time that he's been gone, Indian motor racing has not remained stagnant, it's evolved considerably. That's not to say that it hasn't had its share of ups and downs, or to say that there isn't more progress that can be made. But evolve, it has. From that single T-shaped track, to two tracks in the south, and a state of the art F1 facility in the north. From multiple levels of karting within the national championship, to multiple karting championships, a variety of single seaters, manufacturer-backed one-make tin top racing series like the VW Ameo Cup, one-make two-wheeler racing series featuring Moto3 machines, factory entries into the Indian Touring Car Championship and the Indian National Rally Championship, and a slew of Indian racers actually managing to be competitive on an international level - things have come a long way.
A long enough way, perhaps, that it would put a smile on Kari's face.