Opposing New Fines in the Motor Vehicles Bill
It's been just a few days (September 1st) since the new Motor Vehicles (Amendment) Bill and the higher penalties for traffic violations in it became applicable across our country. As expected, and as mentioned in my earlier column, the new fines and penalties for breaking traffic laws have caused quite a furore. But these are still early days and there is a lot more to come. The government and the Transport Minister Nitin Gadakri's will and commitment to this new Motor Vehicles (Amendment) Bill, is sure to be tested totally in the next few weeks and months.
To its credit, it's the Delhi Police which is normally considered to be quite inept, that kick-started the enforcement of the new traffic fines by issuing almost 4000 challans to traffic rule violators on the first day (September 1) itself. Under the new law, people not wearing helmets or seat-belts will be fined Rs 1,000 (earlier Rs 100), while those talking on the mobile while driving, or driving rashly or without a license, can be fined Rs 5000 and also face imprisonment of 6 months to 1 year! The penalty for driving under the influence of alcohol or drugs has been raised from Rs 2000 to Rs 10,000 and you can even be fined a similiar amount for not giving way to emergency vehicles, like an ambulance or fire engine.
But such a steep hike in the fines for traffic offences was never going to be easy to implement. And Congress ruled states like Rajasthan, Madhya Pradesh and Punjab have already shown their reluctance in enforcing the new fines, as has West Bengal. In fact they have gone so far as to state that they will not implement the provisions of the Motor Vehicles (Amendment) Bill. In Madhya Pradesh the Transport Minister said the Act will be implemented after proper study. Rajasthan's Transport Minister said, "There is no guarantee that accidents will stop by increasing the fines. In fact this massive jump in penalties would lead to corruption.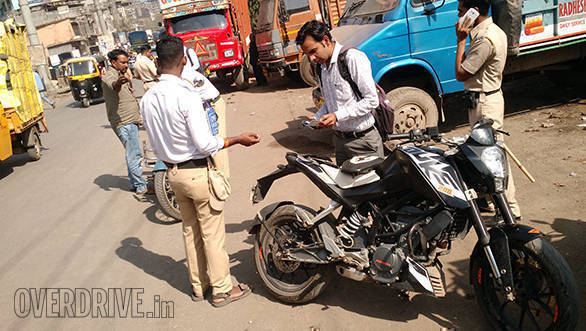 And can a middle class family or the common people pay such steep fines. In some cases, the penalty will be more than cost of the vehicle." And funnily enough, he was proved right almost immediately when Delhi resident Dinesh Madan was caught by the cops in Gurgaon for riding without a helmet (Rs 1000). Further checking showed he was also riding without a license (Rs 5000); did not have the registration certificate (Rs 5000); or insurance (Rs 2000) and pollution certificate (Rs 10,000). His total fine amount was Rs 23,000 and as he did not pay it, the police have impounded his motorcycle. When questioned Madan said, "I don't intend to get my scooter released as it is quite old and the market value is only about Rs. 15,000!"
Surprisingly, BJP ruled Gujarat is also not convinced about the feasibility with the government saying that the high fines do not seem practical and they will implement the new norms only after getting a report from the RTO. Several car and bike owners have also said the fines are way too high with one Gujarat resident saying "We from the middle class purchase two-wheelers on loans. To have to pay such hefty fines for simple traffic offences will be a big blow."
The question to be asked though is, "Why do you need to commit traffic offences?" It's quite simple really, if you do not break the law, you don't pay any fines. Now what is wrong with that? And where is the question of being poor or rich. Either you follow traffic rules or you don't. In fact, if you cannot afford to pay the fines, you should be that much more careful, should you not. But no, you must oppose it. Because to break the law is a bad habit, which many are just not willing to give up.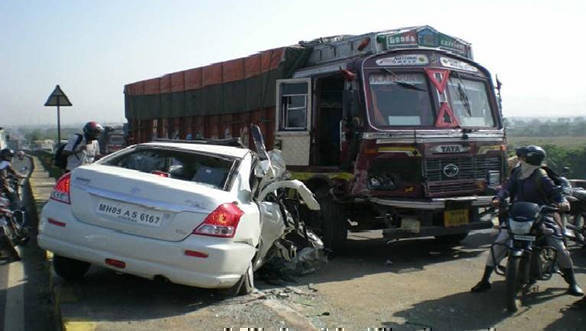 While I had expected opposition to the new fines and demands to withdraw the new penalties, I had not foreseen that some state governments, including a BJP ruled one, would be against enforcing the new fines. Given this, the journey to reduce road accidents by imposing heavy penalties for traffic offences has become even more difficult. Public opinion against the new Motor Vehicles (Amendment) Bill is sure to grow and with some state governments also being reluctant to implement it, I sincerely hope that the Transport Minister Nitin Gadkari and the Modi Sarkar dig their heels in, and do all that is necessary to ensure successful and comprehensive enforcement of the Bill. Even if people refuse to accept and recognize it, this is actually beneficial for all road users in our country. The central government has to flex its muscle and show the commitment to improve road safety. After having worked so hard to get the Bill passed, Gadkari cannot and should not give up now. And I pray he stands up and fights, because the life of many of us motorists depends on it.