Confused Vibe
The rear of the Vibe receives the most changes from the Verito with the front and side profile relatively unchanged
If there's one thing Indian car makers do exceedingly well, it is to innovate, particularly when it comes to adopting new regulations. Take Tata Motors for instance; the Indigo CS was a master stroke. To develop a compact sedan that met small car norms to enjoy cost benefits is a strategy worth aping. Mahindra &Mahindra, yet another Indian carmaker, did exactly that. But, it decided to use this formula in the utility vehicle sphere spawning the sub-4m Quanto from the full sized, seven seater Xylo.
Mahindra clearly wanted to exploit this tactic further, and it chose the Verito sedan as the guinea pig this time round. But, the idea here wasn't just to have a compact Verito sedan. Mahindra, rightly, wanted to expand its car line up with a new body style. So, in line with car companies around the world, Mahindra too decided to have a hatchback body style to work alongside the sedan. Why else would it take the effort of mounting the tail lamps on the C-pillar for the smaller Verito, a typical hatchback design trait?
But, with the Verito Vibe, the sub-4m Verito, I am not too sure if Mahindra has got it right. Firstly, the Vibe isn't a hatchback at all, which is obvious by the way its boot opens. The rear glass is fixed, so the opening is more like a flap which puts a serious limitation to what and how much one can load. The boot space itself, though, is fantastic for a hatchback (which the Vibe obviously isn't).
But, the Vibe not only misses out on the ease of loading - a hatch USP, its rear seats don't split or fold either. We can understand that the Verito and the Logan before it, don't have this feature, but then one doesn't miss it so much in a sedan. But, in a hatchback (which the Vibe obviously isn't) not having foldable seats makes it seriously impractical.
So what we have is a car that looks like a hatchback, but has none of the positive traits of the body style. On the other hand, it has the traits of a sedan, but misses out on the biggest positive of such a car, particularly in India - a visually obvious three box design. Indians obviously hold sedans in higher esteem than hatchbacks. And no, I really can't figure the rationale behind it.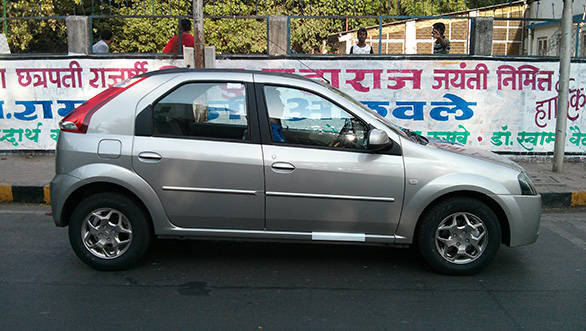 The champagne alloy wheels on the Vibe look very good
If I were Mahindra, I would have somehow worked towards giving the Vibe a minimum of rear seats that split and fold. But, I would haven't have stopped at that. The Vibe looks oddly chunky from the rear three quarters. It has a bum-up stance, thick C-pillars and blocky styling. And I would have used this to an advantage. I would have given the Vibe higher roof rails, chunky plastic cladding on the sides, pseudo skid plates integrated into rugged looking front and rear bumpers, and if possible, a higher ride height; I would have given the Vibe a crossover feel, much like the Sandero Stepway.
And honestly I don't see a negative to it - you get your sub-4m cost benefit, you get a new body style, but more importantly, you get a unique looking product in a segment which is already overflowing with all types of hatchbacks imaginable. A unique positioning, a great price and one value Mahindras are appreciated for - ruggedness - would have all been achieved with this approach, and in turn giving the Vibe a great chance to succeed.
Price (Ex-Delhi)
Starts Rs 6.48 Lakhs