On Robert Kubica's incredible resilience
A few months ago I had written a column about Robert Kubica, ahead of his World Endurance Championship debut. Of course, much to the disappointment of his fans, that debut never took place. But there have, since, been interesting developments in terms of Kubica's possible return to competitive racing. After cancelling his plans to race in the WEC and the 24 Hours of Le Mans, Kubica has completed two Formula 1 tests with the Renault team (who he raced for in F1 before his horrific crash at the 2011 Ronde di Andora rally ended his single-seater career). The Polish driver took part in the tests in a 2012 Renault E20, and did quite well too. After the first test at Valencia, he'd said that while he was proud of what he achieved that day, he was also aware of just how much he had lost in his time away from the sport. This didn't stop him from getting right back in the car for his second test, this time at the Paul Ricard Circuit. Ninety laps later, Kubica seemed a lot more confident about his ability to make a competitive return to the sport. And even though Renault team principal Cyril Abiteboul was a little more cautious about Kubica's chances of returning to F1, there seemed to have been steps taken in the right direction.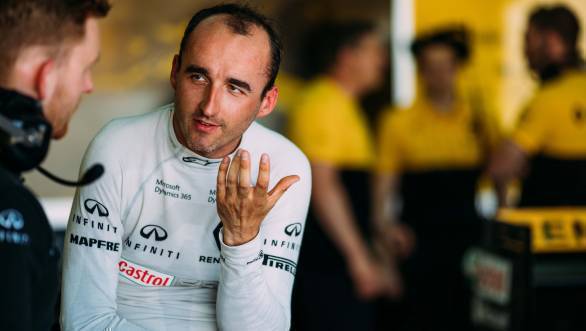 At the time of writing this column, there was some amount of speculation as to whether or not Renault will allow Kubica to drive for them at the upcoming test at Hungary, which has since been confirmed. It will be an opportunity for him to finally test the 2017 F1 car, and this will give them time to evaluate whether he is ready for an F1 comeback in 2018. Kubica has stated that if he does make an F1 return, he wants to do it at the top level. He's also told French sports media L'Equipe that he believes his physical condition will not be a limitation in terms of driving competitively in F1. What his right hand (which had been partially severed in the accident) can no longer manage, his left hand will compensate for. And by doing what he has done, and saying what he has said, Robert Kubica has once again demonstrated just how to deal with life when the rug is pulled out from under you. It takes a rare sort of individual to do something like that. An individual brimful of courage, conviction, tenacity and resolve. An individual who has mastered the art of filtering out those two most dreaded words the world will repeatedly throw at you - "You can't".
There's another racer, a good deal younger than Kubica's 32 years, who has faced a similar sort of setback en route his motorsport goals. On the 16th of April 2017, young Billy Monger, still a few days shy of turning 18, was in a terrible Formula 4 crash. The injuries from his accident were so severe that they resulted in the amputation of both his legs. But from the time that he regained consciousness, Monger was nothing but positive. And nothing but determined to get back into a racecar. Which is exactly what he did early this July, just 11 weeks after his accident. Monger drove a Fun Cup endurance racer, that was modified with controls mounted on the steering wheel, for Team BRIT. Monger, who is also already part of the team quadruple amputee Frederic Vasseur is trying to put together to compete in the 2020 edition of the 24 Hours of Le Mans, was philosophical after his test. He said in an interview that his goal is still the same, and it's merely the tools that he has to achieve those goals that have changed. And he said it all with a cheerful grin on his face, bravely smiling on in the face of adversity.
Which brings me to this. No one knows what adversity looks like, until it dons a mask and cloak and appears before us. It's a fickle thing, adversity is, particularly good at disguising itself. For some it appears in the form of a seemingly career-ending injury. For others it appears in the form of doors slammed firmly shut by prospective sponsors. For still others it appears in the form of telephone calls not returned, emails unanswered, even plugs being pulled on sponsorship deals, and contracts been torn up and thrown in the air a week before racing season is meant to begin. Very often it appears in the form of jibes and jeers from people you were counting on for support. People who will suddenly insist on saying things like "You're too old for…", "Are you sure you can...", "It's impossible for you…", "There's simply no way..." and "You're not good enough."
But worst of all is when adversity shapeshifts and morphs itself into fear and self doubt. That is when it does the most damage. That is when it is the most dangerous and debilitating setback that you can face. Far worse than any physical injury or any missing sponsorship money.
So be like the Robert Kubicas and Billy Mongers of this world, who've turned career-ending injuries into bumps in the road that they have decided to work around. Or, if you'd like an example that isn't so extreme, and closer to home, be like that racer who had a rather fitting answer to a sponsor's statement that he had no future in the sport he was competing in. The race weekend after they pulled the plug on his sponsorship deal, he scored one win and one podium.
But most of all, be prepared to recognise adversity when you come across it, and greet it with your weapons of courage, determination, hard work, and if you can manage it, a smile. There's nothing it likes less.