Of rally legends and hand sanitiser...
It's a sign of the times, when after shaking hands with a legendary rally driver, one reaches at once for the hand sanitiser.
I find myself typing this column out from a hotel room in Arvidsjaur, a tiny town in North Sweden just 100km south of the Arctic Circle. How and why I end up in Arvidsjaur for a few weeks every year is a long-ish tale that I won't go into now. This year though, suffice it to say that I arrived before the situation in Europe began to spiral out of control, and once it did, staying put seemed like the safest option.
Hand sanitiser at every corner of the Laponia Hotell and Konferens AB in Arvidsjaur
If you're not familiar with the Swedish town, let me give you a quick Arvidsjaur primer. During the summer, Arvidsjaur has a population of around 4500 people. That number increases to 6500 during the winter months when the car testing industry descends upon the place. In this period of time, Arvidsjaur's many frozen lakes are converted into race tracks upon which various car manufacturers conduct their ice driving programmes. You can't throw a snowball here, without the risk of it actually hitting a racer or a rally driver of considerable repute. And if you go to Hans Pa Hornet - a cafe at the centre of the town square - and find yourself a seat near the window, it won't be very long before you spot a test mule of some sort, sometimes camouflaged and sometimes not, go by. The population density of the municipality of Arvidsjaur is one person per square kilometre. Which goes to show you that the average Arvidsjaur-ian (or is that Arvidsjaur-ite?) is very well acquainted with the concept of social distancing. Although, that idea has been kicked up a few notches because of the Coronavirus pandemic that has taken hold of the world.
Since the time I got here, I've largely been confined to my room, save for the odd visit to the hotel's restaurant, which is rather empty most nights. It's the end of the testing season here, so things are a little quieter. And, of course, people have chosen to go back home earlier than they otherwise would have. Given the fact that people are choosing to sit so far away from each other, it's nearly impossible to tell who it is that happens to be sitting at the table in the far corner of the restaurant. Which is exactly why I was caught somewhat off-guard when, one evening, a gentleman approached our table to say hello to someone sitting with us. He then very politely went around the entire table, shaking everyone's hand and saying, "Hi, I'm Stig," by way of introduction. And then, after a quick chat, he left.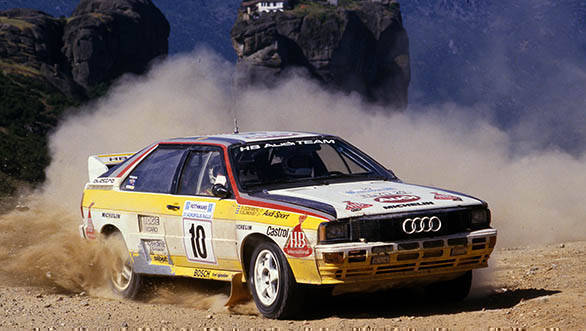 Stig Blomqvist doing what he does best! Winning the 1984 Acropolis Rally in the Audi Quattro A2
Of course, most of us sitting at the table knew exactly who he was: Stig Blomqvist. The man who won the 1984 World Rally Championship title, driving the Audi Quattro A2 and Audi Quattro Sport, becoming only the second Swedish driver after Bjorn Waldegard to take home a WRC title. He also finished runner-up in the championship the following year, and has to his credit eleven WRC victories, five of which happen to be at his home rally in Sweden. More recently in 2015, at the age of 69, he even won the East African Safari Classic. And according to someone who has competed against him more than just a few times, at the ripe old age of 73, "He's still really, really fast."
It wasn't just that THE Stig Blomqvist was so unassuming and polite that struck me when I met him - I think I'm yet to get used to just how down to earth so many of these former racers and rally drivers are. But in the brief time that he stood at our table, talking about what he was doing up in Arvidsjaur, his excitement was palpable. He just seemed so thrilled to be driving some Porsches on a frozen lake, his eyes twinkling at the very thought. And when he told us that he was soon likely to be behind the wheel of a Porsche Taycan, going sideways I imagine, he began chuckling pleasantly. He seemed like a kid who'd just spotted a very large present with his name on it under the Christmas tree.
Stig Blomqvist
Given how grim everything has been over the past few weeks, the sight of a rally legend who really has seen it all and done it all, looking as happy as he did about just another spot of driving, cheered me up no end. It gave me a glimmer of hope, and served as a little inspiration, and a gentle reminder all at once. A reminder to be enthusiastic about the things we love doing, and to take pleasure in them no matter how familiar they may seem. And I can only hope that when I'm 73, I manage to retain some amount of good humour and exhibit a certain gusto for the things that I love. And for life itself.
I suppose the trick to staving off complacency, is reminding yourself every now and again why you do the things that you choose to. Even when the skies are grey, and the prospect of a sunny day seems very, very far away.
As for the hand sanitiser? Don't worry. I assure you that of the two people involved in the handshake, I wasn't the only one who reached for the bottle.
This column appears in the April 2020 issue of OVERDRIVE magazine.