Of a golf cart ride with Derek Bell...
I was being pitched and tossed about in a golf cart that was making its way across some rather muddy tracks at Goodwood Estate during the 2016 Festival of Speed. It was at this point that I began to wonder whether for every few extremely real experiences that we go through in life - things like standing in a queue at the passport office, or having a cavity filled at the dentist's, or even wearing braces for seven painful years - the universe tosses us one surreal moment as if in an attempt to make up for it all. And I had a feeling that it was one such surreal moment that I was living at that exact point.
What's surreal about being pitched and tossed about in a golf cart, you might ask? Well, to be honest, that part was all very real - I even found a bruise on my shoulder later as evidence of said tossing about. The surreal part, however, was that the person sitting next to me in the golf cart happened to be a five-time Le Mans winner. One Mr Derek Bell, to be precise. But just how did I come to be in a golf cart with Derek Bell?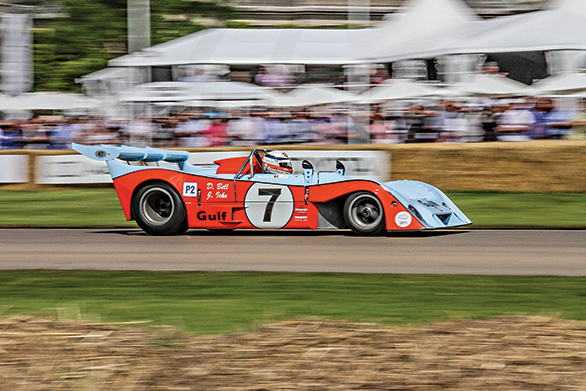 Derek Bell was nice enough to chat with us when not in his Gulf liveried Mirage Cosworth GR7
You see, the Goodwood Festival of Speed is every motor racing fan's dream because it is one of those rare events that allows fans to get really and truly close to their motorsport idols - both man and machine. It's the sort of event that makes you wonder whether you've stepped into the pages of some sort of automotive encyclopaedia, because those cars and bikes that you never thought you'd see in the metal, much less in motion, are all there, relentlessly making trips up the hill-climb course. Whether it's the Blitzen Benz from 1911, that rare Bianchi GP, or Keke Rosberg's world championship-winning Williams F1 FW08, it's all there. What's more? It's very likely that they're being piloted by one of those legendary drivers whom you never thought you'd get to meet. And all the drivers, the legendary ones included, are busy doing at least two runs up the hill-climb course each day. Which means that getting a hold of them can be very difficult indeed. Which also means that you've got to make use of strange opportunities to try and get to talk to them.
For me, this strange opportunity was the golf cart ride to the Supercar Paddock, where the Bentley Bentayga that Bell was to drive in the Supercar Run stood waiting for him. And it was on this golf cart ride that he dug through his motorsport memories and produced a very fine anecdote about the ultimate race of his life. That one special race that stood out in his memory. Of course, you can read about Bell's memories of the 1983 24 Hours of Le Mans in our story on Goodwood right here. It's a pretty terrific anecdote. But it wasn't so much the exact details of this anecdote that he narrated to me that caught my attention. Instead, it was the clarity with which he was able to recollect this one specific memory, pulled out of some corner of his brain where he's stored away tales of over 30 years in competitive motorsport. Another thing that struck me about Bell's anecdote was that even though he could have chosen to recount the tale of a race that he'd won, he didn't. He chose the tale of a race that he tried hard to win, a race where he gave it his all, a race at which he was the very best version of himself, irrespective of the outcome.
The fact that it was this race that he chose to talk about led to two things. The first was that I came to the conclusion that Derek Reginald Bell MBE is an all-round nice chap, who clearly never forgets to take his daily dose of the humble pill. The second was it, in combination with the fact that I was at the Goodwood Festival of Speed which is essentially a celebration of all things memorable from the automotive and motorsport world, got me thinking. Of memories, the process of creating them and why they stick with us.
See, I've spent a lot of time this year wondering why we're here, and what it is that the ultimate plan is for all of us. I haven't come to any real conclusion. What I have realised, however, is that each of us has a finite number of days on this planet. None of us can hope to live forever. We rarely get to skip the bad. We don't get do-overs. And we never get to relive the good.
What we can do, however, is create memories. Memories that don't necessarily end with us crossing the chequered flag first, and walking off with a trophy clutched in our hands. But memories that involve us trying, learning, growing, and being the very best that we can be, no matter what the result. Memories that prove that we fought the good fight.
How do we create these memories? Well, we need to live and fight the good fight every single day. We need to stop worrying about why we're here and focus on the fact that we're here. And we need to realise that the truth is that one day all that we'll be is the sum total of someone else's memories.
Price (Ex-Delhi)
Starts Rs 4.1 Crore