My favourite racetracks in the world
What are my favourite racing venues and the ones that add a little bounce to your step as you walk around the paddock?
I would have to say from a pure driving point of view, I love the old-school tracks where you still have gravel traps, grass and walls to hit if you make a mistake! I actually dislike these big vast tarmac run off areas that we see at most tracks that have been modernised today. Sure, they're safer and they allow you to come back on track without damaging your car, but they take away an element of the challenge.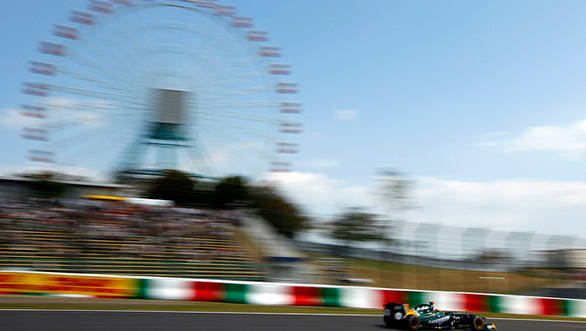 Karun Chandhok at the Suzuka circuit
I love going to circuits like Monaco, Le Mans, Macau and Suzuka where you are really on the edge of an accident all the time but the satisfaction you get from doing a good lap around these places is amazing. Monza is another one where you really are flirting with disaster all the time. The cars are in low downforce configuration so they move around a lot, much like at Le Mans and this means that you're constantly balancing throttle and steering inputs.
Silverstone and Sepang are great flowing tracks where you have to get into a real rhythm and attack the high speed sections while having controlled aggression through the medium and slow speed corners. They're both very interesting layouts and very tricky to get right because you often have the weather to contend with. Istanbul Park in Turkey and the Buddh International Circuit in Delhi are also great flowing tracks that the drivers really enjoy with some fantastic high speed corners.
Looking back a bit in my career, I would say two circuits I really enjoyed driving at were the Brands Hatch Grand Prix layout and Johor Bahru in Malaysia which is a real hidden treasure. The undulations make the track a real challenge with plenty of sudden drops and blind crests making you feel like you're on a bit of a roller coaster!
I think the trend here is really around circuits which have a flow. Drivers in general love going to tracks where the lap has a natural flow around it and you get into a bit of a rhythm where you really enjoy the circuit. Undulations, cambered corners and high speed corners are typically what we enjoy but they're normally not very good for overtaking or racing. Having said that, you do have some hairpins and slow corners, which are good for overtaking and are also quite enjoyable to drive because you really have to get the braking and the entry into the corner right. The final sector in Istanbul was a classic example of this and Turn 4 at BIC in Delhi is another one where the track is so wide on the entry that you could have 4 cars side by side into the corner!
Away from the track, I think it's great to go to venues where the crowd and the cities really get behind the event. Le Mans and Monaco are of course prime examples of this where the whole town comes to a standstill for the race weekends and in Le Mans's case, it's a whole three weeks of activity. It's something extraordinary to have 3,00,000 people descend on this little town in the middle of nowhere in France for this period of time making it a real carnival! You meet some amazing fans – people who have been coming to the race with first their fathers and now with their children and sitting at exactly the same corner every year for the last 30 years.
Melbourne and Montreal are two other great cities for racing where every bar and restaurant you go to has racing fever for the week of the grand prix. I think the atmosphere at the track in Silverstone is probably the best in the world, where it's always a capacity crowd of very knowledgeable spectators. Singapore is another brilliant venue for a spectator to go to. The cars look fantastic under lights at night, the circuit is right in the heart of the city and with the evening schedule, it means you have time to go around town and socialise a bit more before watching the on track action. Racing in America is always interesting I think – the organisers certainly make a bigger show of things and also think about the fans and spectators a bit more than in Europe. I loved doing the 12 hours of Sebring last year – it really was incredible to see how many fans showed up to camp in tents and motorhomes for a whole week and the bonfires and barbeques that were going on all through the night during the race made the whole place look fantastic (and smell pretty good!).
I've been very fortunate to go to some of the most amazing race tracks in the world in my career and tick off a lot of boxes that any driver would dream of as a kid. There are still a few other historical circuits to go on my bucket list (Daytona, Bathurst, Long Beach, Watkins Glen and Laguna Seca) but I'm working on it!