Motorcycles throw you right into the middle of the scene and expect you to make all the decisions
There is something about motorcycles, bad weather, mountains, uncertainty and fear that comes together marvellously well. It churns us riders up and we all react differently to this. It exposes our risk appetites and separates us. And mine, clearly, is on the low side.
These thoughts popped into my head on a cold, cold morning in Shimla as I was making ready to go ride the Royal Enfield Himalayan for the first time. I must confess that I'm no stranger to these thoughts. They usually start roiling inside whenever I'm headed into the Himalayas and I've made some semblance of peace with them.
On this particular morning, the temperature was hovering in the single digits, the forecast was for incessant rain with a chance of snow. The previous day had brought hail and it looked dark and gloomy in a forbidding way that only the high mountains can really manage. Scary. But I appear to have been in a minority.
There were the chaps from Royal Enfield who call the Himalayas home almost as much as Chennai. They didn't seem to mind the conditions at all, outside of our repeatedly professed concerns for how we were going to shoot for the stories that we all intended to file. There were also a couple of chaps who didn't seem to mind the potential lack of pictures to go with their stories too much. They were looking forward to hard, gruelling rides, freezing water and other pleasing experiences. I wasn't, let's be clear, one of them.
As we descended from the hotel into the lower roads through Mashobra, we literally entered a huge dark cloud. The world closed in around us, visibility fell and the cold took hold. Once the cold rain began to fall, it would just never stop.
Slowly, inexorably, the water found, one by one, all the cracks in my waterproof armour and the soaking began. First it was a trickle into the the top of my gloves when I stood up for a broken path the first time. Then it was a steady trickle into my not quite waterproof enough adv boots that went from wet socks to squelchy gear changes and braking with astonishing, and sharply cold, rapidity. Hours laters, the cold and the wet made my fingers tingle and for the longest time, I couldn't feel my feet. My ankle worked so I could change gears and brake, but my toes were left somewhere behind in the foggy-cloudy mist of an intense mountain day.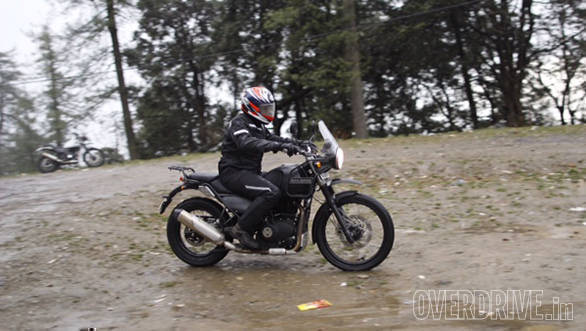 It is at these times that the steel in your soul shows up. It is the hard times that tell you who you could be under the softness that the cozy comfort of urban riding imbues in all of us.
One of the privileges of being a journalist on an organised ride is the ability to call the emergency helpline and say, simply, that you're done. That for now, chasing the horizon is suspended and instead the comforts of a warm room, hot food is expected and perhaps, a jacuzzi to smooth the edges afterwards. A backup car will then show up with its heaters turned up and whisk you away while someone gets to ferry the bike back.
I don't think this occurred to me until I was well and truly in the embrace of a really hot shower much, much later and my room looked like it had been hit by a strong tornado of sodden, muddy riding gear.
All I could think of was that we were, give or take, 40km from the warm room and hot food. And surely, I had the ability and grit to finish the ride. The motorcycle - as they're annoyingly inclined to do in these conditions - seemed to take no notice. It missed only the odd gear change, never the beat. It carried on like a British wartime propaganda poster. It made me feel weak and un-manly for doing anything apart from carrying on.
But then in my weakest moment, the steel in my soul, and in the souls of the two other riders with me kicked in. We stopped for a moment to allow our soaked extremities to become part of the things we weren't going to worry about. We thawed our hands out on the engine cases and on the exhaust's hot breath. We felt the acute tingle of circulation returning to the tips of our fingers. We hobbled around and stamped our feet until we realised that the toes were very much in the boots. Then we mounted our unflagging steeds and made our slippery but steady way homeward.
As ever, motorcycles are amazing. They never let you be a spectator. They throw you right into the middle of the scene and expect you to make all the decisions. To choose whether to flight or flee. To pick your battles and to surrender. Surrender to your will to fight. Or surrender the ride to the mountains, find humility and realise just how small we are in the bigger scheme of things. But gloriously, marvellously in all that, motorcycles remind you of the one thing that matters. You're on your own, you're in control and it's your life.
Price (Ex-Delhi)
Starts Rs 2,01,000