Motor Vehicles Bill - Nitin Gadkari's Greatest Service To India
I am generally not fond of our politicians. But if I was asked to pick "India's Man of the Year 2019", it would undoubtedly be Nitin Gadkari, our Minister for Road Transport and Highways. In my opinion, Nitin Gadkari has done a great service to our country by introducing the Motor Vehicles (Amendment) Bill and getting it passed. He really deserves to be applauded for the immense amount of effort he has put into this Bill.
The Motor Vehicles (Amendment) Bill was initially introduced in the Indian parliament three years back in 2016. It was passed by the Lok Sabha in 2017, but sadly it did not get the Rajya Sabha's approval, and lapsed with the dissolution of the 16th Lok Sabha. Recently, Gadkari again introduced it, and the Lok Sabha passed the Motor Vehicles (Amendment) Bill 2019 on July 23. And the very next day, it was also approved by the Rajya Sabha. It subsequently got the sanction from the President of India too.
If you recall, soon after the Modi government first came to power in 2014 and Gadkari was made transport minister, he promised to reduce road accidents and fatalities by 50 per cent, becoming possibly the only senior politician to have ever spoken about this. Nitin Gadkari was quite frank about his failure when he reintroduced the bill and successfully navigated its passage through both, the lower and upper houses of our parliament. He said, "It is sad that India is on top in the number of deaths due to road accidents. Even after making full efforts from my side, deaths have only come down by three to four per cent. I have failed in it, I accept it." Now which ruling party politician, leave alone a powerful union minister, admits he has failed in something.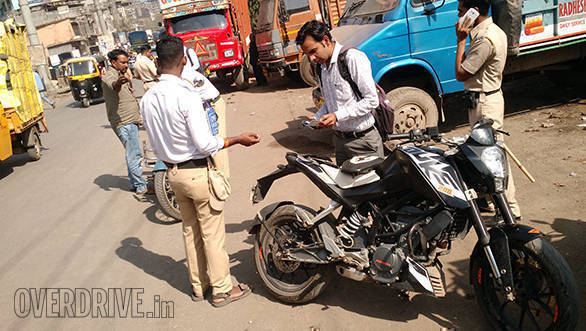 Full marks to Gadkari for such honesty. That is not all, Gadkari admitted that the current system of issuing driving licences is seriously flawed and candidly said, "If there is any place in the world where you can get licences easily, it is here in India. It is the easiest place to get a driver's licence. If you see the photographs on licences, they don't match. About 30 per cent of the driving licences in India are fake. People drive without any fear or respect for law. Nobody cares about Rs 100 fines or being penalised, they just pay the policemen and carry on." When Gadkari spoke about the Bill in parliament, he appeared to be personally aggrieved and genuinely concerned. In fact he accepted, "It is my biggest failure that I could not bring the legislation despite trying so hard for over four years. But let's now pass it and save lives."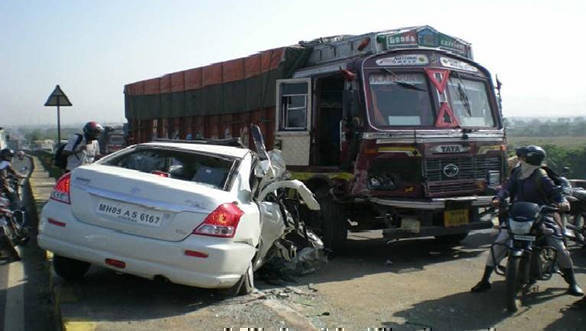 Image source - Money Control
After the Bill was passed, Gadkari appeared to be delighted and while interacting with journalists, he's reported to have said, "This is not only a Motor Vehicle Act, but also a road safety bill. I believe it will cause a decline in accidents, the passing of this bill is a tribute to those who lost their lives in accidents." He further added, "Five lakh accidents happen in our country causing 1.5 lakh deaths, every year. We are number one in accidents in the world. Now, we have got the chance to correct this."
I think the approval of this bill will go down in India's motoring history as a landmark event. If this Motor Vehicles (Amendment) Bill is implemented properly, it actually has the potential to change the way we drive in India. Some more aware and concerned road users (including me) have been hoping and praying for something like this for a long time. But the key words will be implementation and enforcement. The higher penalties and fines will not be appreciated and accepted by all. There will be some stiff resistance. Opposition party members and even aspiring politicians looking to attract attention, will surely lead protests and come out on to the streets. The various transport bodies, drivers' unions, etc, will allege harassment, and accuse the police of unnecessarily penalising them. Or of demanding more bribes, and an increase in the corruption levels due to the Bill. There will also be demands to reduce the fine or penalty amount as those advocated in the Motor Vehicles (Amendment) Bill are actually quite high and could pinch even the rich. All this is bound to happen, because we are a truly free country, especially on our roads, where we do just as we please. So any rules which discipline us and the associated high fines and punishment, will be largely unwelcome to most.
Image source - News18
What gives me hope is that this Modi Sarkar has shown that it is not afraid of taking difficult decisions. Be it the demonetisation or the more recent abolishment of Article 370 in Jammu and Kashmir, this government has demonstrated that it can take a tough stand. And in my opinion, the Modi Sarkar will be doing the nation a great favour by properly implementing and fully enforcing the laws and penalties laid down in the Motor Vehicles (Amendment) Bill. The saving of valuable lives and reduction in the resultant economical and emotional loss, will surely earn the Modi Government a lot of goodwill in the long-term. Yes, initially many people may be unhappy, but if the results are positive (as they promise to be), then I really wish this government proves that it has the guts to stick to its guns.