Money matters in Formula 1
With the recent news of two Formula 1 teams going into administration, there's been a lot of talk about the financial situation in F1. Talk of a boycott by the midfield, top teams running three cars and, on the flip side, extraordinary sums being talked about in terms of annual spending. Is the sport really in a crisis? What are the issues? Who is most affected? Is there a solution?
With the benefit of annual filed accounts of teams from Companies House in the UK and some well-informed sources in teams I'm going to try and simplify the situation here as much as I can.
When you look at money going out - the budget for running a season in F1 all depends on who you are. The biggest spenders are believed to be Red Bull Racing and Ferrari spending in the region of US $ 360 million per season with Mercedes (about US $330 million) and McLaren (about US $290 million) next. The midfield teams like Force India, Lotus, Scuderia Toro Rosso and William are spending between US $190 million to 160 million per season, with Sauber (US $120 million), Caterham and Marussia (around US $95 million) last. You can draw two slightly conflicting conclusions from these numbers. The first that money buys success, where the top teams are able to spend more on better infrastructure and people to deliver better results on track. The second that money doesn't guarantee success but efficient spending can work - Williams spend half of what Ferrari and McLaren do and yet they're currently ahead in the World Championship table.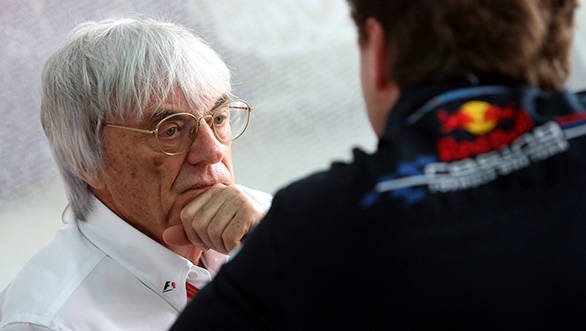 Bernie Eccelstone
In terms of money coming in, the teams rely on three sources of funding - funding from owners, sponsorship and a share of income from the Commercial Rights Holders (CRH) of Formula 1, comprising primarily of CVC, a venture capital company along with F1 czar Bernie Ecclestone who now holds a minority stake. This income from TV rights, circuit hosting fees and so on is estimated to be about US $1.8 billion annually.
Now let's look at the issues. The F1 grid is a case of haves and have-nots. The big teams - Ferrari, Red Bull Racing, Mercedes and McLaren - have got solid funding from their owners, get a large slice of the income from the CRH and attract good sponsorship to keep them going. The midfield and smaller teams get a much smaller slice of the CRH revenue and are heavily reliant on owner's funding and sponsorship.
Of the total revenue earned by the rights holders, the teams get 63 per cent while the CRH retains the rest. That 63 per cent isn't divided evenly. In sporting championships like the English Premier League or the NFL, there is a small, if any, discrepancy between what the top of the table and bottom of the table teams get. In F1, the top teams get the largest slice of the pie which makes the smaller teams feel like the rich are getting richer while they are struggling just to survive.
Take Everton for example – a midfield EPL team, comparable to a midfield F1 team like Lotus. Everton's accounts show an expenditure of about £115 million and an income of about £89 million as their share from the rights holders, leaving them with a deficit of 20 per cent to cover through sponsorship and gate money. In Lotus' case, their expenditure is about £125 million, yet they only receive about £45 million of the rights income from the CRH, leaving them with a shortfall of about 65 per cent.
The counter argument is that top teams like Ferrari or Mercedes have a bigger brand name and history and thus bring more value to the table so they deserve to get more. This was the basis behind the agreements being drawn up the way they currently are.
The other issue is cost. Does it really make sense for a company to spend over US $350 million to send two cars round and round in circles? The point is at some stage F1 has to address the issue of cost by making technical and sporting rules in such a way that it doesn't make it beneficial for teams to spend huge sums of money. Teams will always spend what they have and policing a cost cap is impossible but if you make the rules in such a way that spending an extra 50 million doesn't really give you a big benefit on track, that will act as a self-policing mechanism. The bizarre thing is, at a time when everyone was talking about cost cuts, F1 experienced its biggest ever technical regulation change where this season teams have had to triple their engine budgets and spend a huge sum on making cars to conform to the new aerodynamic rules as well!
There have been discussions about "What difference did it make having those teams at the back anyway?". Well, now that you don't have them, the midfield teams are at the back and if we lose them too, then the likes of Ferrari or McLaren could be at the back soon. If the top teams run three cars each, eventually one of them will be at the back and once they get fed up of that, they'll quit. F1 ideally needs a minimum of ten teams of two cars each to balance out the grid and also give young talent a chance with the smaller teams who are willing to take a risk.
Is there light at the end of the tunnel? It all depends on whether the CRH and the big teams are willing to sacrifice some income for the greater good of the sport. This means redrafting the existing agreements such that all of the midfield and back of the grid teams get more of the revenue. The issue of cost is much more complicated and is something that will be harder to address in terms of details but is also something that needs to be addressed. It's turbulent times in the F1 paddock and only time will tell how things play out.