Mercedes plots its return to No.1
It's no big secret Mercedes-Benz wants to reclaim their number-one position in the Indian executive premium segment. They want to achieve this position as early as possible and that could mean a target of end-2013 or early 2014. The only way they can achieve their status at the top of the premium food chain is by invigorating their product portfolio.
The CLA sedan is positioned under the C-Class and should be a hot seller in India when it comes out in 2014
Rejuvenating their portfolio is exactly what they've done this year, starting off with the ML-Class, an SUV that is creating new records for Mercedes-Benz. It was followed by the B-Class which was a bold move. The 7 then filled the top of the range SUV segment and will continue to fill up more parking slots once local assembly begins sometime around September.
Mercedes followed this up with the A-Class, a beautiful hatchback that despite its price and positioning is clearly showing that a market exists for high-end hatchbacks. Mercedes-Benz claims over 400 A-Class hatchbacks have been booked in a few weeks. We are astonished, surprised and eating humble pie because the A-Class is negating all claims that an expensive hatchback has no place in the Indian market.
The Mercedes A-Class has seen 400 bookings in India in a few weeks
All of these vehicles mentioned above are adding valuable numbers for Mercedes. However, the one product that can very effectively help Mercedes-Benz take that massive leap from number two player to top spot is the E-Class.
The E-Class that has sold in India for nearly two decades is Mercedes-Benz's most popular local model. The last few years may not have been very kind to Mercedes-Benz, but we do believe the E-Class has the potential to change that. Our exclusive road test of the 2013 E-Class very clearly points out the fact that there has never been an E-Class quite like this one.
The 2014 Mercedes S-Class being built at the Sindelfingen plant
What also works in Mercedes' favour is the fact that they have been the only brand to have an extensive newer fleet introduced this year. That range will only get stronger with the introduction of the S-Class – a luxury and technological tour-de-force expected sometime later this year.
The complete return to form will, however, only come in 2014-15 when the compact CLA four-door sedan and the GLA, a compact SUV positioned below the ML-Class, will be introduced in the Indian market. Both these vehicles are based on the A-Class platform, which means a commonality of parts. This will help increase profitability apart from providing Mercedes greater economies of scale.
Having pitched my editorial piece let me now tell you what exactly am I saying. It has to do with my experience with the E250 CDI and at the outset I must say that I was pleasantly surprised. Not by the styling, which is definitely attention grabbing, or the long feature list or how the car is still a benchmark for rear seat comfort. What I was surprised to see is just how much closer Mercedes is getting to making their cars more driver-focused rather than remaining a rear seat segment leader.
Mercedes E-Class W213
Just a few months ago, I relinquished an E-Class that I had driven for a fairly long period. It was plush, comfortable and I so wanted a driver then to drive me around just so that I could sink into that rear bench and vegetate. The 2013 E-Class, however, has rewired a few circuits in my brain. I like how this car places a lot more emphasis on the driver. The steering wheel feels more tactile, though I would have liked to see some more feedback. The seats are so much nicer and the immediate area around that drivers seat feels exclusive. It's less a part of the whole and more selfish in its approach to the driver.
I like how the re-profiled hood gives better depth perception and that makes this car feel smaller than it actually is. It also makes driving this car much easier on the eye and the brain. The lightness and precision of the steering wheel also makes the E-Class more nimble and I absolutely reveled in how this car feels so much more agile. Younger is not confined merely to its styling any longer. There is a renewed spring in its step and its a contrast to the E-Class of old. Right now, the distinguishing lines are fading slowly and I expect a full model change of the E-Class will entirely surprise us with a astonishing driver-focused quality.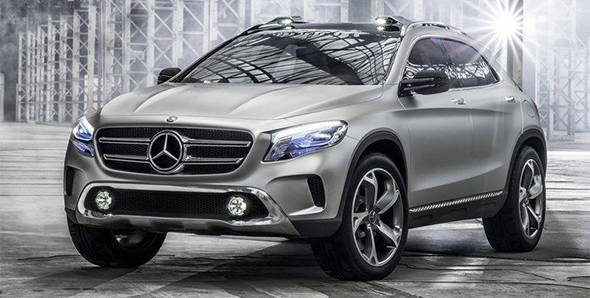 The Mercedes GLA is expected in India in 2014
Not to forget, this E-Class – the E250 CDI, also gets paddle shifts which are highly rated in my book. In a small way, the new E-Class remodels itself in the ways of what BMW offers in its cars. You know the way the 7 Series feels like the 5 to drive, or how the 5 Series feels like the 3, that sense of compact sprightly dynamism is coming to the E-Class sprightly dynamism is coming to the E-Class as well. It's a new E-Class for sure, but new in a way you never thought of before.
2013 is clearly seeing a younger and more aggressive three-pointed star rising higher than it probably ever did.
Price (Ex-Delhi)
Starts Rs 41.2 Lakhs
Price (Ex-Delhi)
Starts Rs 31.99 Lakhs