Maruti-A Car Company That Changed a Country
Today, Maruti Suzuki celebrates 40 years of its operations in India and at the outset itself, I would like to state that I am a die hard fan of Maruti, simply because it ushered in the automotive revolution in our country. In fact, I would go so far as to say that "There is an India before Maruti, and an India after Maruti". Before Maruti started making and selling cars in India, the total sales were just 40,000 cars annually and we had only three manufacturers of note - Premier Automobiles, Hindustan Motors and Mahindra and Mahindra. Today we are the world's fourth largest auto market with over 30 lakh vehicles being sold every year.  And not just that, but almost all the major global car manufacturers are selling and making cars in our country.
The first ever 800 is now on display at Maruti's corporate office in New Delhi.
The first ever Maruti 800 was handed over to Harpal Singh on 14th December 1983, and this historical car has now been acquired by Maruti Suzuki and is displayed in their corporate office in New Delhi. When the Maruti 800 was introduced – it was a revolution. We had never had such a modern, efficient, reliable and fuel efficient vehicle. The 800 gave personal transport and freedom to many million Indians and paved the way for the growth of the automobile industry in our country.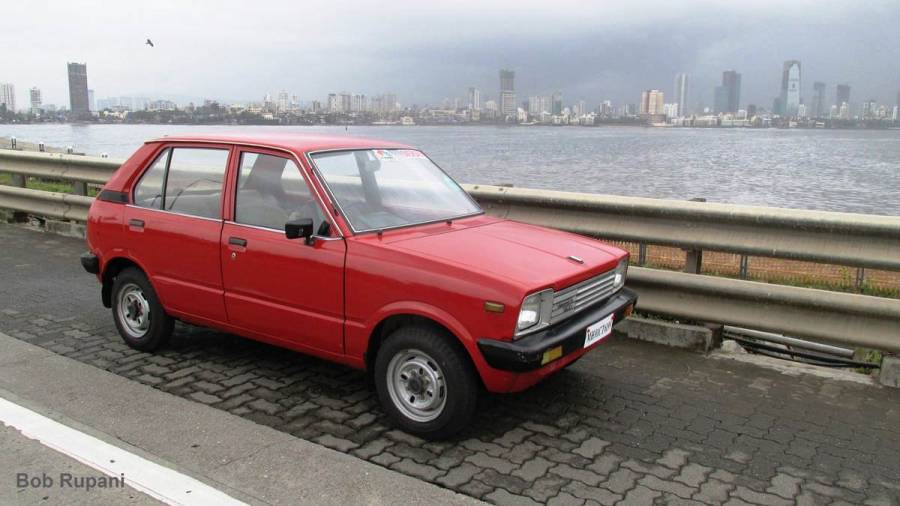 The Maruti 800 became the harbinger of a new India.
The Maruti 800 also resulted in the creation of India's first modern car factory and led to the birth of a vibrant, competitive and modern auto component and ancillary industry. Along with the new way of making cars, also came the new ways of marketing and maintaining them. Many other modern and new manufacturing processes and production procedures were introduced. There was special emphasis on training and improving the skill sets of people across all spheres. All those practices and procedures introduced by Maruti, subsequently became the drivers of India's growth story.
This author purchased a Maruti 800 in 1984 and used it extensively.
In many ways, Maruti changed our ways of living and working and thanks to it, a whole new approach to manufacturing, sourcing, marketing, distribution, customer service, etc, came into India. For example, until the Maruti 800- India never had car carriers- all cars were driven from their factories to the dealerships spread across far flung parts of India. But Maruti decided its cars would leave the factory in car carriers (these had to be custom built as Indian did not have any) and reach customers in the same condition as they left the factory.
He still has one in original condition and drives it quite regularly.
The 800 was a true game changer and as it was much easier to drive and park than cars like the Fiat and Ambassador, small wasn't puny anymore and lightweight wasn't weak. It rarely ever broke down and its reliability was a shock to many. I was an early customer of Maruti and got delivery of my Maruti 800 in 1984 (it was amongst the first 50 cars delivered in Bombay) and soon after drove non-stop from Bombay to Delhi, stopping only for petrol and meals. Nobody believed this was possible. In fact when I stopped to refuel at Gwalior late in the night, the attendant asked me where I was coming from. When I told him I left my home in Bombay at 4.00 am, he started laughing and refused to believe it! Because such things were unheard of at that time and going a distance of over 500 kms without having to stop for some repairs on the car, even if it was brand new - was considered a miracle. But the 800 was in a sense actually a miracle and most owners rarely ever had problems with it and it introduced us to so many things that are now taken for granted.
In 1984, soon after this writer got his 800, he slightly modified it and drove it nonstop to Delhi.
In 1986, just two years after the launch of the original 800 (the SS 80), Maruti discontinued it and introduced the slightly larger next generation 800 Fronte, and established in India the trend of introducing new models and cars on a regular and frequent basis. This was inconceivable then, as cars like the Fiat and Ambassador had been selling almost unchanged for several decades.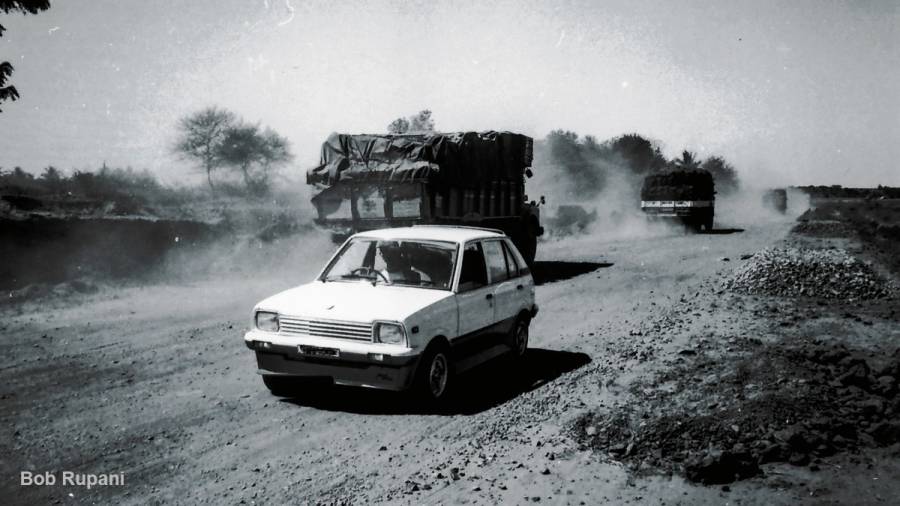 The modern car had arrived, but the roads were still to improve.
I remember when I first visited the Maruti factory in Gurgaon sometime in the 80s, I was shocked with the plant and machinery, the cleanliness, the way things were stored and moved to the assembly line, the test track where cars where driven for a pre-dispatch check, the punctuality and clinical effectiveness, I don't think India had ever seen anything like it before. And the uniforms of employees, how can I not mention that. Everyone had similiar uniforms with prominent logos of the company and people wore them with pride. As a matter of fact, if you ask any of the old employees, they will tell you that whenever they were invited to weddings or social functions, the hosts would request them to come dressed in their uniforms, because Maruti employees were so well respected and revered.
This author also converted his 1986 Maruti 800 into a rally car and did several events in it.
Yes, shortly after becoming operational, Maruti emerged as the face of modern India. People not only wanted to buy their cars, but they wanted to work and operate like them. With Maruti demanding quality and precision from its suppliers and vendors, the culture of professionalism and accuracy spread rapidly and the auto ancillary industry started to modernize and grow. And this transmission of professionalism was not just limited to the auto industry, it also disseminated to other industries like manufacture of consumer goods and household appliances, garments, electronics, and what have you. Some retailers even started copying the style of display at Maruti showrooms, and Maruti's professional way of functioning, became the benchmark for a lot of Indian industries and businesses.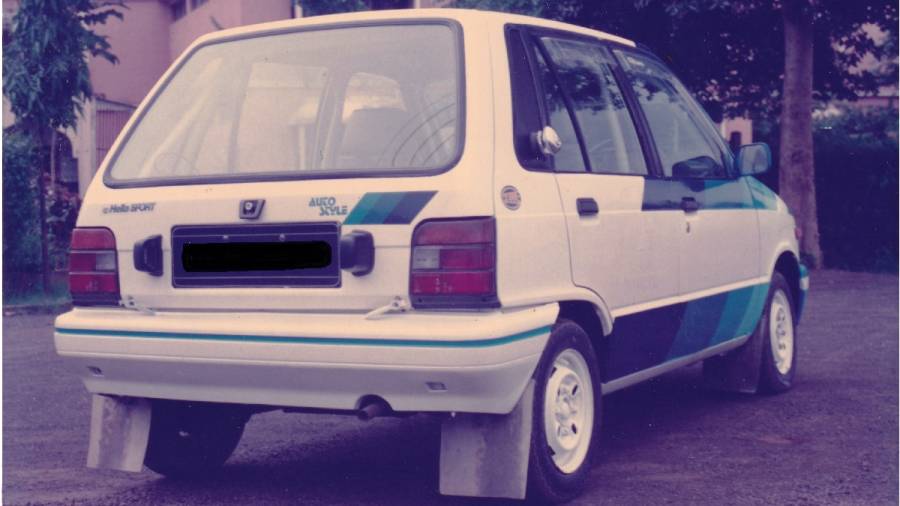 The modifications were quite detailed- note the filler for the additional fuel tank fitted on a panel in the quarter glass space.
Most people now know Maruti as India's biggest and most successful car manufacturer with the largest market share, but its other contributions to India are actually very significant too. For instance, its collaboration with Suzuki Motors. Maruti Suzuki is easily the greatest example of a successful collaboration between Japan and India, and it has improved not just the trade between both our great nations, but also contributed in making us very close trusted allies.
Another thing that I must mention is that Maruti is also the grooming ground of many of India's present day senior auto company management personnel. Yes, if you look at the backgrounds of many presently helming and steering other car companies in India, you will find that quite a few of them are former Maruti employees. In my opinion Maruti can also be described as a "Talent Factory" and it's due to all these factors that I say, "Maruti is a car company that changed a country".
Related Stories