Karun Chandhok optimistic that Formula 1 will return to BIC
After all the talk about the lack of interest and ticket sales, the Indian Grand Prix turned out to be a roaring success. In typical Indian fashion, the public left it till the last moment to show their support! At 1 'o'clock, two hours before the race, the grandstand looked sparse, but when I walked onto the grid for the National Anthem at 2:45pm, the place was absolutely buzzing. 60,000 people filled the Buddh International Circuit and created a fantastic atmosphere. Sports stars such as Mary Kom and Ronjon Sodhi, captains of industry like Sunil Mittal and Raghupathi Singhania, the world media and corporate VIPs all showed up in their droves and all this talk about there being "no F1 buzz" disappeared.
I thought this month that I would dive straight into the subject of the questions surrounding the need for the race in India and the future of it as it's been a real talking point in recent months.
Lewis Hamilton (GBR) Mercedes AMG F1 at the autograph session
If you consider countries such as Abu Dhabi, Bahrain, Singapore or Malaysia who are also relatively new additions to the F1 calendar, the race weekend proves to be a huge draw for new tourists from far away lands. It's easy to underestimate just how many people watch a grand prix at home and think, "that place looks really interesting". It's amazing how many people come to the Indian GP and want to visit Agra, Jaipur or even places further down south like Kerala and Goa. If globally recognised faces like Sebastian Vettel, Michael Schumacher or even Bernie Ecclestone go back to their home countries and talk about the great time they had in India, it does have an effect on audiences in their respective home countries.
Mark Webber (AUS) Red Bull Racing at the autograph session
Formula 1 is a global sport with wide reach which is beneficial to brands in India and Asia. As Indian organisations continue to enlarge their global footprint, Formula 1 presents a fantastic platform to increase their awareness. Similarly, we're at a stage where virtually every major car manufacturer in the world is selling cars in India. Pretty much every major sponsor in Formula 1 is selling into India. So I think F1 needs India as much as India would like to have F1. It's a place where companies can gain an early foothold because it's still growing and certainly I know for a fact that the teams all would be disappointed if the 2013 race is the last one.
Bringing F1 to India has been a huge task that is often overlooked. My father and I remember visiting and discussing a number of potential hosts for the race with Bernie Ecclestone over the years. We visited sites in Bangalore, Hyderabad and Maharashtra but ultimately, the Gaur family and the Jaypee Group were the first ones to bite the bullet and put their money where it counted. It's been a huge undertaking for them financially and in terms of operational staff and despite a few hiccups in 2011, by the second race last year, things ran without a hitch.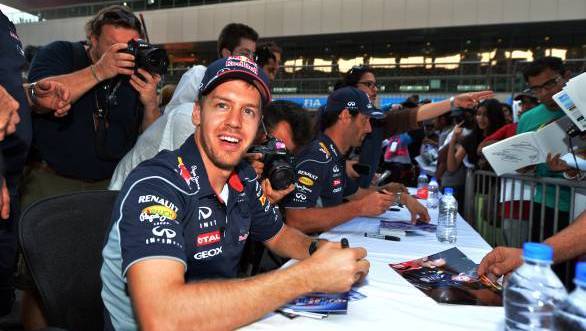 Red Bull Racing's Sebastian Vettel (GER) and Mark Webber (AUS) giving out autographs to fans at BIC
Their commitment to the race is summed up in one story for me. On the Monday after the first race in 2011, despite not sleeping for the previous two nights, Sameer Gaur had his entire team in the office at 11am for a full debrief with notes from all the teams as well as Bernie and the FIA on what needed improving for 2012.
Formula 1 coming to India has been fantastic for the sport, for the country, for us as sportsmen and for sponsors. So, what needs to happen to have the Indian GP back on the calendar in 2015? Well, there are a few issues that need to be solved but there are three key points.
One: Getting a slot on the calendar which has now become increasingly full. The teams are not happy about doing more than 20 races and with Mexico, Russia and New Jersey all hovering around, things are getting quite tight.
Two: The Jaypee Group needs to work on an acceptable financial deal with Bernie Ecclestone and FOM.
One of the big issues for Jaypee is that when they signed the deal with FOM for the race a few years ago, the Indian Rupee was at 44 Rupees per dollar and today it's at 62, which is a big hit to take. Contrary to what some people may believe, Bernie really likes India and he is personally keen to have the Indian GP back because he sees the potential in the country. The teams and FOM all have Indian domestic sponsors putting money into the race and this cannot be ignored.
Three: The Indian Government needs to classify motorsport as a 'sport'. With all due respect to Chess, Snooker and Archery, I fail to understand how they can be classified as sports and we are not! By classifying motorsport as 'entertainment', it means a higher tax implication for Jaypee, the teams and FOM, something which they don't have anywhere else in the world.
There's a lot of work that needs to happen between now and April 2015. If you had asked me a month ago, I would have said the Indian GP is dead and buried but after a series of meetings over the race weekend, I have to say I'm much more optimistic about the future. Fingers crossed!