It's RFC India time again
I've never been a big fan of slush, rain and wet feet. Much less a combination of all three at once. But two years ago, one very rainy day in August, I found myself having to brave all three in order to watch some four-by-fours tackle some very steep inclines at the Rainforest Challenge India. It wasn't an easy task. Not for me, owing to the slush, rain and wet feet that I've already mentioned. But, let's be honest, it was much worse for the navigator of the Jeep that I was looking at. You see the driver of the Jeep had managed to make it halfway up the incline that they were meant to ascend. Then, given that they couldn't proceed without a little help, the navigator had to hop out and attach the line around a tree, before the vehicle could be winched and make it up the hill. Just scrambling up the hill to the tree took him three tries - he slid, face first, down the slippery slope twice - before he finally managed to throw the wire around the tree in order for the Jeep to be winched up the slope. He'd been lucky that he hadn't ended up with a broken arm unlike the hapless navigator of another team. The perils and hazards that one needed to accept while competing in the RFC, then!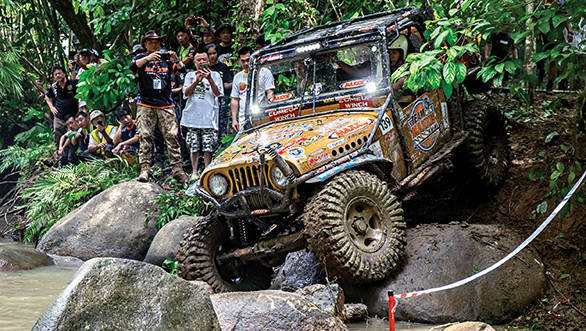 For those of you who aren't quite aware of it, Ashish Gupta of Cougar Motorsport, the company responsible for bringing the RFC down to India, once upon a time had a career in finance and also a penchant for motorsport. He'd been competing in a few rallies here and there, and discovered that there was a market for non-competitive drives through similar terrain, which is why he set up Cougar Motorsport that began to run luxury expeditions all over the country. Nonetheless, Ashish's inner motorsport nut wasn't to be silenced. You see, he had a bucket list of events that he simply wanted to go and watch at some point. Which is how he ended up at the Rainforest Challenge in Malaysia in 2013. And when he was there, the little seed of an idea was planted in his mind. Why not bring the RFC down to India? Well, why not indeed! A few months later, there it was. From where I was standing, I was surrounded by four by four off-roaders and the crazy men and women who pilot them. There were jeeps in rivers, jeeps on rocks, jeeps sliding down slopes, jeeps crossing streams. They were everywhere. And Ashish was there too. Looking somewhat tired, but happy.
It's two years since that date. Another RFC India has come and gone. And as I type this out, the third edition is fast approaching. The 25 slots for the event had been filled out a full two months in advance. And there had been a few irate messages on the RFC India Facebook page by RFC hopefuls who had been preparing their machines but hadn't made the cut, having been bumped off by other RFC hopefuls, who if not more enthusiastic, had just been more aware that the slots were likely to be filled up soon. Of course, I felt bad for the people who didn't make it - some had been at it, preparing their vehicles for months and months in advance. Considerable amounts of time, money and effort had gone into the event, and had effectively gone down the drain. And while I did feel sorry for the people left out in the rain (metaphoric in this case and not literal) I couldn't help but also feel happy. The thought of a motorsport event in India being so eagerly sought after that the slots were completely full two months in advance, and that there were people eagerly fighting to compete in it, is heartening.
In the two years since that first RFC India, there have been changes aplenty. Of course, on the one hand the team behind RFC India has grown, and regional events - RFC India North and RFC India South - have taken off. But one of the most heartening things that Ashish says he's noticed is a change in the attitude of the competitors. Of course, the camaraderie that he hopes will spring up amongst the participants is still some way off. But there's been growth in terms of the effort that participants put in and their willingness to learn. And while Ashish says that he's noticed a lot of participants taking very quickly to the hardware changes that will help put them at world-class competition level, it's the software that he's more concerned about.
It's simple, really. The Rainforest Challenge is a team sport. It's as much a navigator's sport as it is a driver's sport. Which means drivers cannot afford to have a navigator added onto the team last minute. They're meant to pick navigators months in advance and work with them for a long while. There needs to be a clarity of communication that means they already know what the other is thinking. And there needs to be Plan A, B and C already in place before they get to each obstacle. This level of foresight is something he looks forward to in the event. But the steps that have been taken so far, and the growth they've seen so far, do make him feel that the RFC India and off-roading in India are headed in the right direction.
So what's next for the Rainforest Challenge in India? Well, Ashish says he isn't sure yet that there will be another RFC India. The three years that he's secured the contract for to run the event in India are up with this third edition of the event. So, there's some thinking and signing of contracts ahead of him, before he can comment on what lies in store. But if there's one thing that I've learned when it comes to Ashish Gupta, it's that he doesn't do things in half measures. Which means he's likely to soon have a plan in place, a business model to back it, and sponsors lining up too. You see, he's the sort of chap who has it mapped out quite well. For, before he hits an obstacle, he's already got Plan A, B, C ready.
To a successful third edition of RFC India, then. And to growing the sport of off-roading in the country and catering to the clamouring participants!