Is the traffic police on the right track?
Last month a function was held on the Mumbai-Pune Expressway to inaugurate 56 height barriers. The state highway traffic police inspector reportedly said, "Height barriers are being installed on an experimental basis to prevent heavy vehicles from plying on the first (or fast) lane."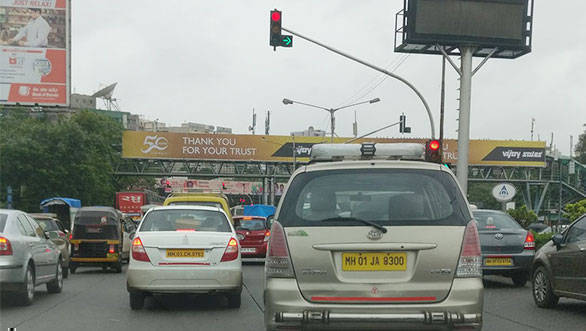 Normally, the left lane is meant for heavy vehicles, the middle or second one for light vehicles, and the first or right lane is purely for overtaking. But you frequently find heavy vehicles even in the middle and fast lane, driving parallel to each other. This not only blocks traffic but makes faster vehicles weave around in an attempt to overtake, and this often results in accidents. This scenario is not just limited to the Mumbai-Pune Expressway; you find the same thing happening on most of our divided highways.
Given this, the traffic police must be applauded for wanting to keep heavy vehicles out of the fast lane. But their approach is obviously wrong and was bound to fail. Just a day after the 56 flexible height barriers were inaugurated, reports came in that several of them had been hit by heavy vehicles and were now broken. A few weeks later, almost all were wrecked. The entire operation to restrict heavy vehicles from the right lane has failed. Any sensible person with some amount of motoring experience in India would have told you this would surely happen. Does this mean the authorities who come up with such ideas are stupid? I think not. In my opinion, they want to be seen as doing something to improve situations. When they come up with such hare-brained schemes, their superiors and political leaders who have no clue of the reality on the ground compliment them for their innovativeness. Of course, there is also the little matter of finding the right supplier, fixing a budget and then getting a kickback. And when the project fails, as it has in this case, you always have the indiscipline of our drivers to blame, the inferior quality of the height barriers, poor installation etc.
So what can be done to solve the problem of drivers not driving in the right lane? In my view, if the traffic police and authorities are determined, they can put a stop to this practice. What is needed are boots on the ground and strict policing and proper punishment. The traffic police should have half a dozen patrol vehicles (preferably unmarked) moving around on the expressway constantly. The moment they see a vehicle in the wrong lane or any driver committing any other traffic offence, they should instantly pull them over and compound the offence and collect a fine. Yes, at present the fines are too low to act as a serious deterrent. But I am sure at the local level, some notification can be passed to increase the punishment. If drivers find the traffic police diligently carrying out their duty, they will soon realise that they cannot escape after committing any traffic offence. I am sure this will lead to better and more disciplined driving.
Let me share another example that proves the only way to enforce the law in India is via effective policing on the streets. Sometime last year, the Mumbai Traffic Police Department launched an e-challan scheme with much fanfare. This was meant to digitise the entire process of recovering fines from traffic violators. I recently read a report that they have issued some 17 lakh e-challans since last October and have managed to collect the cash penalty fine only from 4 lakh traffic offenders! This is less than 25 per cent! In past years when there were no e-challans and challans were physically issued and fines more often than not were collected on the spot, the collection percentage was much higher. The same report said that earlier out of 25 lakh traffic offenders a year, the police were able to recover fines in over 21 lakh cases!
So why is the recovery rate so low with e-challans? For one, they are served via mobile phones. And apparently, out of the roughly 35 lakh vehicles registered in Mumbai, less than 15 lakh have their mobile number registered with the RTO. Out of the registered numbers, many have also changed over time. Interestingly, the report also said that around 35,000 e-challans have been issued for overspeeding on the iconic Bandra-Worli Sea Link in Mumbai. But only 350 people have come forward and paid the fine!
These e-challans are issued after traffic violations have been observed on any of the about 4,717 CCTV cameras spread across the city. A total of 25 traffic constables keep track of traffic violators via the CCTV feed that is displayed in the traffic control room. On talking off-the record to some traffic constables, I learnt that many cameras are unable to capture the license plate of speeding vehicles as they are not able to focus in time.
This is worse in case of two-wheelers as their number plates are smaller! We all know that most traffic offenders drive or ride fast and these are the ones getting away scot-free. All this once again establishes that there is no replacement as yet, for good old-fashioned policing on the streets and issuing of challans and collection of fines on the spot itself. Confiscation of driving licences also makes offenders pay up. I truly hope our cops again start effectively policing the streets soon.
To read more of Bob's opinions, click  here.