Fifteen years later...
It was the 5th of March, 2005, and Giancarlo Fisichella had managed to put his Renault on pole at the Australian GP. But my attention was elsewhere. Specifically on a yellow Jordan that was making history. After all, it was the first time that an Indian driver had lined up on a Formula 1 grid. The fact that Narain Karthikeyan had managed to make it to F1 was H-U-G-E!
It wasn't the easiest of debuts for Karthikeyan. His engine blew up during the first practice session. Then, he'd been slapped with a fine for speeding in the pit lane during the second practice session, and had spun on his out lap during qualifying. But right after, he managed to out-qualify his teammate Tiago Monteiro, and lined up 12th on the grid for the race start. Fisichella might have won the race, but for a legion of Indian motorsport fans, the cause for celebration was the man who finished 15th. At the season-opener, he'd emerged ahead of the other rookies. Narain Karthikeyan had arrived. And India was officially on the F1 map.
Narain Karthikeyan's F1 debut was such a huge deal, that it was even considered worthy of an Amul topical.
Six years later, India had its very own Formula 1 grand prix at a state-of-the-art race track designed by Hermann Tilke, bankrolled and built by the Jaypee Group specifically to bring F1 to the subcontinent. Now is probably a good time to point out that F1 coming to India, from the building of the race track, to the payment of F1's exorbitant licence fees, was an entirely private effort. Government support? What government support! And of the three times that F1 visited the country, Karthikeyan was on the grid twice – in 2011 and 2012. It was the second year, at the HRT motorhome, that I managed to interview him. Getting a time slot hadn't proved to be easy – Karthikeyan was the driver most in demand at his home grand prix. But when he did get the time for a quick chat, as he wolfed down a hurried dinner of some pasta, he'd said that he gave his racing career another "five or six years".
Narain, seen here, after winning the Super GT x DTM Dream Race in November 2019
Well, seven years later, in what was his last race of 2019, Karthikeyan drove phenomenally to win the Super GT x DTM Dream Race at the Fuji International Circuit. At the age of 42, in what was effectively his first season of GT car racing, he had emerged at the head of a very competitive combined grid that comprised the likes of Marco Wittmann and Loic Duval. It was a little longer than those five or six years that he'd given himself. And his performance was proof that he was still very capable behind the wheel of a racecar.
Around two months after Narain's race win, there was some rather somber news for Indian motorsport. The Buddh International Circuit, that had played host to the three Indian grands prix between 2011 and 2013, had been sealed by authorities. Since F1 said – what appeared to be a very final – goodbye to India, the circuit had been used for domestic motorsport events, track days, and manufacturer events. But high profile motorsport didn't manage to make it down. At the time of going to press, reports say that the Yamuna Expressway Industrial Development Authority has blocked off the entrance to the track, and is preparing a global tender for an auction, in order to recover money that it's owed by the Jaypee Infratech Group. And even while activities that have been scheduled are continuing to take place at the circuit, there's no clarity on how long this will go on, or when it will stop.
It strikes me as somewhat ironic that the very racer who managed to draw the world's attention to Indians in motorsport, in some sense, has outlasted a steel, concrete, and tarmac racing facility.
As far as our single-seater circuit racing aspirations go, though, there's a smidgen of hope. Because while we might no longer have an Indian Grand Prix, and while we might soon possibly not even have a Grade 1 FIA circuit, we've still got drivers who are trying very hard to carve their paths to Formula 1, spurred on by only their desire to do so. Their determination, unwillingness to give up, and sheer hard work.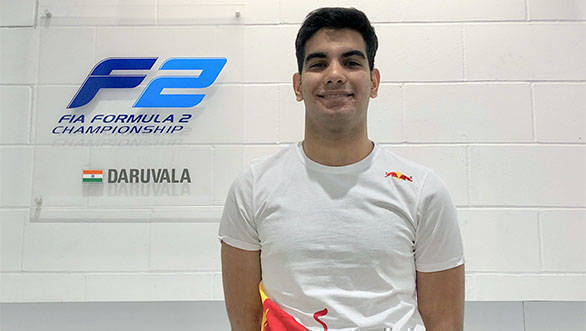 Jehan Daruvala steps up to Formula 2 in 2020 as part of the Red Bull Junior Driver programme
And the latest of these drivers, the one most likely to become the third Indian F1 driver, is Jehan Daruvala. He's the first Indian driver to stand on the top step of the podium at a major F3 event since Karthikeyan did at Brands Hatch in 1999. He's managed to make it to third overall in the 2019 FIA Formula 3 championship, narrowly missing out on a runner-up position after his car failed to start for the formation lap, forcing him to start from the pit lane. He's just been signed on by Red Bull to be part of their Junior driver programme, and he's now graduating to Formula 2 in 2020. And like any other Indian motorsport fan, I hope that he does his very best. If that best happens to lead him to an F1 seat, terrific!
What does make me slightly sad, though, is that 15 years ago when Narain made it to Formula 1, the only option for Indians aspiring to race there was to go abroad as soon as they could, and climb the single-seater rungs in foreign championships. And now, a full 15 years later, even after F1's brief visit to the country, it's exactly the same.
I don't know when the change will come. Or if it will come at all. But I do know that three race tracks in a country of 3.27 million square kilometres, isn't nearly enough to truly grow domestic talent in India. And it certainly isn't enough infrastructure to produce more than a handful of world-class single-seater racers. As for world champions? How can we even expect to produce them, when we don't have a place for them to race?
I'm told we have a sports minister who is something of a motorsport enthusiast. And I certainly hope he's listening.
Also read:
Jehan Daruvala immortalised as Amul Topical.
If you want to look through all the Amul Topicals, click here.