Fernando Alonso just wants to go motor racing, and we love it!
I grew up in the Schumacher era. The sight of the tricolore, the sound of klaxons blaring as the Red Baron performed his customary victory leap on the podium, and the music of the Italian national anthem formed a rather integral part of my childhood. And, as is natural when following a sport closely, I'd pledged my allegiances early on and I wore my heart on my sleeve. It was for this reason that when the era of azure blew into Formula 1, with a very young Fernando Alonso proving to be an upset to the team and driver that I rooted for, I was quite an unhappy motorsport fan. That Alonso had proved to have the measure of Schumacher in 2005 and 2006 mattered little to me at that point in time. Back then, I would rather have eaten my own shoe - Werner Herzog style - than have ever admitted that Renault had beaten Ferrari fair and square.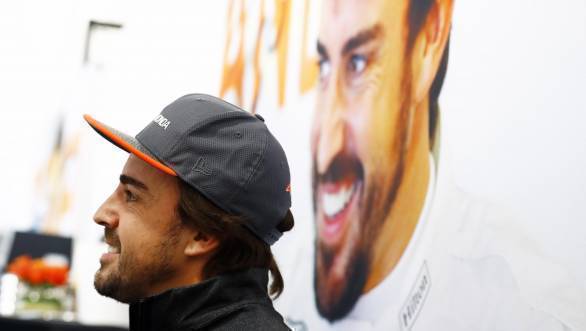 Fortunately, the passage of time seemed to counteract the foolishness of youth, tempering my grey cells with a sprinkling of wisdom. My perspective on Formula 1, motorsport, and life itself changed. And eventually, by the time I was in my third decade, I found myself not only acknowledging the talent of, but also rooting for, the very driver that I had once so intensely disliked. While a crop of new drivers had entered the sport, Fernando Alonso still represented the old order. He was real; not quite as PR-packaged as a good many other racers. And judging by the interviews that he gave, he seemed the sort of person who when asked a straight question would give you a straight answer. Of course, it was unfortunate that after his stint with Renault, he always seemed to end up at the wrong place at the wrong time. But even in the worst of situations, he could be counted on to give a race his all, driving as best as he could to ensure he took his Ferrari to a podium finish. And, in subsequent years, coaxing his McLaren-Honda to finish within the points on more than one occasion. A lesser racer certainly couldn't have managed it.
But as one watched Alonso struggle with the McLaren, it became hard not to wonder how he managed to stay motivated. Here was a two-time Formula 1 world champion, who'd managed to challenge for victories and championships long after he'd claimed his last title, now struggling to break into the top 10. But it almost seemed as if the fact that he'd only manage to finish in a position that was very far off the podium was immaterial to him. He'd still attack as if he was going for the win. He'd never back down. No. Instead, Fernando Alonso would do what he did best - go hell for leather!
It's no surprise then that Alonso felt like he could accomplish more. In May 2017, he went across the pond to compete at the Old Brickyard. He made no secret of the fact that he had long harboured the ambition of winning the triple crown in motorsport - victory at the Monaco GP, the Indy 500 and the 24 Hours of Le Mans. The first he'd already managed to win - twice. The second, he came close to achieving until his engine blew up, as was expected of a McLaren engine in 2017. And the third, he's attempting to achieve now, having signed up to compete in the 2018 edition of the 24 Hours of Le Mans with Toyota. At the time of writing this column, Alonso was still a few months away from winning the first round of the 2018 World Endurance Championship - the 6 Hours of Spa - which he's just gone and won. Like several other motorsport fans, I'm stoked!
After all, there used to be a time when racers competed in as many races as they could, in as many championships as was possible, in as many different makes of car as they could get their hands on. Those days appear long gone. The only driver to ever win the triple crown in motorsport - Graham Hill - slotted the final piece of the puzzle into place when he won Le Mans in 1972. It's been over five decades since then. Which is why it's about time that someone set about trying to have another go at the feat. And if we're to take into account the measure of Fernando Alonso's powers, he's certainly the right man for the job. Instead of just fading off into retirement and spending his millions, Alonso has decided to go motor racing. It's a breath of fresh air that there isn't a hint of complacency setting in, even after a fairly long motorsport career thus far.
See, complacency is a part of human nature. It's a cocoon that we curl up into for various reasons. Often simply because it's comfortable. It keeps us warm and cosy, fostering in us a sense of security that we tend to enjoy. For a racer, it might manifest in the act of just going through the motions in a familiar environment. For the rest of us it occurs when we find ourselves discouraged from going out into the world and challenging ourselves. And every once in a while, we need a little inspiration. A beacon of light towards which we turn. A hero whose example we can emulate. And as I look forward to the 2018 season of motor racing, I know who that hero is. In some alternate universe, 15-year-old me just fainted.