Death on Diwali - pregnant leopard mowed down in Mumbai
While we were celebrating Diwali on 14th November, a reckless driver in a Tata Sumo knocked down a pregnant leopard and fatally injured it near Mira Road in Mumbai. Mumbai Mirror's 15th November newspaper edition had a report that said, "A pregnant leopard crossing the road on the Mumbai Ahmedabad National Highway at Mira Road in Maharashtra capital Mumbai on Saturday night was knocked down by an unidentified vehicle. The big cat died during treatment".

Report on the killing of the leopard published in the 15th November edition of Mumbai Mirror.
As per the report an eyewitness saw the leopard crossing the road at the Delhi Durbar Hotel road junction on Kashimira, at around 11.30pm. He also witnessed a speeding Tata Sumo crashing into the leopard. The injured wild cat then crawled into the nearby bushes. The eyewitness informed the nearby police chowky, who in turn intimated the forest department authorities of the Sanjay Gandhi National Park (SGNP), which is adjacent to Kashimira.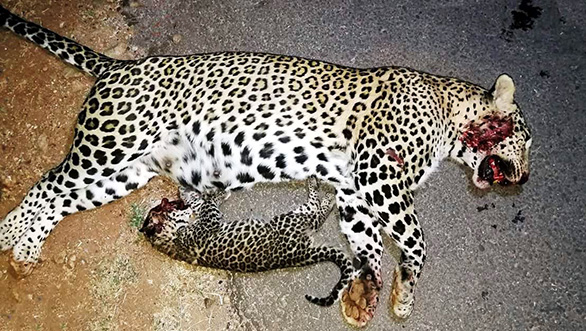 A pregnant leopard was mowed down in Mumbai on Diwali night. Photo for representation purposes only. (Image Source-Roadkills India).
The forest department officials quickly reached the spot with a wildlife rescue ambulance and after a short search found the injured leopard and took it away for treatment. Unfortunately, it had suffered serious internal injuries and haemorrhaging and died at around 2.30 am. An autopsy conducted by a team of veterinarians in the SGNP revealed that the leopard was pregnant and carrying three fetuses. So the cruel driver has not killed one, but four leopards!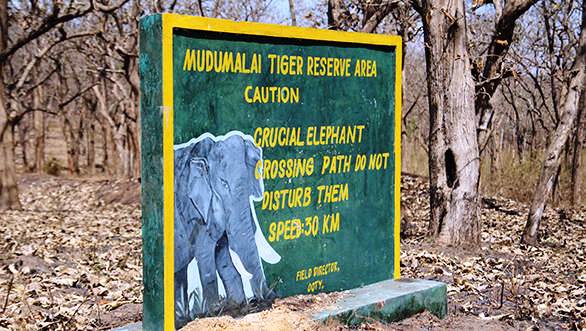 Most motorists ignore such signs cautioning them to drive carefully in areas inhabited by wildlife.
This is not the only leopard that has been crushed on this stretch of Mumbai's Western Express Highway. Every year, about two to three leopards become victims of such fatal hit and run incidents. And while the police do file a report, I am not aware of a single case in which the driver has been traced, tried and punished for any of these offences. And it's not just leopards; various other animals also are victims of such road kills.
A chinkara, or Indian gazelle, killed by a cruel driver. (Image Source-Roadkills India).
Mumbai is fortunate that it has a protected forest area like the Sanjay Gandhi National Park located almost right within the city. But it's regrettable that instead of valuing this presence of jungle and wildlife, many people are not just indifferent, but as demonstrated by the callous driver, also a serious threat to their very existence.
A gravely injured sambar on the Chandigarh-Shimla National Highway 22
Sadly, this is not the only place where animals are under threat of being run over. The tragic fact is all forested regions in India face the problem of road kills. I have personally seen a severely injured sambar deer on the crowded Chandigarh-Shimla National Highway 22. Some wild life experts I spoke to say the problem is far more serious than most people imagine, and road kills are a big danger to India's wildlife. They say almost hundred leopards die annually due to road kills by vehicles! The number of deer, fox, jackal, hare, wild boar, nilgai, mongoose, snakes and other reptiles and birds is believed to be in the thousands! Even tigers have been victims of road kills!
Over 100 leopards die annually in India due to road kills. (Image Source - Wildlife Conservation Trust).
While I accept that some road kills may be due to animals suddenly appearing in front of vehicles, I believe the real problem is the mindset of our people. We honestly don't care for wildlife or appreciate our huge natural wealth. We also don't think twice, or blink an eye, before killing an animal.
Every year, thousands of reptiles like this monitor lizard are crushed and killed by vehicles. (Image Source-Roadkills India).
Let me cite an example. Once while driving in a forested region in Central India I saw a truck in front of me suddenly swerve to the left and deliberately run over a monitor lizard by the side of the road. Angered by this, I overtook the truck and made the driver pull over. When I asked him why he had gone off the road and crushed that innocent lizard, he laughed and said, "Is that why you pulled me over? I thought it was something more important." When I persisted, he calmly said, "Our vehicles often breakdown and then we have to wait by the side of the road till it's fixed. This makes us wary of wild animals. So whenever we have the opportunity, we simply kill them. And it's not just me, but many truck drivers do this!"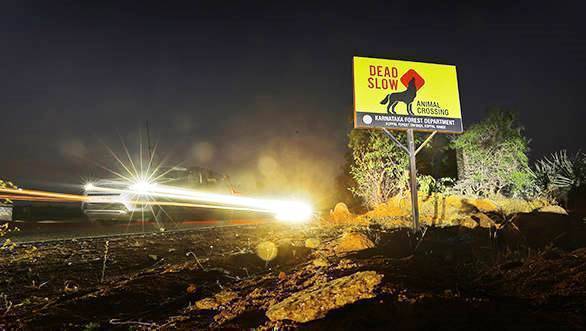 The Deccan Conservation Foundation (DCF) has put up several such signboards in the Koppal District in Karnataka.
Such an attitude is surely shameful, but sadly it exists. Most forest areas have signs saying, 'don't speed, animals have right of way', 'don't litter', 'don't blow the horn' and 'do not feed the wild animals'. Look around and you will find almost everyone ignoring the instructions. They drive rashly and when they sight wild animals like deer and monkeys, they promptly stop and start feeding them. These idiots don't realize that wild animals are not suited to having processed or cooked food and feeding them is actually bad for their health.
Its time Indian road users learnt to follow such signs. We also need severe punishment to prevent road kills.
In my view, road kills will not reduce until severe punishment is handed out to each and every offender. There must be as much fear in running over a squirrel, as in knocking over and killing a human.