About Rear Seat Belt Rule Applicable From 1st November,2022
The Mumbai Traffic Police has announced and sent out a circular that from today, 1st November, 2022, "Drivers and all passengers (including rear seat passengers) of motor vehicles will have to compulsorily wear seat belts. And a fine of Rs 500 will be levied on the driver of the vehicle if he or any of the passengers are not wearing seat belts".
If rear seat passengers do not wear seat belts from 1st November 2022, then there will be a Rs 500 fine.
You may recall that soon after the tragic accident of Cyrus Mistry, Nitin Gadkari the Minister of Road Transport and Highways had announced this and subsequently his ministry sent a circular to the DGPs and transport commissioners of all states saying that now onwards anyone driving a motor vehicle without a seat belt, or carrying passengers not wearing seat belts, should be fined".
Taxi drivers have also been told to tell passengers to wear seat belts. Photo by Sonika Agarwal on Unsplash.
We at Overdrive whole heartedly welcome this law, but would also like to say that while this is a right rule, there is a lot more that needs to be done to improve road safety. But more on this, some other time. Now let's look at this rule that becomes applicable in Mumbai and some other cities from today.
Look closely, this driver is not wearing a seat belt. Photo by Anirudh on Unsplash.
In its notification the Mumbai Traffic Police has also said enough time has been given to motorists to get rear seat belts fixed if their vehicles don't have them. While all this sounds very good, there are a few practical issues. The law says if the passengers are not wearing seat belts, the driver will be fined. So what happens in case it's a taxi? When I checked with some taxi drivers they said, "What if the passenger refuses to wear a seat belt, why should I be fined - it should be the passenger?" A valid and obvious observation and fortunately after a meeting with the Mumbai Taximen's Union just yesterday, on the very eve of the enforcement of the law, the police has clarified that "If cabbies ask passengers to buckle up and they do not comply, the passenger will be fined Rs 500".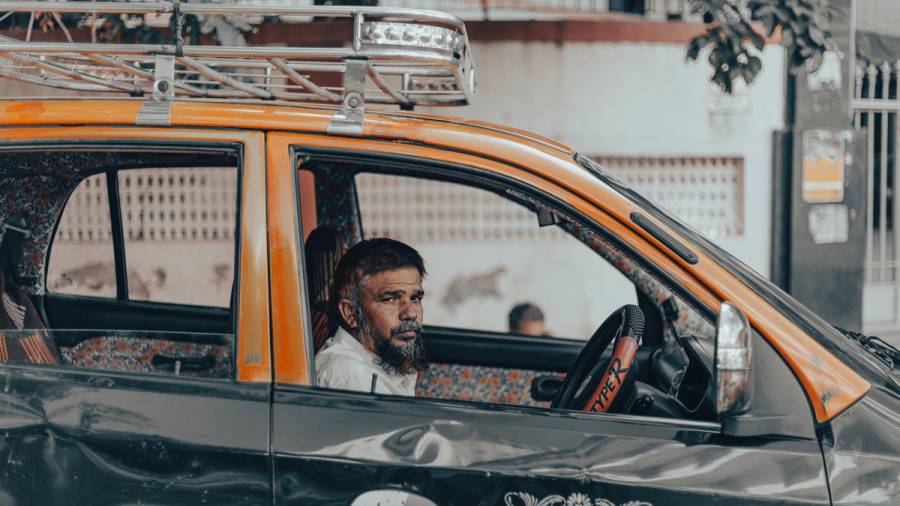 As most taxi drivers do not wear seat belts, how will they get passengers to wear them? Photo by Anirudh on Unsplash.
But it is still not clear what happens if one of us gets into a taxi and finds the rear seat belts are not available for use as they have been covered and concealed by seat covers, as is often the case. Yes, many cab owners or drivers are in the habit of fitting aftermarket seat covers to protect the original upholstery, and such covers are installed above the seat belts, making them unavailable.
What if you get into a cab and find no seat belts on the rear seat? What do you do?
The Mumbai Taximen's Union had also opposed this law and threatened to protest if the police start enforcing it. The taxi union's general secretary A.L. Quadros had urged the police to not compare taxis with private cars and had said, " The average speeds of vehicles within city limits is less than 12 kph. The accident ratio of taxis is almost nil except for minor collisions. Hence the seat belt rule should not be made applicable to taxis".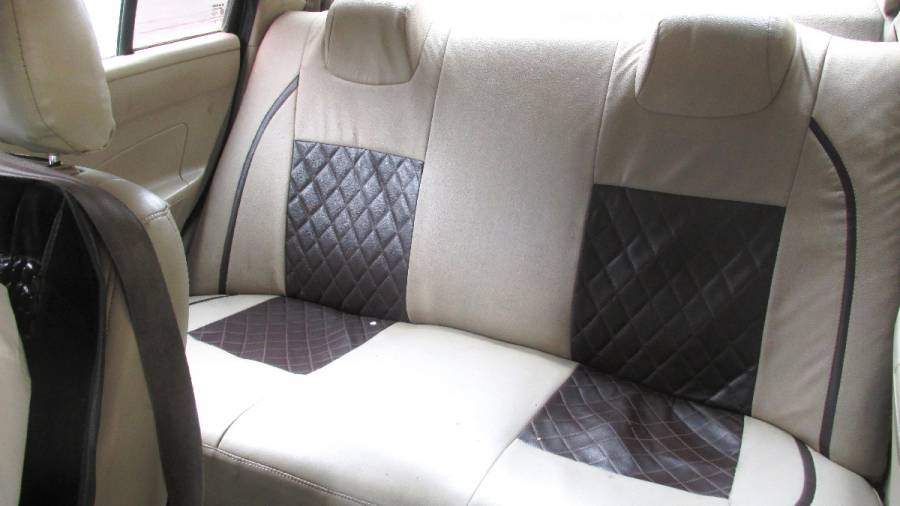 Most taxis are fitted with seat covers that conceal the seat belts at the rear.
But after yesterdays meeting with the police, Quadros said, "We have agreed to follow the law, but our drivers should not be fined for no fault of theirs". While all this has been said with reference to passengers and the mandatory rear seat belt rule, the fact is that almost all taxi drivers in Mumbai do not fasten seat belts. Yes, they just make an appearance of wearing one, but the seat belt is rarely fastened in its buckle, causing it to be utterly useless!
Note how this taxi driver has draped his seat belt behind his back.
Let me explain what I mean. Most Mumbai taxi drivers put a clip or tie a knot across the seat belt at the point where it comes out of its plastic housing on the inside of the B-pillar. By doing this, the retractable function or retractor of the seat belt cannot reel in the slack in the belt or make it taut, and thus the driver can just throw it across his chest making it appear like he is wearing the seat belt. But if you look at the buckle near the driver's hip or lap, you will see that the seat belt has not been fastened!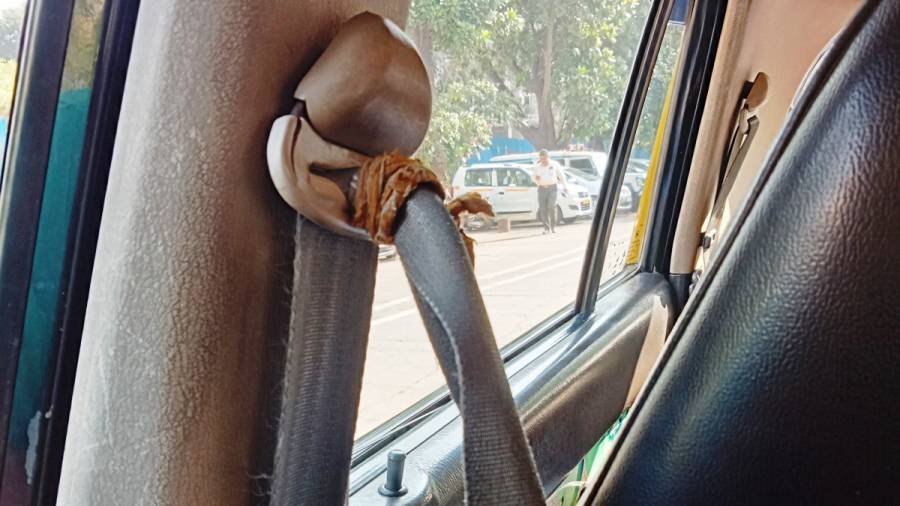 Most taxi drivers tie the seat belt with a string or lock it with a clip, to prevent the functioning of the retractable function.
Given all this, and the reluctance of people to take responsibility for their own safety, I am sorry to say that this exercise of fining rear seat passengers for not using seat belts, is likely to be a short lived and a largely ineffective exercise as far as road safety is concerned.
This taxi chap has used a cloth to stop the seat belt retractor from working, as this allows him to just place the seat belt across his chest without fastening it in its buckle.
Photos Courtesy Raju Baghdarekar
Related Stories