Open-top Aston Martin Vantage GT12 Roadster unveiled
Aston Martin has unveiled its most extreme roadster ever in the form of the Vantage GT12 Roadster. The car will be manufactured by the personalisation service of Aston Martin, Q. The whole process from booking till delivery will take a staggering nine months.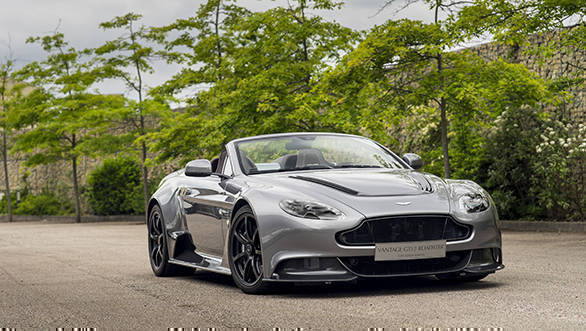 The roadster will have its underpinnings from the Vantage GT12 Coupe with a reinforced chassis and a special 600PS version of the company's 6.0-litre naturally aspirated V12 coupled to a 7-speed Sportshift III paddle shift transmission. Other technical upgrades will include a magnesium inlet manifold with revised geometry, a lightweight magnesium torque tube, a full titanium exhaust system and a revised suspension set-up.

The only visible cues which differentiate it from the coupe are the significant number of new carbon-fibre body panels and the roadster badging on the boot (not to mention the quite obvious open top!).

David King, VP and chief special operations officer, Q, says on this occasion, "Aston Martin has a growing reputation of building ambitious commissions for customers, perhaps the best example being the spectacular CC100 Speedster Concept. We have also become world leaders in ultra-low volume projects with cars such as the One-77, Lagonda Taraf and Aston Martin Vulcan, while the Vantage GT12 and Vantage GT8 show how far we can take our series production models. The GT12 Roadster is the first project to combine all of those skill sets in one magnificent car. In just nine months we took a customer's dream and realised it, with a fully formed, exactingly engineered and fully road-legal one-off. That is the essence of the Q by Aston Martin service."