One-off Mercedes-Benz EQC 4x4 squared extreme off-roader revealed
Mercedes-Benz has tinkered with its first-ever production EV, the Mercedes-Benz EQC to make the electric SUV the third Mercedes model to get the 4x4² treatment. The Mercedes-Benz EQC 4x4² is a one-off developed by a cross-departmental team led by development engineer Jürgen Eberle. This was the same group that created the  E 400 All-Terrain 4x4². The first-ever  4x4² was the last-gen G 500 4x4² from 2015, one that even saw a short production run.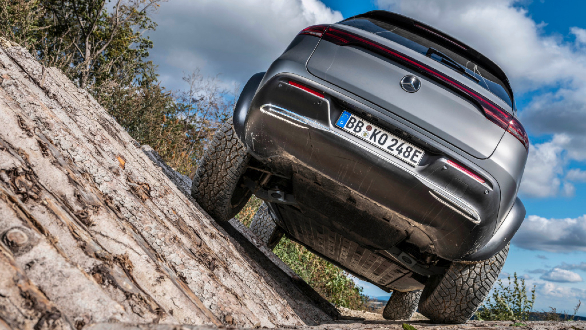 Based on a standard production-spec EQC 400 4Matic, the EQC 4x4² replaces the EQC's conventional axles with portal axles. This arrangement allows a car's wheels to be placed much lower on the axle hubs with the help of portal gears, unlike their traditional placement at the axle centre. Shod with 285/50 R 20 off-road tyres and 4x4² suspension fitted to the same mounting mounts as the regular EQC, this has given the EQC 4x4² some impressive off-roading credentials. The 20-inch wheels haven't hit the turning circle too hard thanks to the axle kinematics of the four-link front axle
Ground clearance is now 293mm, a massive jump from the standard EV's 140mm and 58mm more than even the G. The water fording depth is also a significant increase from 150 to 400mm. Expectedly, the approach angle has improved from 20.6 to 31.8 degrees. Similarly, the departure angle has now increased from 20 to 33 degrees while the break-over angle is now 24.2 degrees, up from 11.6. The EQC 4x4² also features a more advanced off-road program from the GLC models that incorporates brake-based torque-vectoring.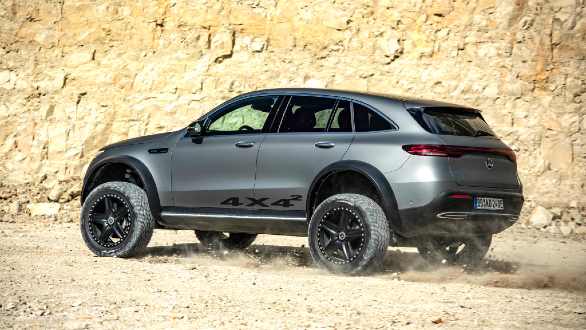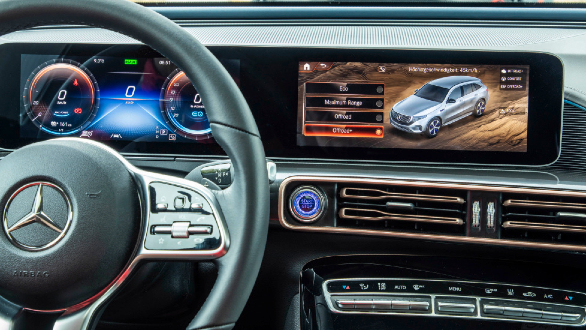 For added effect, the EQC 4x4² also features a new soundscape. This gives the driver the aural experience expected from such an off-roader by accessing parameters such as the position of the accelerator pedal, speed or energy recovery rate. The EQC 4x4² also uses a more advanced Acoustic Vehicle Alert System(AVAS) developed for it specifically which uses the headlamps as external speakers. There are also some minor exterior changes to drive home this car's capability the matt metallic gun-metal grey film, 4x4² and the black wheel arch flares.
While there is no word yet on whether the EQC 4x4² will ever see a production run, the idea with this project is to show that EVs can also be exciting off-roading while being accessible to even regular owners. To this end the interiors of the EQC 4x4² and the same rich and feature-loaded one as the standard car. The EQC is powered by two electric motors, one on each axle, making a combined 408PS and 760Nm. This is fed by an 80 kWh battery for a claimed range of over 400 km. Mercedes-Benz India recently launched the EQC 400 4 Matic in India at Rs 99.3 lakh.
Read our review of the Mercedes-Benz EQC 400 here
Watch our video review of the Mercedes-Benz EQC 400 below